It is no surprise we are all trying to get adjusted to the new way of things and navigating what the "new normal" means. Recently, several states have opened or are in the process of opening, as this happens many are eager to get out to see loved ones and spend time with friends. But… it is not going to be like it used to be. We cannot greet with a hug and kiss and most are hesitant to even shake hands these days. So how can we even think about entertaining?
Well, there is a way. While continuing to be smart and using the guidelines that have been put in place, we can still spin things up and throw a little creativity into entertaining.
Now some may be ready to enjoy an evening with family and friends and others may choose to wait. Either way it is completely understandable. We are in crazy times and all have our own way of maneuvering these changing waters.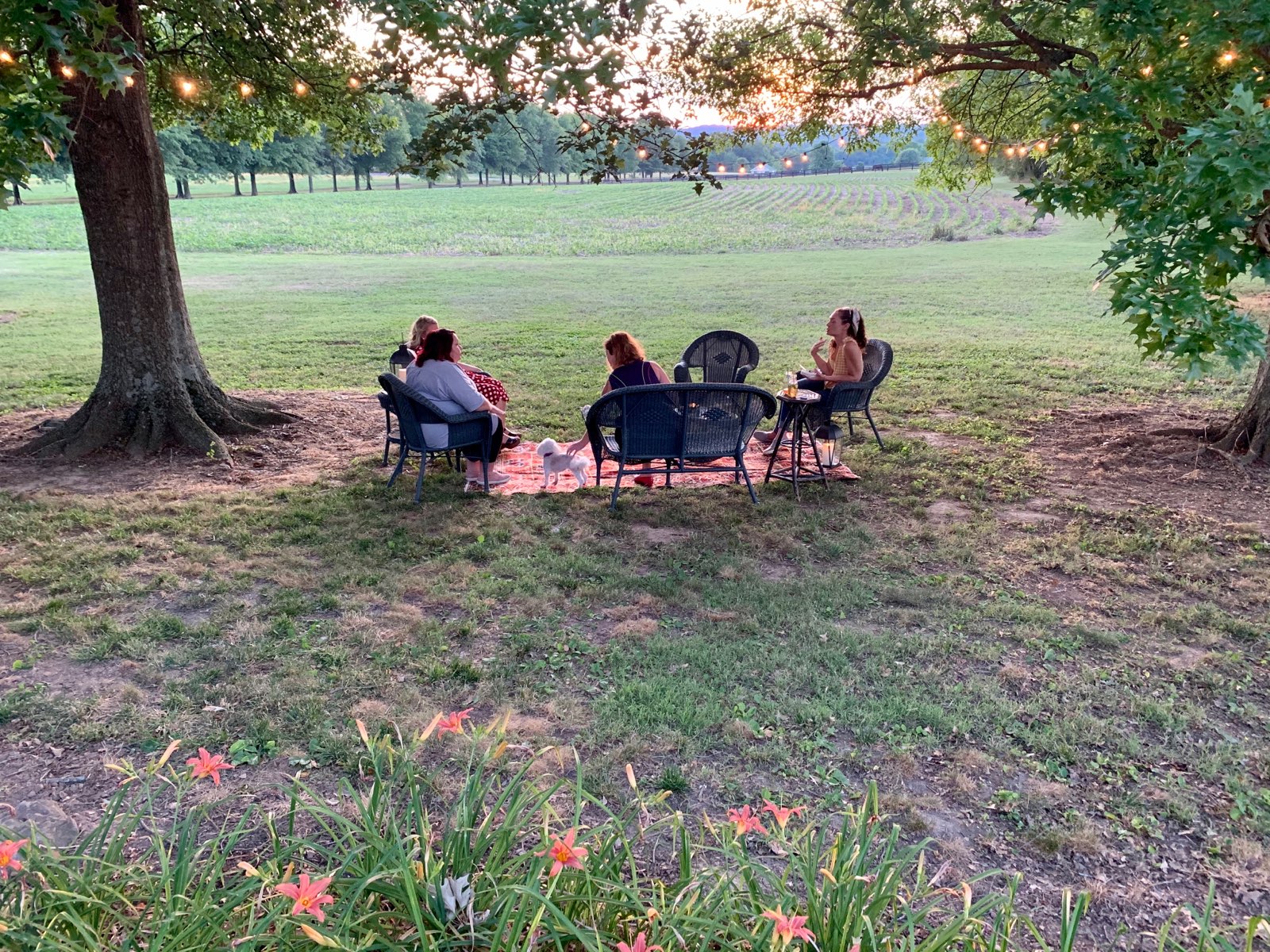 Outdoor Garden Party /  Photo Credit: Amber Grabowski
First things first to consider when planning your small get together. Understand the guidelines.
Wash your hands often!
Stay at least 6' apart.
Gatherings should be less than 10 people.
Cover your mouth and nose with a cloth face cover.

Note that for our get together we left this optional for our guests.

Remember to cover coughs and sneezes.
Clean and disinfect frequently touched surfaces.
Make sure to communicate with your guests that if they are not feeling well that it is ok to take a raincheck.
Once it is understood how to keep your guests safe while attending your SMALL get together, the fun begins!!
Here is how we did it!
Theme – To start things out you need to think about a specific style or theme for the party. We thought the perfect theme for our gathering was a 50's outdoor garden party. This theme kept it lighthearted and fun. A fun theme gives guests something to look forward too and let us not forget to mention how exciting it is to plan out what to wear! TIP: The easiest way to ensure you have social distancing in mind is to host outside. Good thing it is that time of year!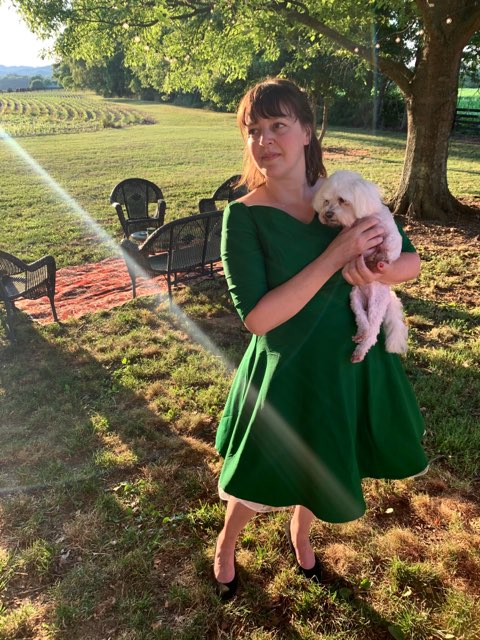 1950's Attire /  Photo Credit: Amber Grabowski
Invitation – For the invitation you can do it by mail or digitally. For time sake we opted to go digitally. Creating a fun invitation that represents the theme is always a good idea to set presence for the party.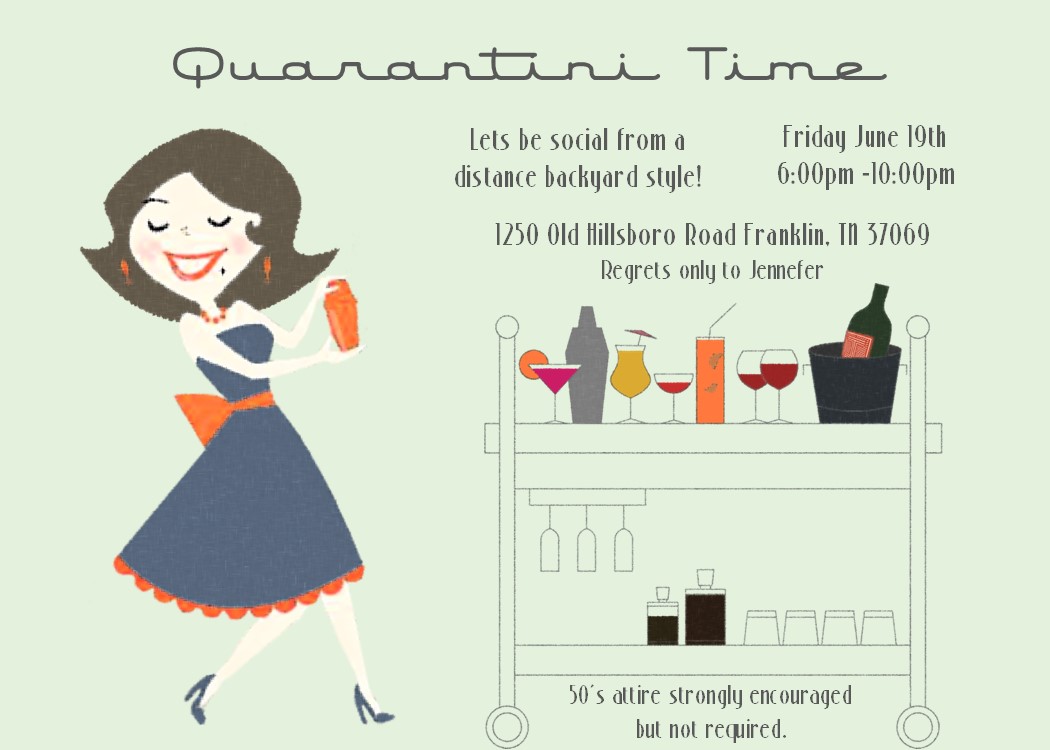 Quarantini Time Invitation/  Invitation Design: Taylor Scott
Planning the Set Up – Since social distancing is all new to us, it is smart to take time and plan out how you're going to maintain the 6' rule for your guests. Our goal for this party was to ensure it felt welcoming, fit the scene for the 50's, and everybody could catch up and feel comfortable. Creating a charming sitting space out in the yard was a perfect way to social distance unlike if we sat at a dining table. After planning out where the main entertaining space is you can decide where you are going to put the food, drinks, and any other areas for guests to mingle. Our drink station was separate from our food station and we also had another relaxed lounge space for guests.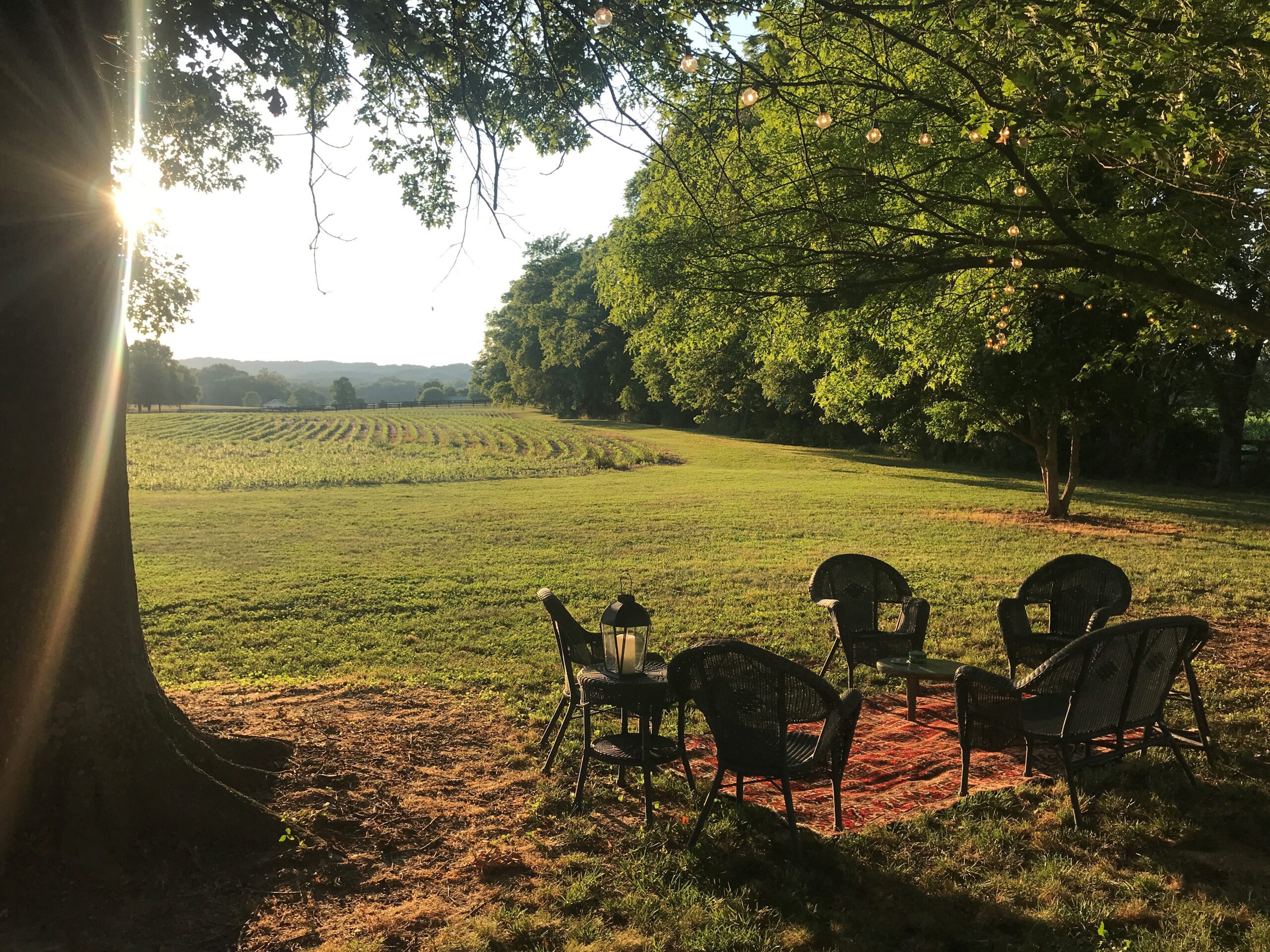 Outdoor Seating Setup /  Photo Credit: Tiffany Clapp
Eat, Drink and Be Distanced – Amongst the importance of planning where and how people are going to mingle; what and how people will be eating and drinking is another component that needs consideration when planning with guidelines in mind. With focusing on how to minimize contact between each guest, the idea of individual food and drink items was the way to go. You can get so creative with how this is presented!
Drinks – It is always fun to have signature cocktails to serve along your standard wine and beer. Note to self that it is a good idea to have water and a non-alcoholic beverage for those who prefer. For the 50's garden party we landed on two staple cocktails from that era, a cosmopolitan and mint mojito. To serve the two cocktails we put them in charming 8oz milk jugs that had caps. Our guests were met at the driveway with these delicious and cute cocktails.
TIP: First impressions are always a key. We welcomed our guest with not only a delicious cocktail to start the evening off but also the opportunity to sanitize hands and of course put on bug spray.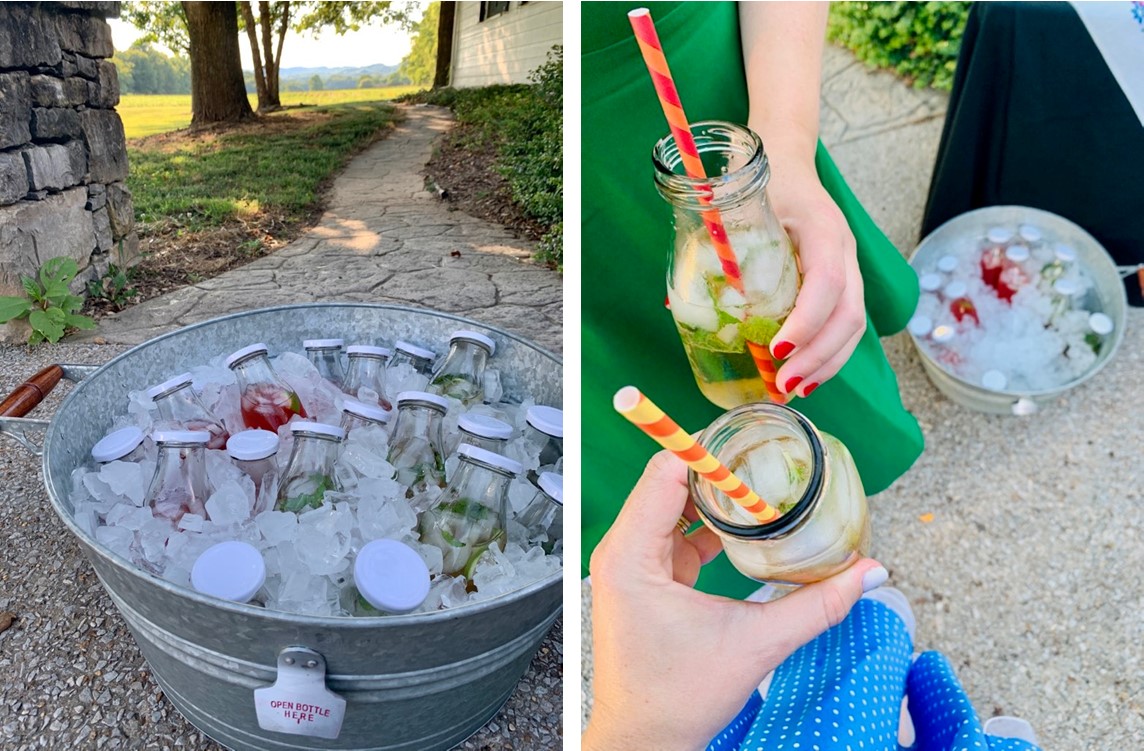 Quarantini Signature Cocktails /  Photo Credit: Amber Grabowski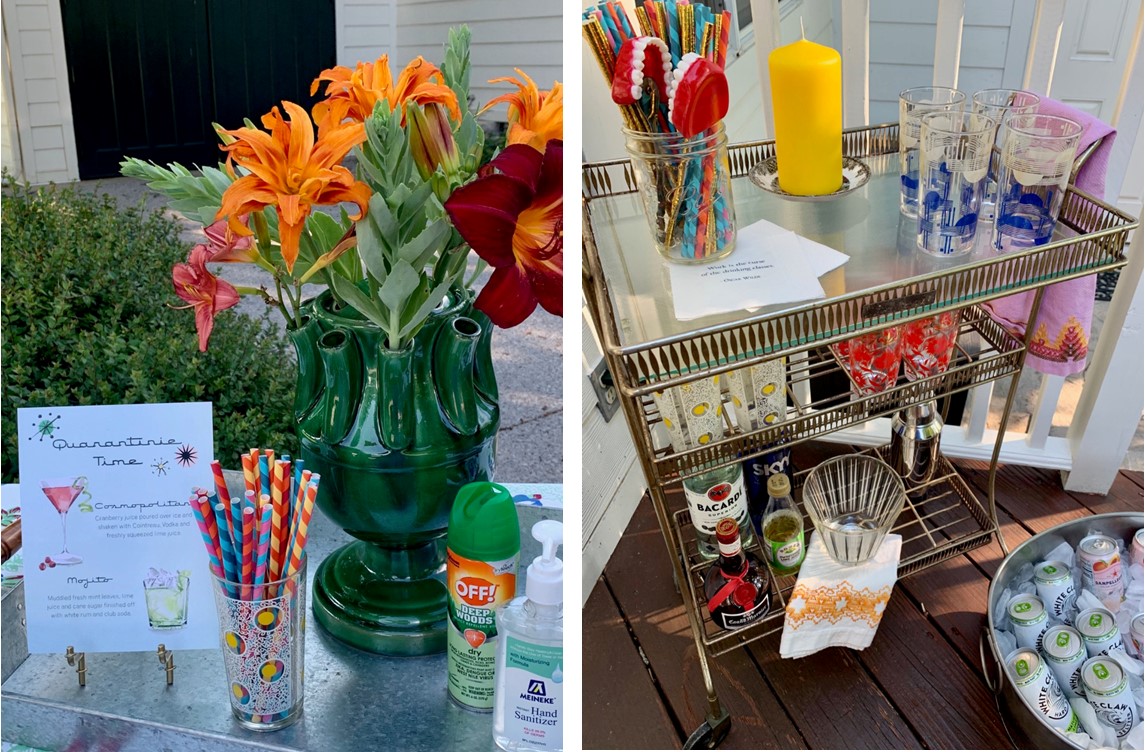 (Left) Cocktail Set Up /  Photo Credit: Amber Grabowski
(Right) 50's Barcart /  Photo Credit: Tiffany Clapp
Food—Be creative… but let's be honest we need easy peasy too. All the food took less than hour to prepare for 8 people. We decided on a good assortment of 9 different dishes that was served in a curated mix of vintage juice, crystal and martini glasses reminiscent of the 50's. Take a look at the delicious and easy dishes we served.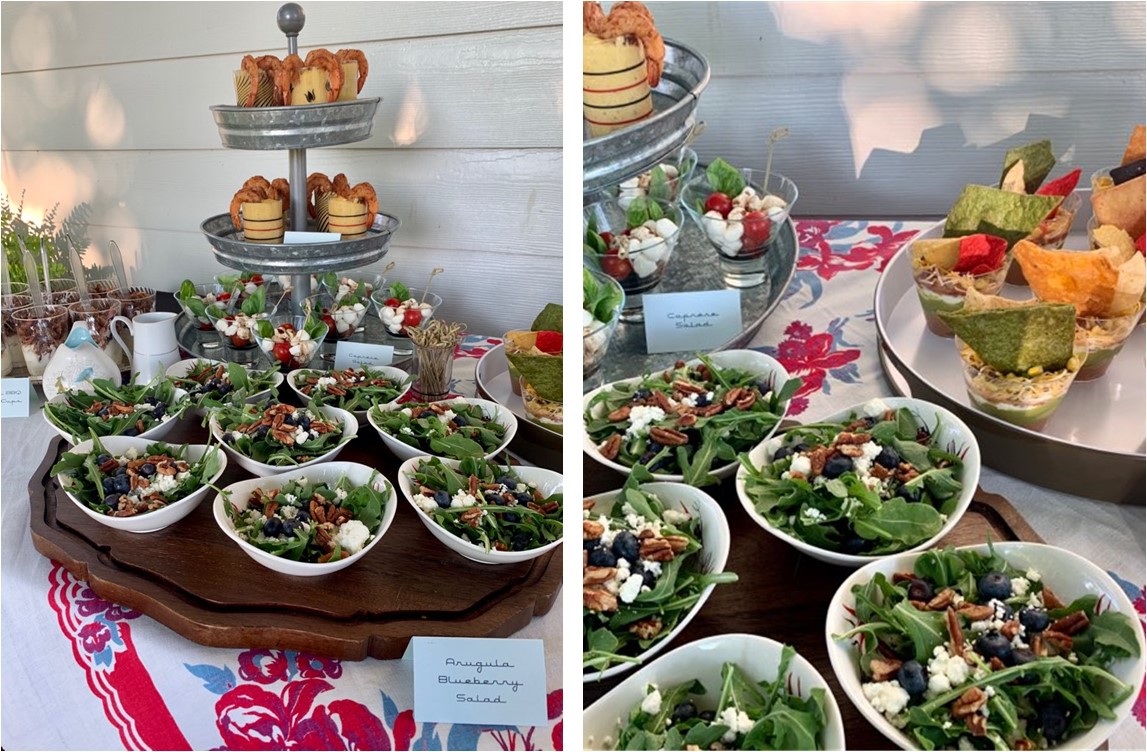 (Left) Food Setup /  Photo Credit: Amber Grabowski | (Right) Food Setup /  Photo Credit: Tiffany Clapp
Shrimp and Grits — Make this easy by purchasing seasoned cooked shrimp from your groceries seafood counter and put atop cheesy grits. Grits only take about 15 minutes to cook and once thickened add butter and shredded sharp cheddar cheese.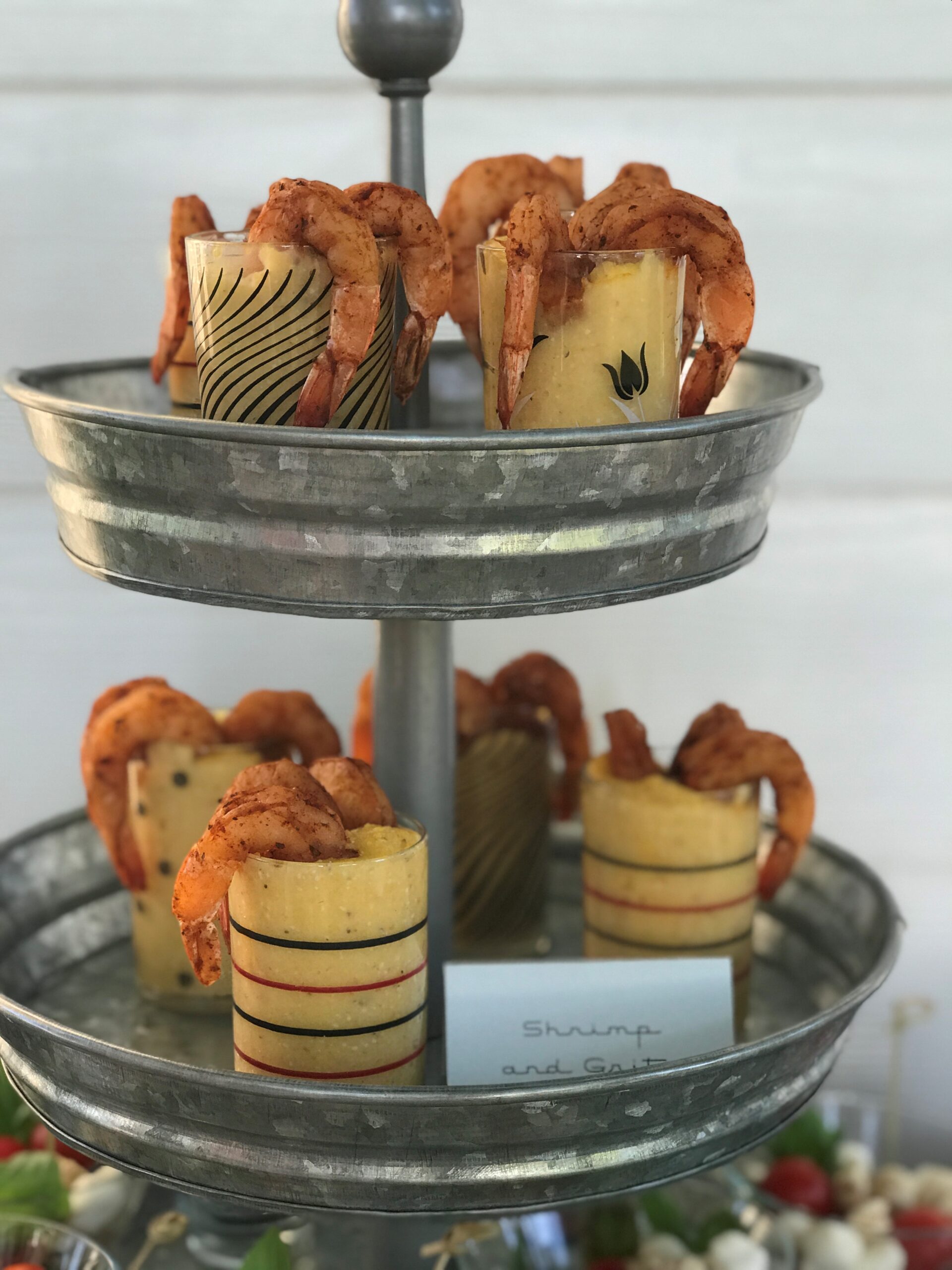 Shrimp and Grits /  Photo Credit: Tiffany Clapp
Pulled Pork and Mashed Potatoes—This is the easiest one out of all the dishes! We purchased the well known Martin's BBQ pulled pork and put atop the famous Bob Evans Original Mashed Potatoes. We swear by these… they ALMOST taste like your grandma's homemade mashed potatoes.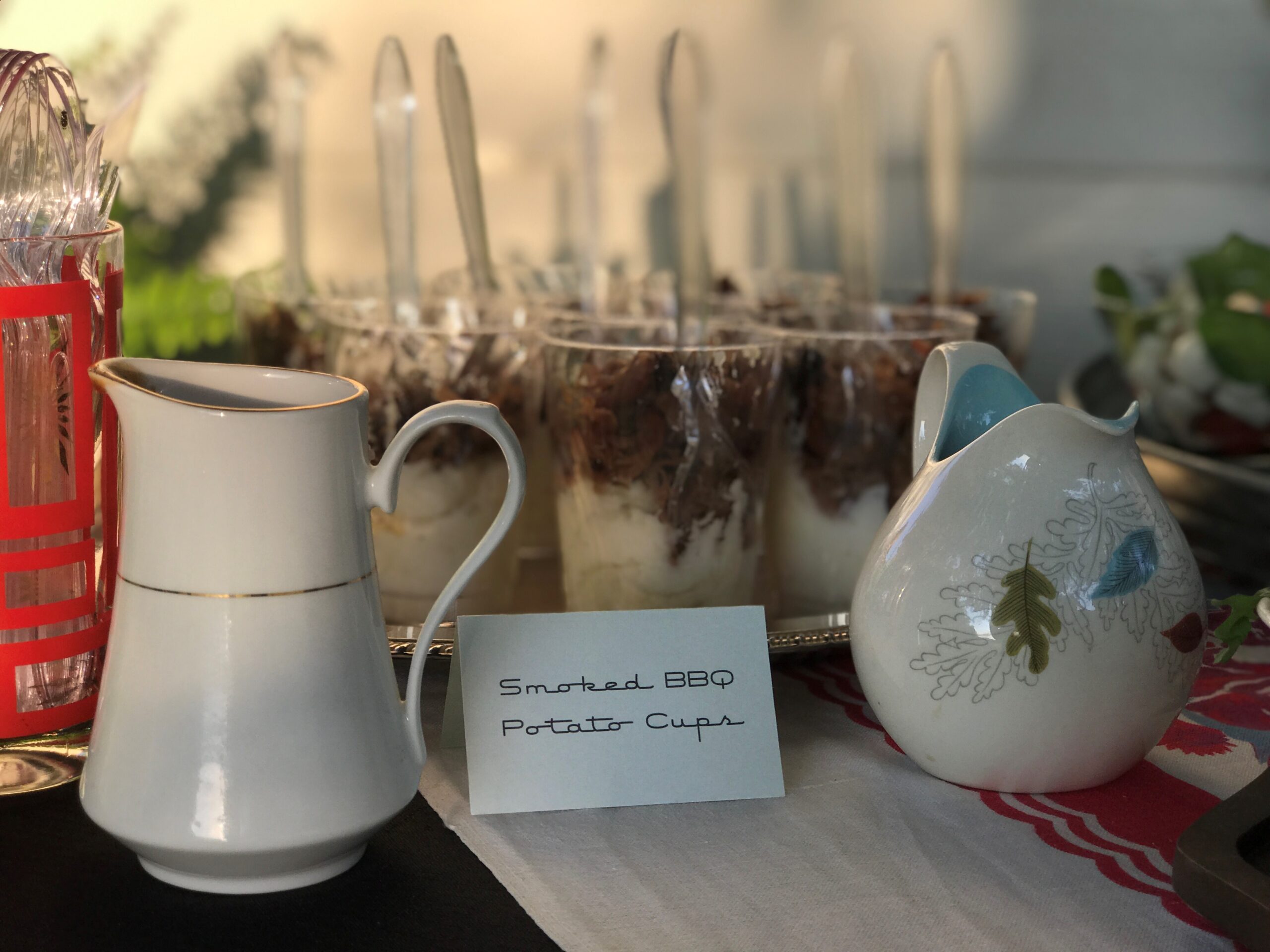 Smoked BBQ Potato Cups /  Photo Credit: Tiffany Clapp
Arugula Salad with Blueberries, Pecans , Feta and Vinaigrette Dressing— This salad is amazing because you don't have to cut or prepare much for this salad. Just wash the blueberries and dress with pecans, feta cheese crumbles and choice of vinaigrette dressing. TIP: We put the dressing on the bottom so the salad stayed crisp until time to serve.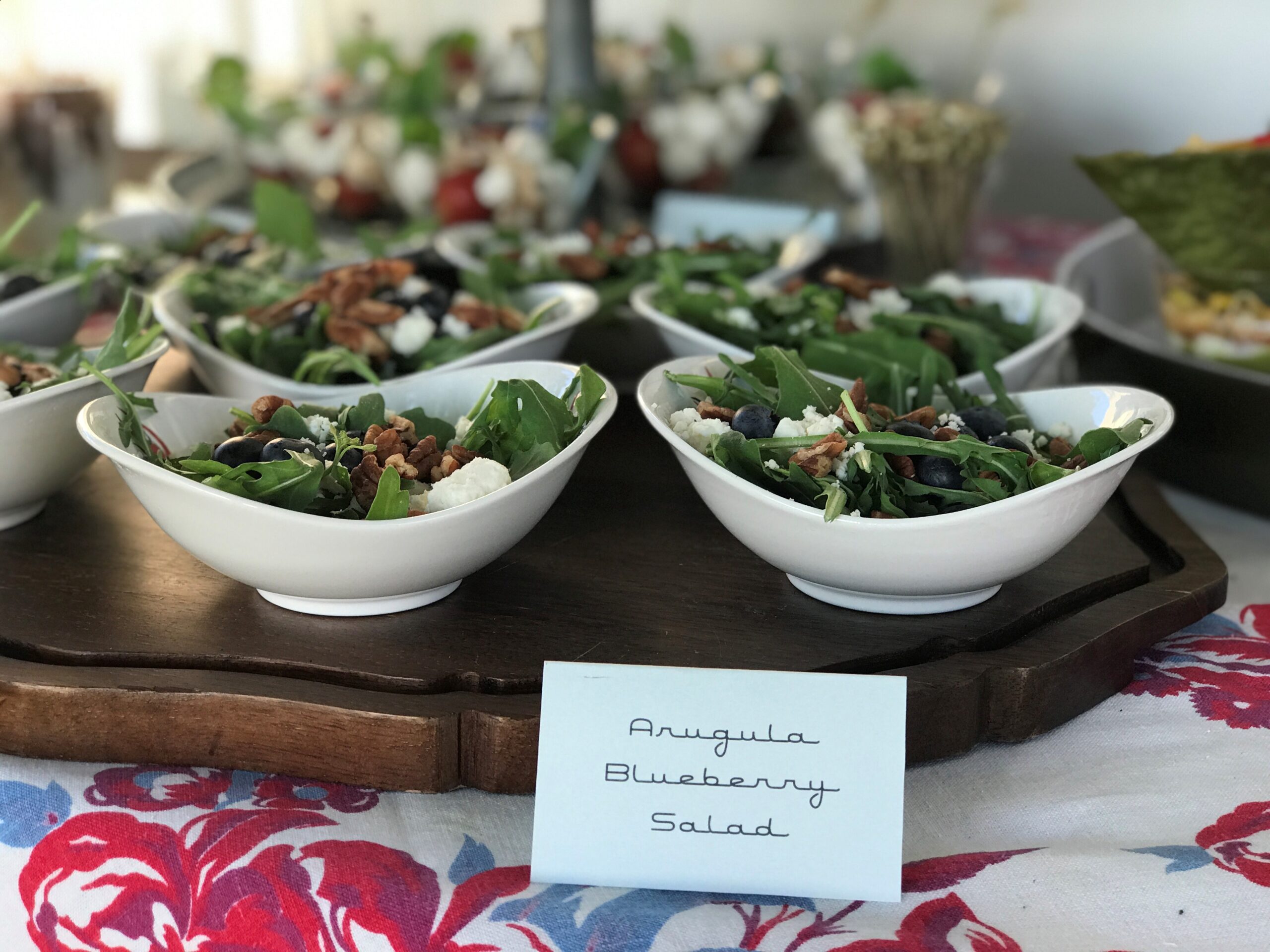 Arugula Blueberry Salad /  Photo Credit: Tiffany Clapp
Caprese Salad— Every party needs to have a caprese salad. It is so light and delicious and a crowd pleaser. All this dish requires is mozzarella pearls, cherry tomatoes, fresh basil and a drizzle of balsamic glaze.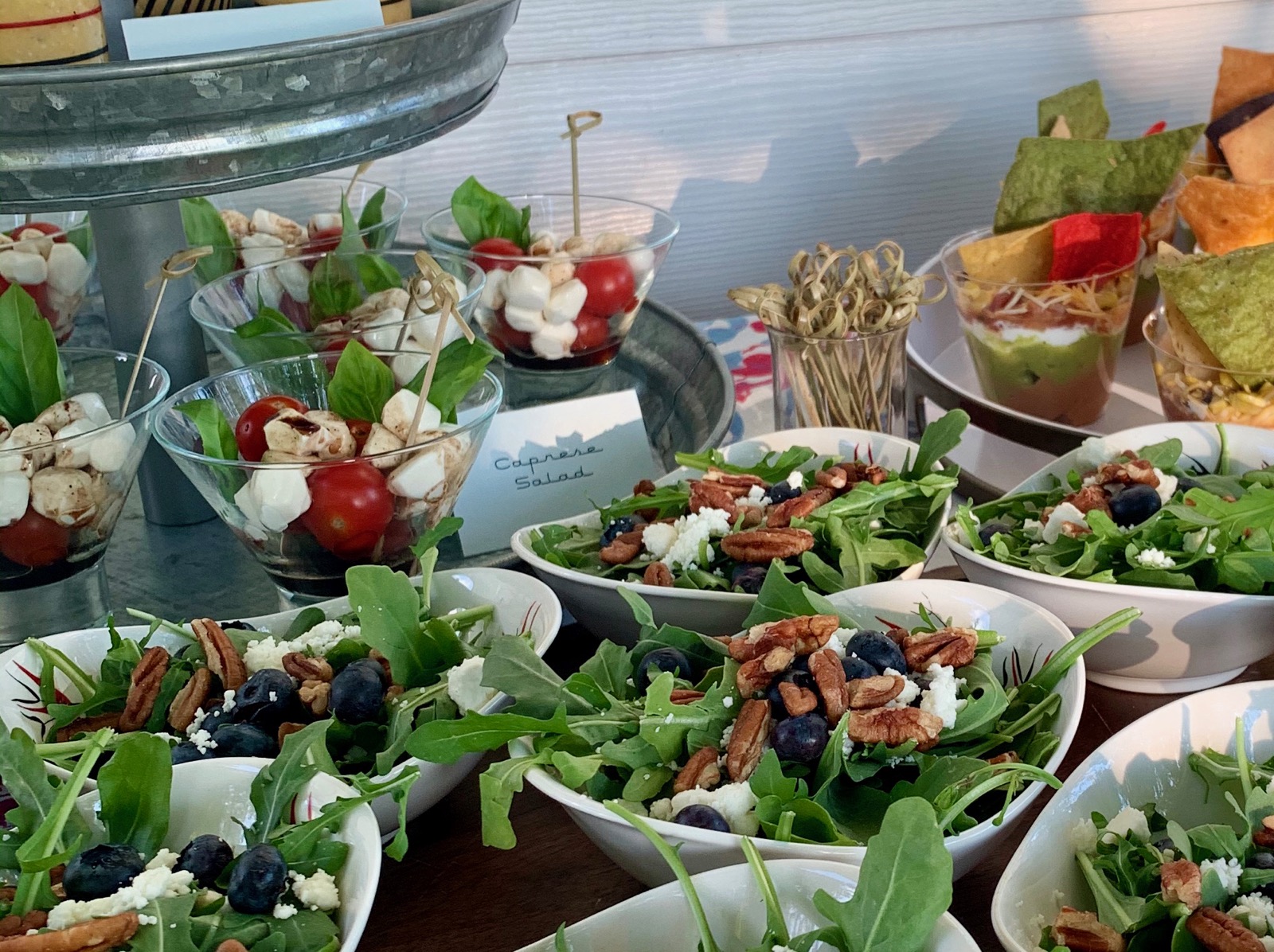 Caprese Salad /  Photo Credit: Amber Grabowski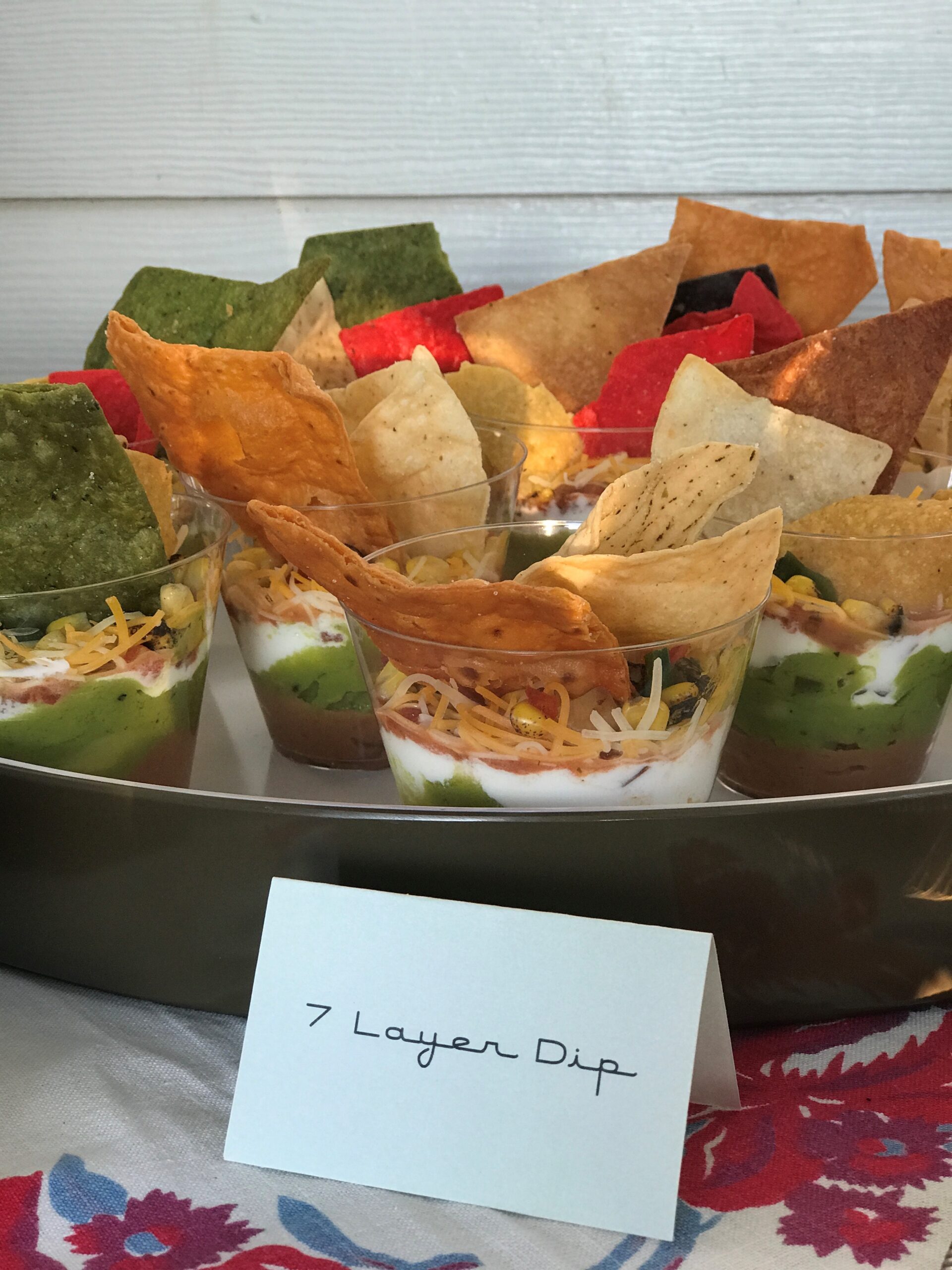 Pasta Salad — For this dish we kept it simple. We prepared bowtie pasta and tossed with Italian dressing, added in spinach salad, cherry tomatoes, pine nuts and shredded parmesan cheese.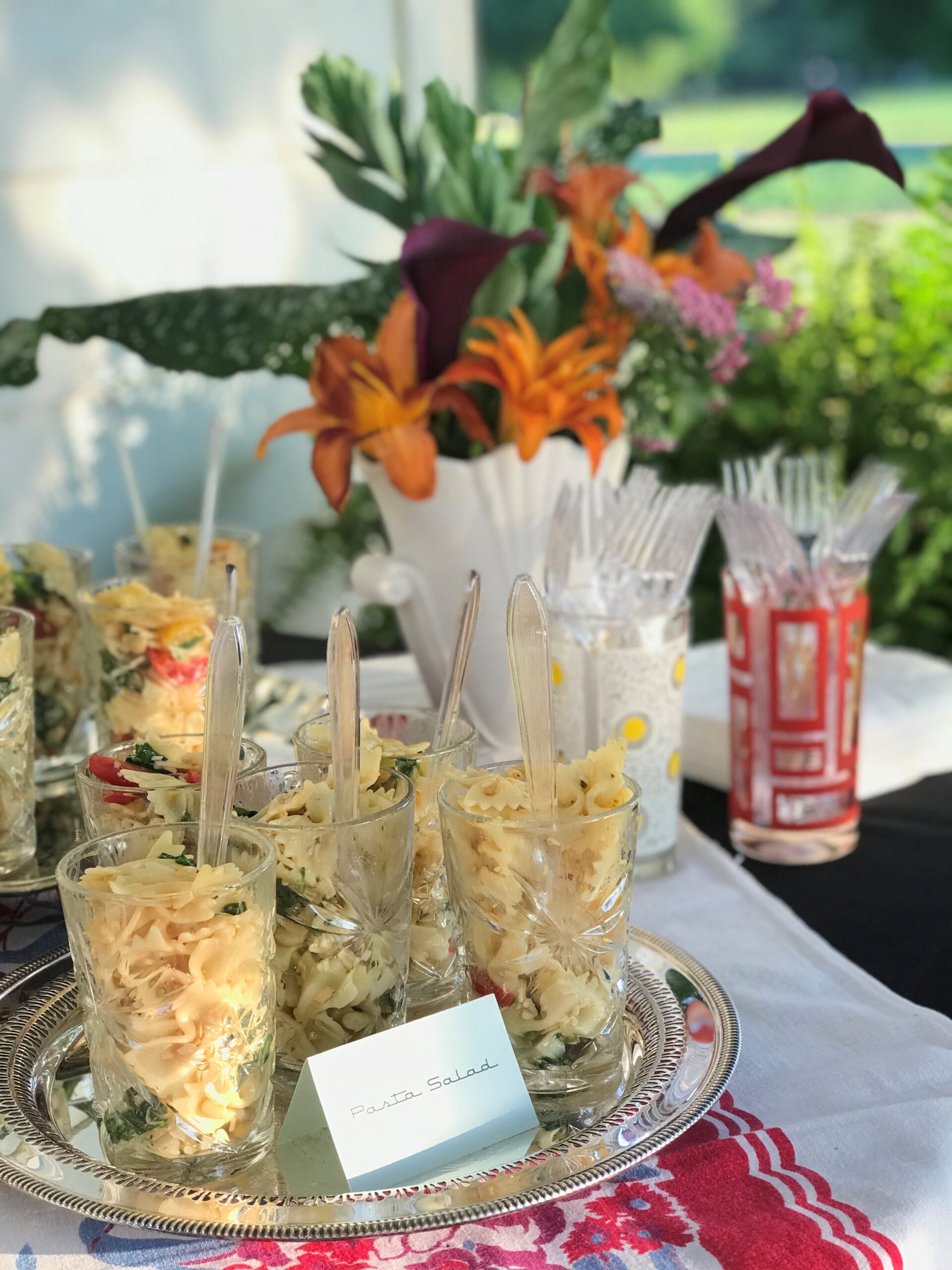 Pasta Salad /  Photo Credit: Tiffany Clapp
Assorted Individual Desserts  – Keeping it simple and classy all at the same time we used a local bakery in Franklin, Triple Crown Bakery. They have  gourmet desserts sure to please everyone. Plus they are a sight to see as well!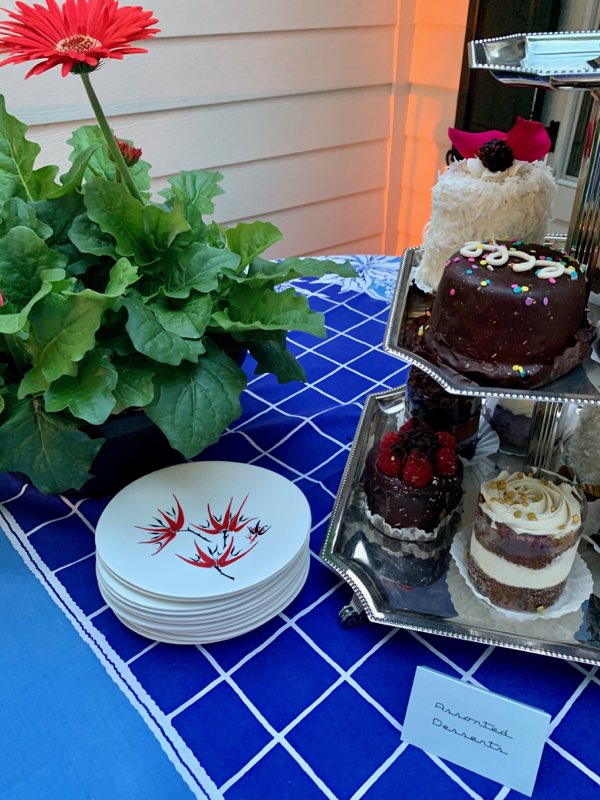 There is no better feeling than being surrounded by the people you love and cherish the most. It has been hard for all of us to comprehend what this "new normal" looks like. With things transitioning out of quarantine it is possible to entertain. But with this new way there are new rules and guidelines to help keep us safe and healthy. So, with the new way there is also a new and smaller way to entertain with those you love.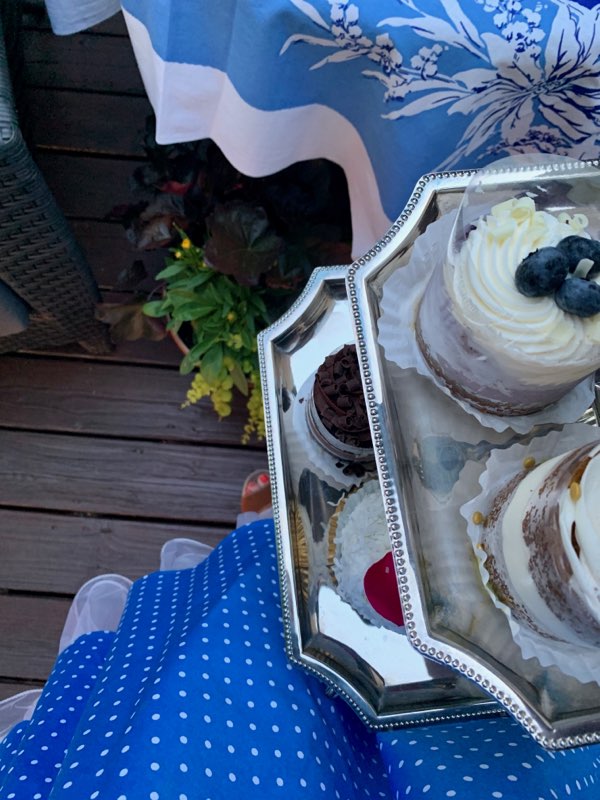 We hope that you and yours have stayed healthy and safe during this time.