We are so proud to present our very own hardwood floor collection comprised of beautiful prefinished engineered European white oak, engineered walnuts and solid hardwood floors built to last. We invite you to take a journey with us to learn about each of our engineered European white oaks.
Bratislava –
She said, "Hey Greta, want Slovakia for dinner?"  Forty-five minutes later we arrived at the glass domed train station.  We were currently standing at a crossroads.  Austria, our home base and Hungary, a place we had yet to explore.  My first real glimpse of this capital city was the stark contrast of the solid white 10th century castle against the night sky and the deep darkness of the Danube.  We strolled the historic winding pedestrian streets filled with lively cafes packed with the younger generation.  And while we were looking for the perfect postcard, it was also our date night. But more importantly we were achieving her goal of visiting just one more country, just in time.
This is Bratislava, an engineered European white oak, prefinished as white as the baroque castle that gives it the namesake.  Can look as ancient as the 907 AD structure or as fresh as the 20 somethings that fills its 18th century pubs, you choose.  Available in 4 or 6mm, rustic or prime, brushed details, and various widths.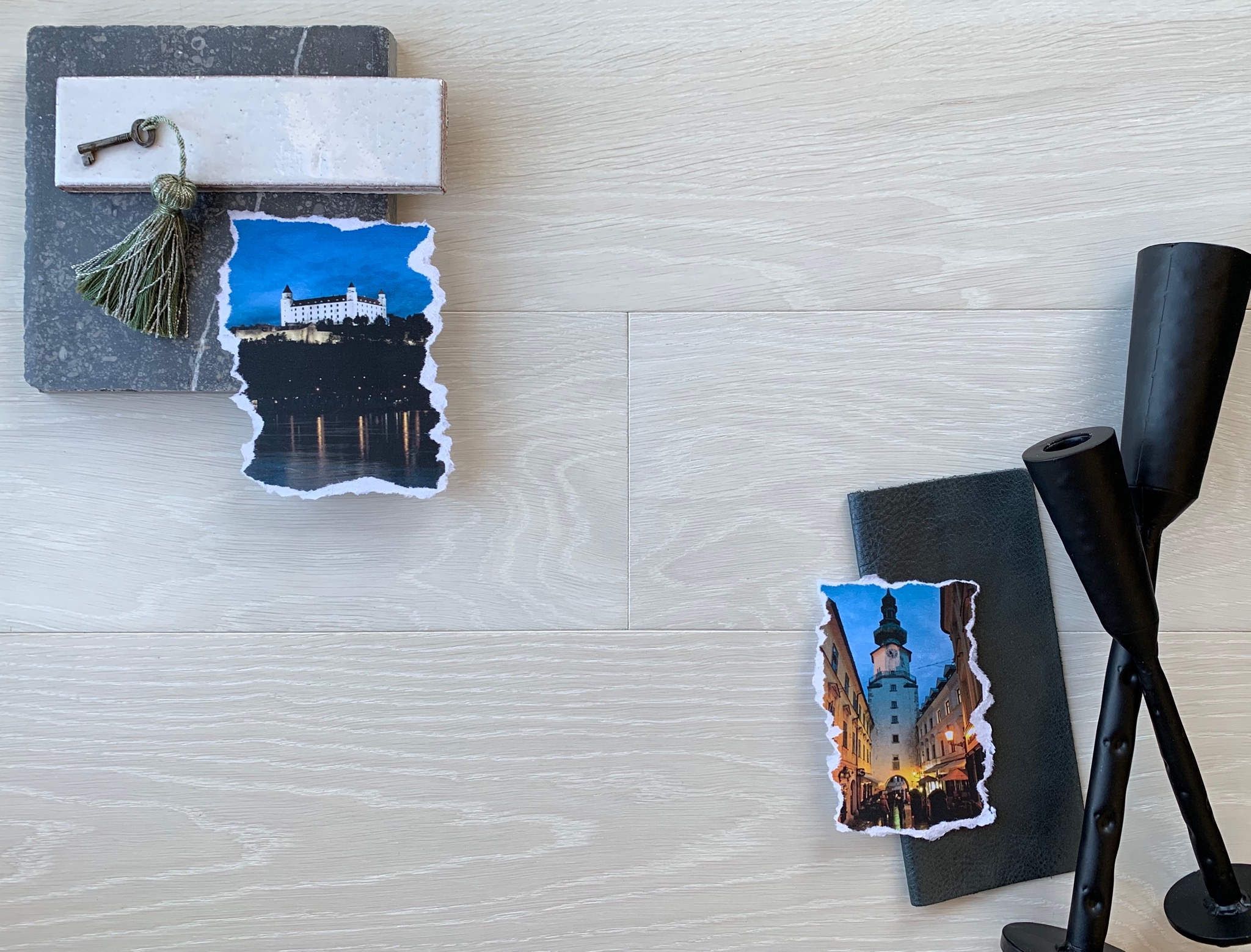 Winchmore Hill –
On one end we have The Kings Head and the other The Queens.  "N21", as it is proudly proclaimed when one is asked of their post code.  Sure, it is an easy train commute from London center, but why would you ever leave?  The village green is surrounded by restaurants and shops, and Edwardian family homes impeccably maintained line the streets.  There are fine parks and the air is thick with a sense of community.  This affluent suburb that attracts wealthy businessmen and growing families has a recorded mention as early as 1319.  If you are looking for the current elitist locale, and a car park in your front yard, you have found your place.
This is Winchmore Hill, an engineered European white oak, single smoked.  Because why would you not want to have an extra treatment done to your hardwoods?  Can be as elite as the poshest suburb or just seen as extra beauty under your growing family's feet.  Available in 4 or 6mm, rustic or prime, brushed details, and various widths.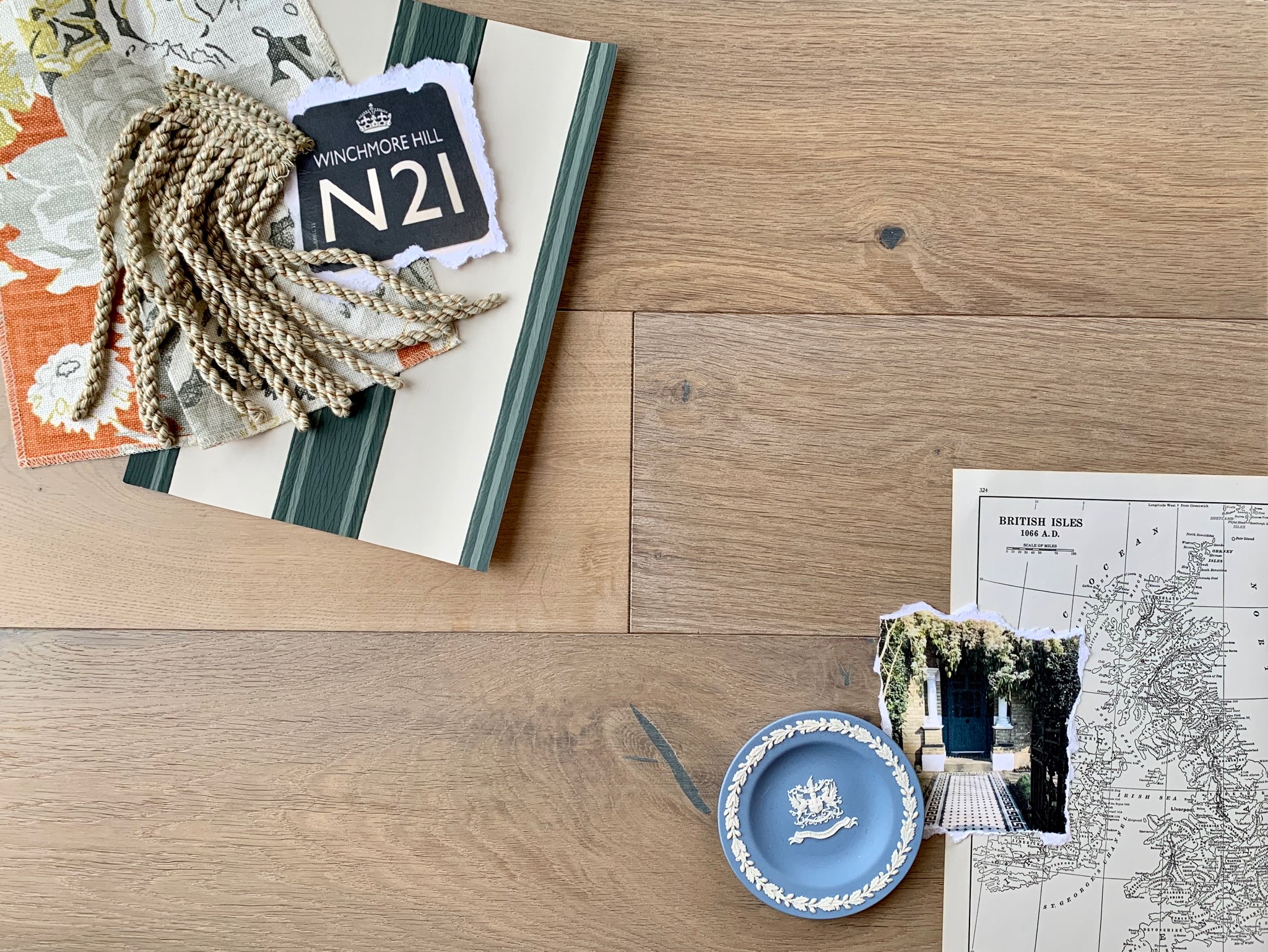 Schonbrunn –
"It was his favorite city so it remained mostly untouched through the war," she informed me.  Makes sense now I am seeing that the Austrian's spared no expense.  And although this country has a deep legacy of artist and intellects, it's also known for its many imperial palaces.  This one, only a mere 1,441 room summer home for the Habsburg rulers, is one of the most historically important architectural and cultural monuments in the country.  What started as a hunting lodge, became so much more and was even given as wedding gift…could you imagine?
This is Schonbrunn, an engineered European white oak, prefinished in the perfect chestnut color and looks just as exquisite as the various wood floor patterns found within the palace.  Whether you want the rustic feel of a historic hunting lodge, or a herringbone pattern fit for a ruler, this is your wood flooring.  Available in 4 or 6mm, rustic or prime, brushed details, and various widths.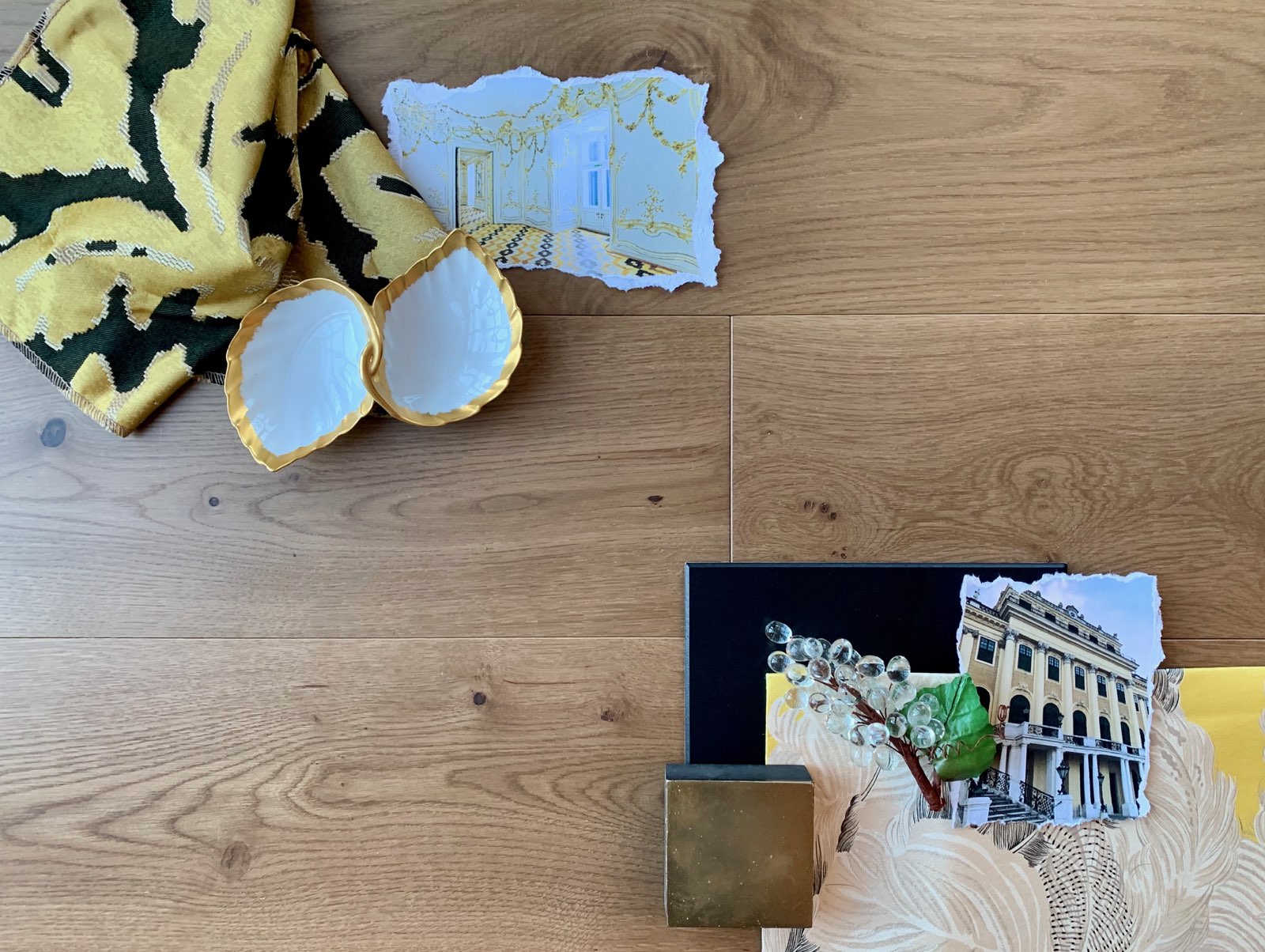 Weil am Rhein –
The architectural tour included all the heavy hitters, Frank Gehry, Zaha Hadid, Alvaro Siza and even Tadao Ando.  What started almost fifty years ago as the location for a furniture factory has now turned into our playground of who's who of the architectural and furniture world.  We went through every building, opened every door, sat in every chair, even took turns on the 30 plus meter high slide.  The Vitrahaus, a series of pitched-roof boxes, precariously perched on top of one another houses 5 floors packed full of the most renown classic and greatest and latest contemporary designs.  Mind blowing, blogging and inspiring all at the same time.
This is Weil am Rhein, an engineered European white oak, prefinished in a contemporary greywash.  Whether you are a lover of the original experimentalist such as Eames and Nelson, or you're more of a contemporary boundary pusher like Hadid and Gehry, this flooring is for you.   Available in 4 or 6mm, rustic or prime, brushed details, and various widths.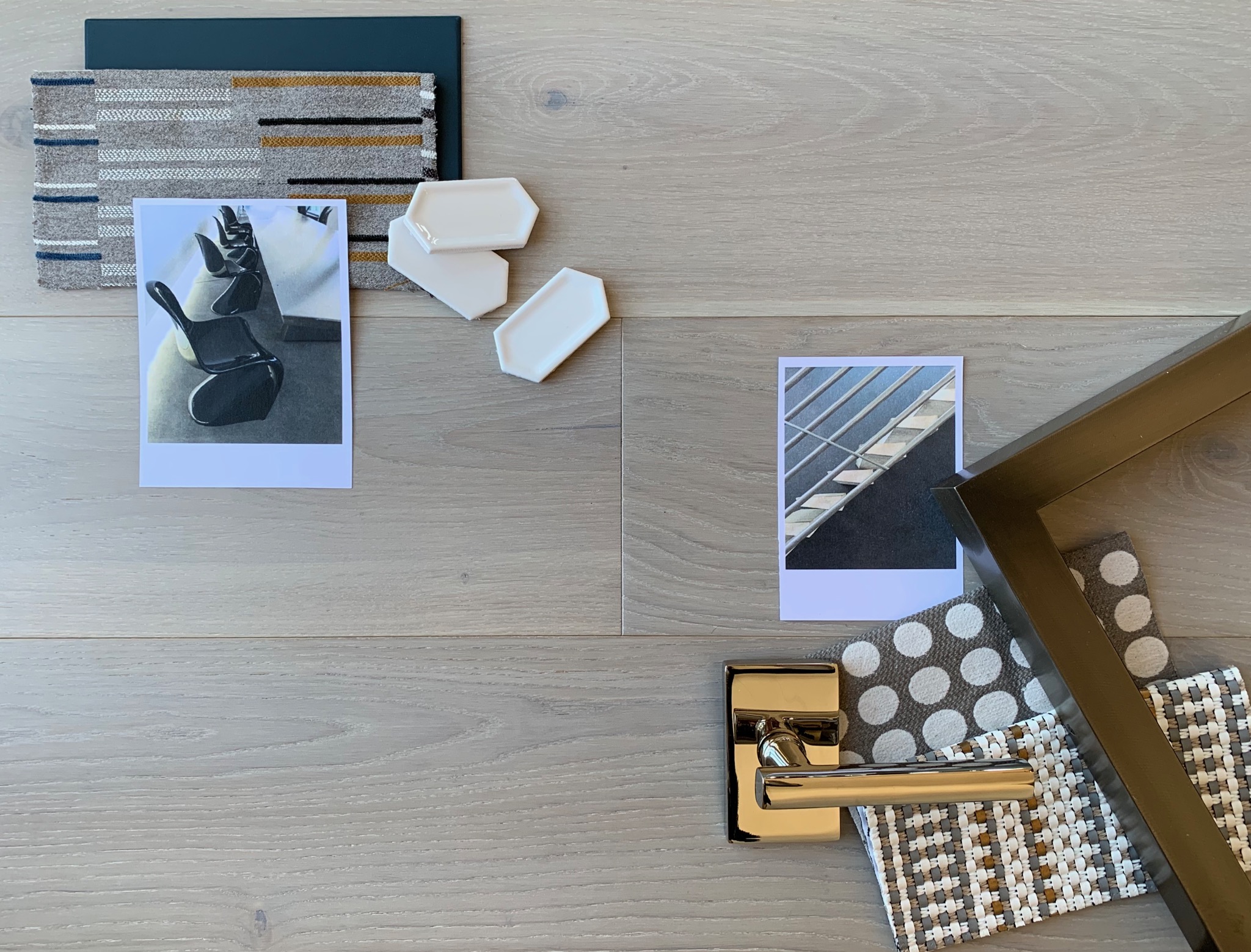 Petite Trianon –
It was the first day we left the pied-a-terre at a decent hour.  The accordion player on the train only heighten our giddiness and made the trip through the French suburbs and historic hunting grounds even more romantic.  We high fived at the golden gates. At last, we have arrived! Sure, the palace was grand, and truth be told, we really went through it a bit too fast.  Only stopping at the Hall of Mirrors for a few photo ops.  Into the gardens and off we sped on a golf cart, to get closer to her.  Once arrived, we understood completely.  It really did feel like an escape.  The formal court life was behind us and even "we" could shake off the royal responsibilities.
This is Petite Trianon, an engineered European white oak, prefinished in a close to natural finish.  Relaxed, but still formal, this flooring will give you the everyday escape.  Available in 4 or 6mm, rustic or prime, brushed details, and various widths.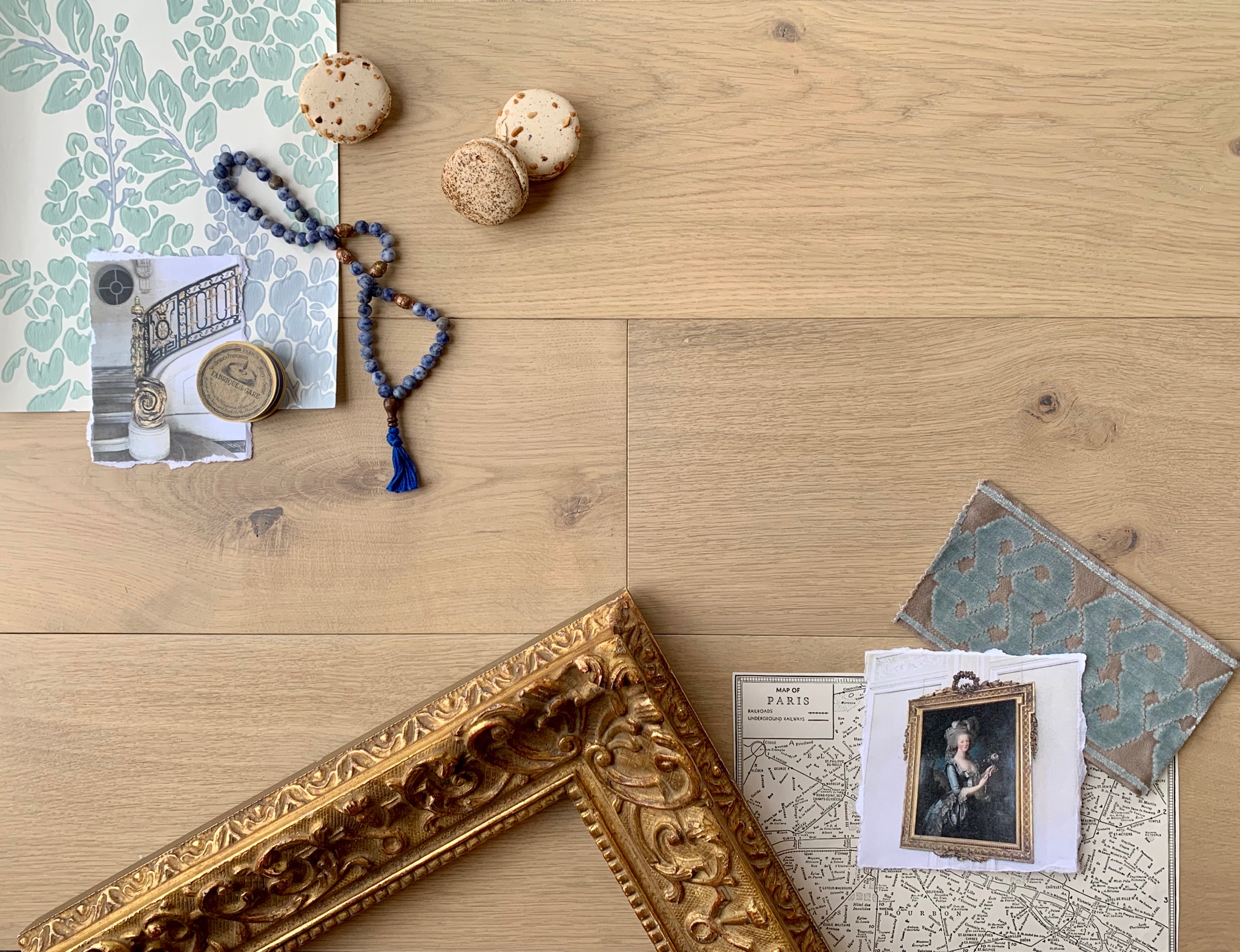 Las Ramblas –
We spent our entire first night rearranging furniture.  I've never seen Emily so proud to style a mantel.  We had to make it feel like home, even if it was only going to be so for the next three days.  We experienced it all, the paella, the port, the Picasso, and the pick pocketers.  We went from one end of Barcelona and back without ceasing and still found time to stop and take it all in.  An itinerary that would have made even Gaudi proud.  A picture-perfect whirlwind of a trip left patinaed memories just a worn as the city they were made from.
This is Las Ramblas, a double smoked engineered European white oak, prefinished with the perfect patina.  It has as much depth and character as the city's infamous boulevard it is named after.  Available in 4 or 6mm, rustic or prime, brushed details, and various widths.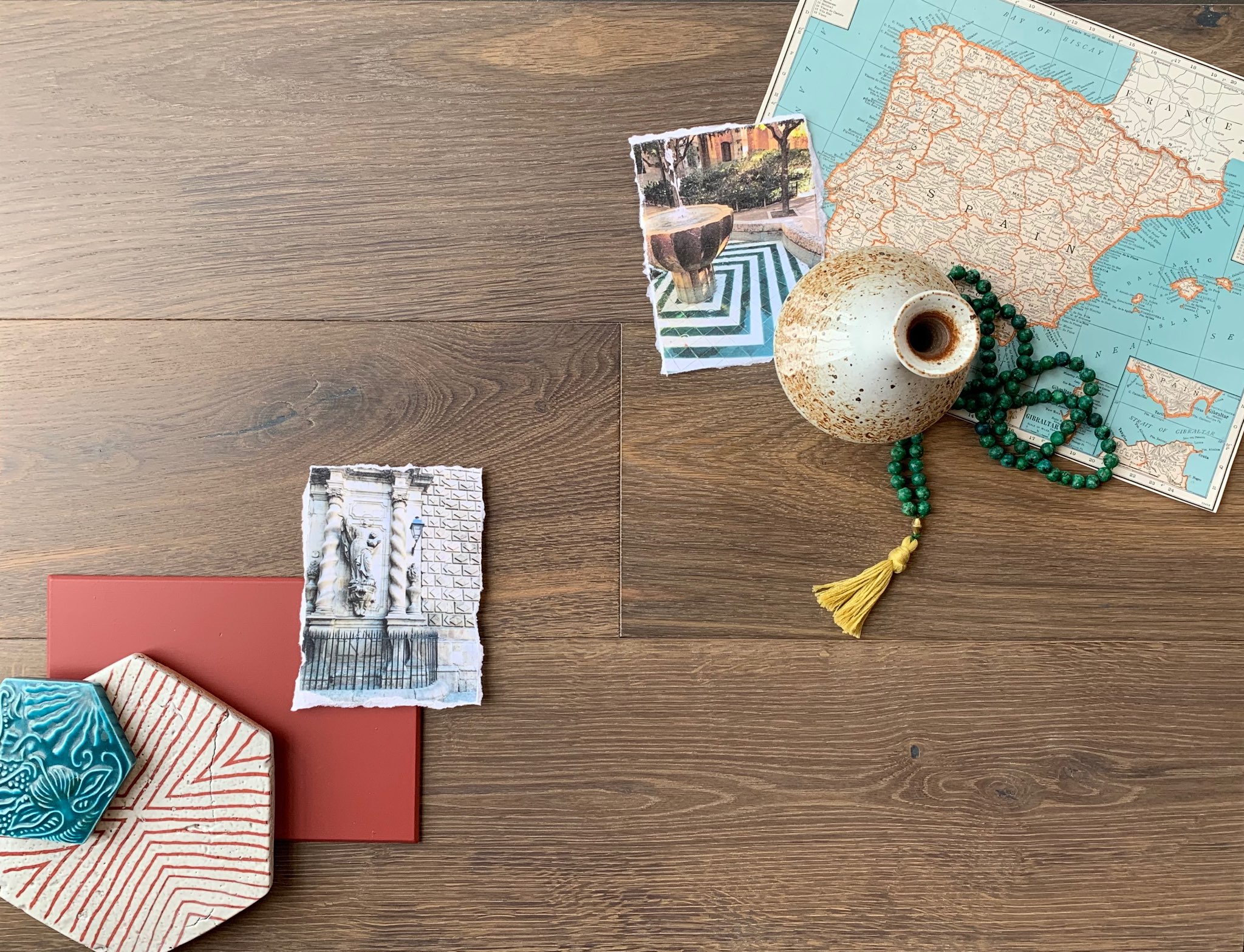 D'Orsay –
I'll never forget this day.  It was the only day of the entire trip I ordered my coffee correctly.  The only day I didn't eat on a jambon baguette.  It was our last day there and we finally had a day to just wonder the city streets. It was also the day my love for the beaux-arts was not only confirmed but escalated.  Sure, the Louvre was great.  With it's collection of older than dirt paintings and sculptures contrasted against Pei's pyramid.  But this, this was different.  The train station to begin with, was superb.  The first electrified urban terminal station in the world!  But the crème de la crème for me was the almost 800 works of Art Nouveau decorative arts.  Stained glass, doors, paneling, bronze, goldsmithing, silversmithing…and…the furniture.  Heaven!
This is D'Orsay, an engineered European white oak, prefinished with a subtle wash similar to the stones used to construct the historic station.  It is as classic as the works of art housed in this now turned museum.  And as beautiful as timeless aesthetic.  Available in 4 or 6mm, rustic or prime, brushed details, and various widths.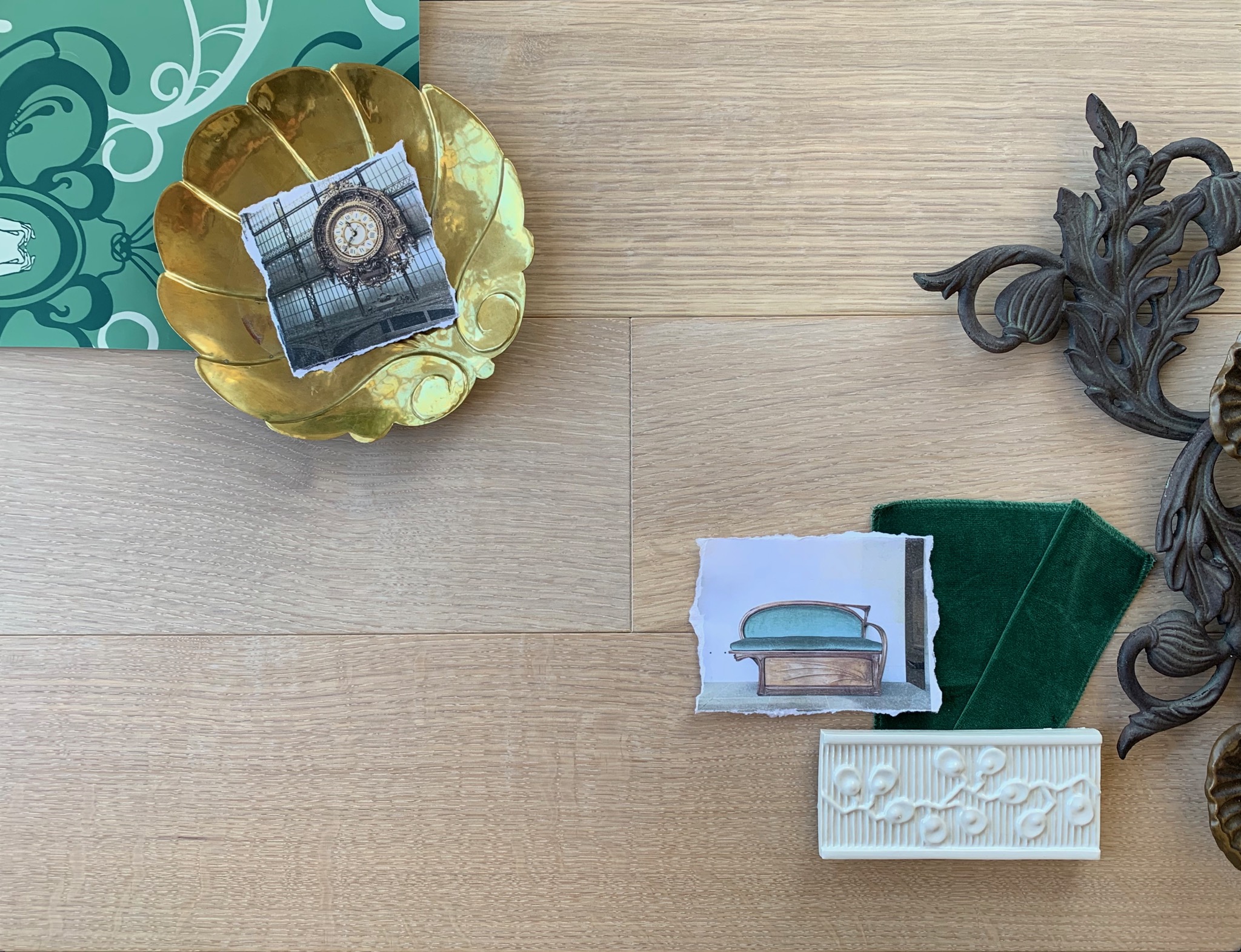 Ronchamp –
It was raining during our two-hour drive.  I didn't mind because it blurred the lines between where the Swiss chalets ended, and the French chateaus began.  To be honest, I'm not even quite sure when we crossed the border.  Back in college I had seen a photograph of it for the first time.  My gasp was even louder when in person.  The structure was everything I could have imagined.  Unorthodox, mesmerizing and spiritual all in one profound concrete structure.
This is Ronchamp, an engineered European white oak, prefinished in a perfect contemporary grey.  This finish stretches the boundaries between ancient rituals and newly embraced modern movements.    Available in 4 or 6mm, rustic or prime, brushed details, and various widths.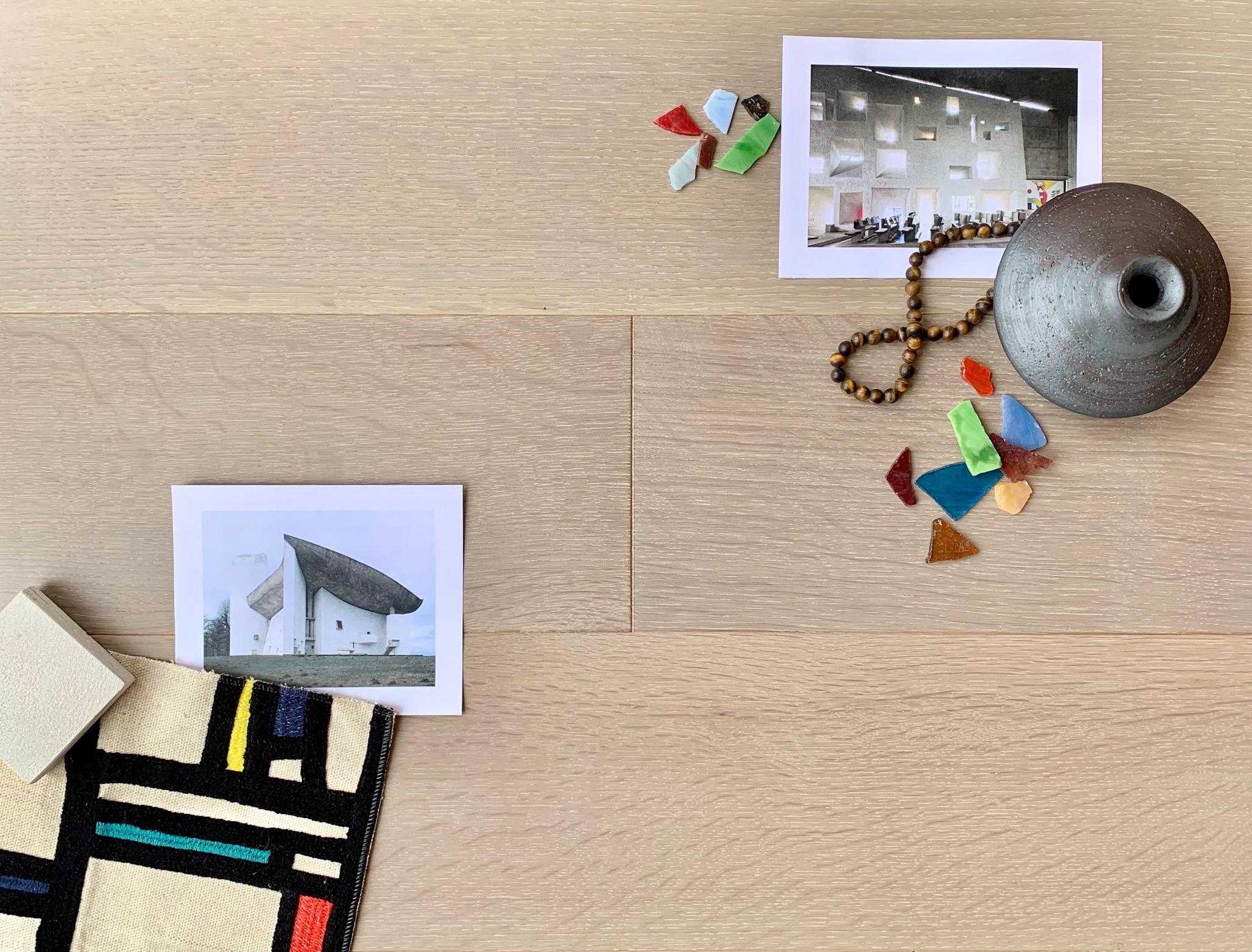 Bern –
It was my first time abroad.  My mouth dropped at every turn.  Before me stood a perfectly preserved 12th century medieval city built within the crook of the river backdropped by the Swiss Alps, the City of Water.  We climbed the hill to the rose garden overlooking the old city.  The view as spectacular as it was, left me longing to get into the heart of it all. Our favorite spots were the ones lying below ground.  Down in and around the old clock tower we frequented speakeasy styled watering holes, contemporary cuisine framed in embellished cave like settings and even the quaintest of antique shops. All through storm cellar like doors located at street level.   The dark descent of each staircase was always rewarded with the surprise of what lie beyond.
This is Bern, an engineered European white oak, prefinished in a dark chocolatey brown.  As fierce as the animal who namesake is told, as smooth as the sweet confectionery the country is known for.     Available in 4 or 6mm, rustic or prime, brushed details, and various widths.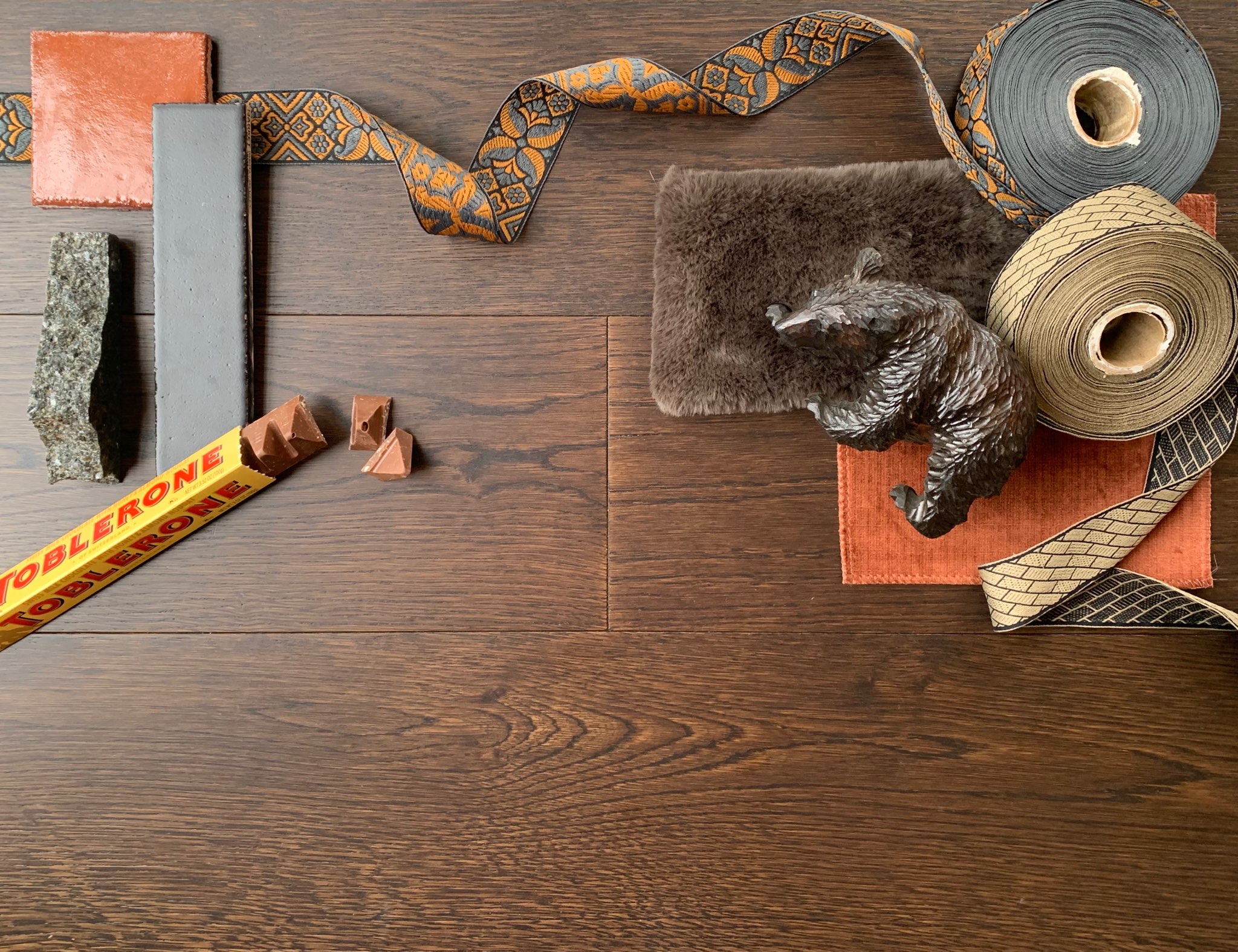 Frontenac –
As we approached our landing, she looked at me and smiled, "It's proper fall here." Never have I seen so much color as Canadian autumn.  I knew a little bit about the hotel, but to my surprise it was larger than I ever imagined!  Designed by an American, built by a railway and named after a French General, the Chateau was the perfect backdrop for the historic district of Old Quebec.  What was intended as trip of training, soon became known as the best worst group to ever arrive.  We ate, drank, danced, and fellowshipped with what was soon to become forever friends.
This is Frontenac, where it all started. An engineered European white oak, prefinished as time worn as the grey stone ashlar used for the old city wall.  As strong as a bond united by friendship.  Available in 4 or 6mm, rustic or prime, brushed details, and various widths.