If you have ever followed Rick and I around on social media you will not be surprised to hear that Asheville, North Carolina is one of our favorite get away spots.  We have a special bond with the Blue Ridge Mountains and several of our all time favorite restaurants, antique shops, galleries and hotels are located there.  But all of that is for another blog, at another time.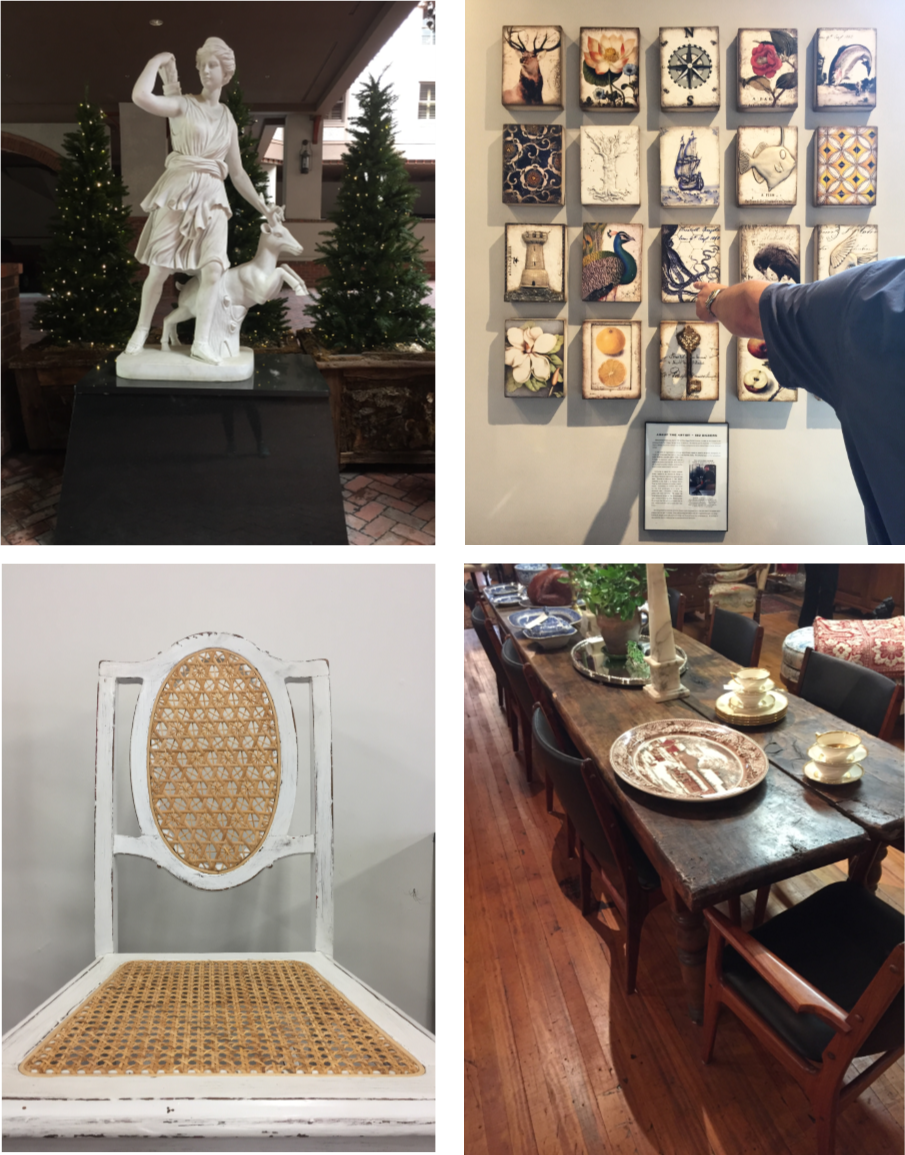 Of course everyone is familiar with the famous tourist attraction (and largest privately owned estate) built by George Washington Vanderbilt II in the late 1800's.  Nothing is more fascinating in life to me than great achievements in architecture, especially during the Gilded Age.  Again, another blog for another time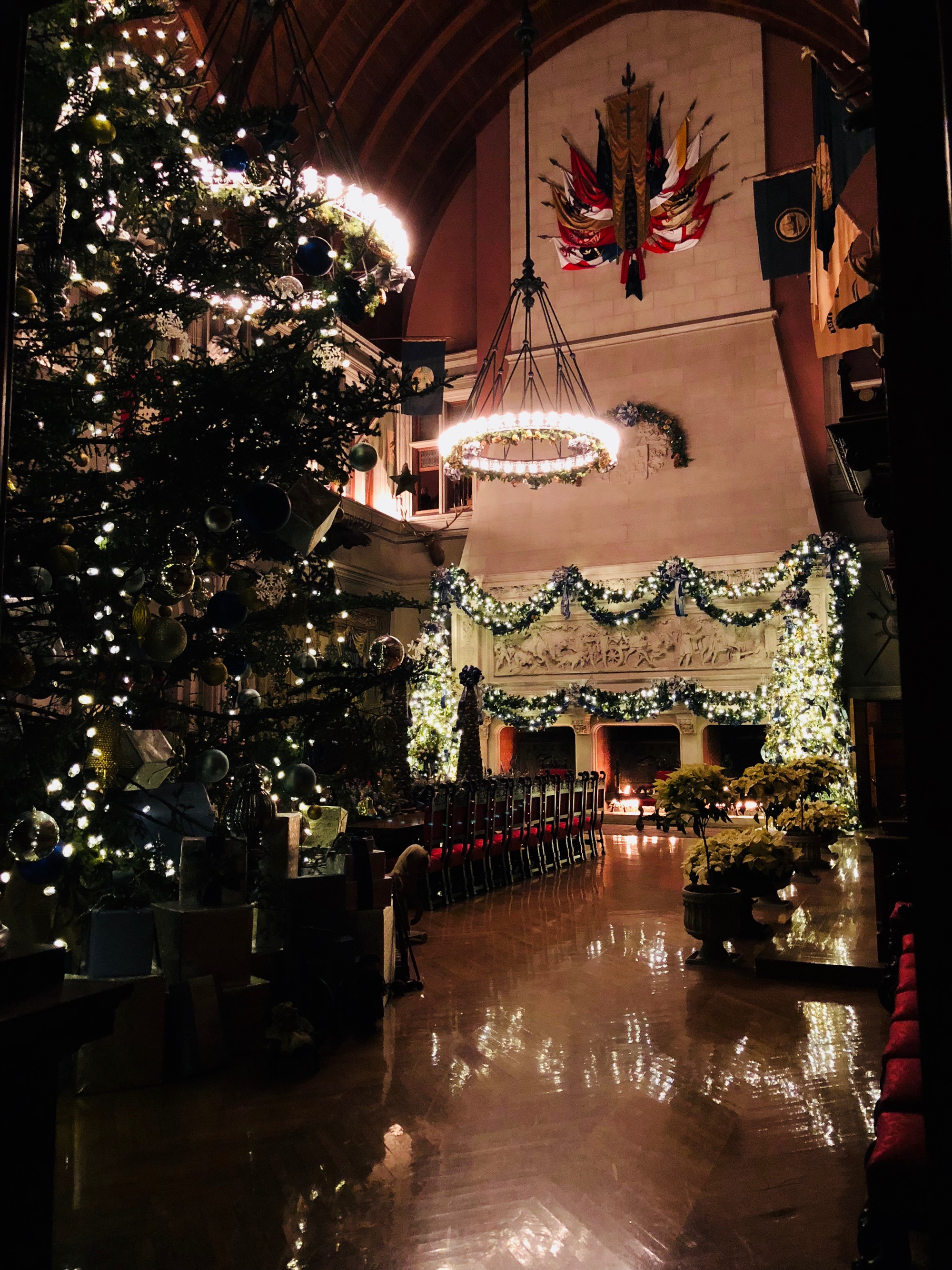 But what you may not know about Asheville is that in 1916 there was a epic flood that damaged not only the Biltmore Estate, but neighboring Biltmore Village.   The flood resulted a very smart man by the name of Junius Adams to be requested to do a survey after said flood and his report came back stating that 1500 acres of Biltmore Estate wasn't very productive and was bringing nothing but tax burden to the Biltmore Estate.  Solution?   Declare this area strictly residential and sell off lots ranging between 3 to 5 acres for a mere starting price of $5,000.00  with promise to build homes ranging between $7,500.00 to $25,000.00.  The Town of Biltmore Forest was officially chartered in 1923.
Last fall Rick and I happen to get stuck at the
Grand Bohemian
during a snow storm.  I know, horrible right?  I got a bit of cabin fever and took off for a quick walk in the snow.  That's when I stumbled onto Biltmore Forest.  Of course it's beautiful in the snow.  But the word charming pales in comparison to the character of this community.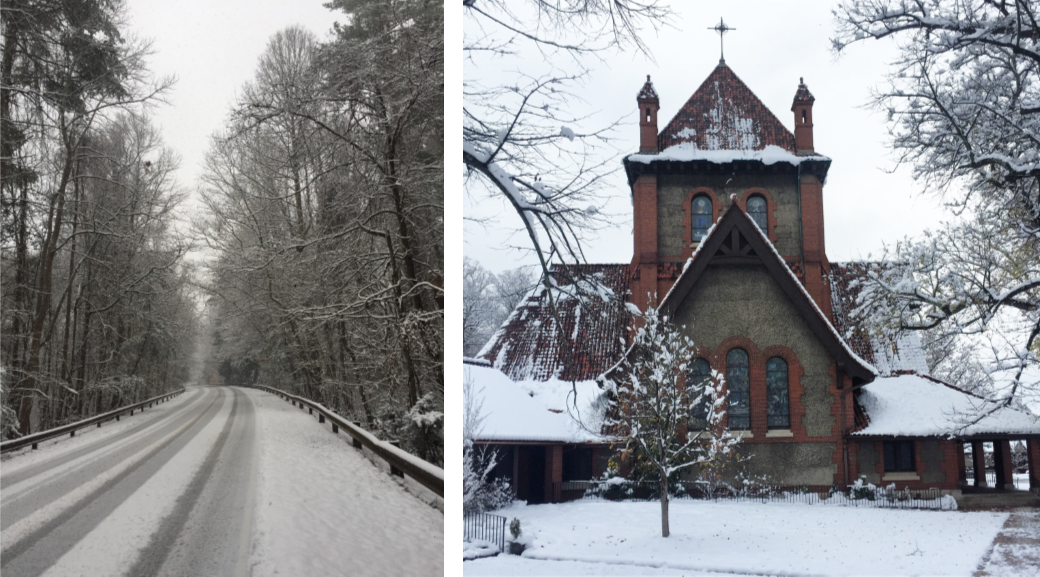 It's got it all folks, the
Country Club
, two gorgeous public parks,  superb police department and public works and in 1990 the town became eligible for the National Register of Historic Places.   Because  of the brilliant planning of this town in it's initial stages the conservation is prevalent in not only the community itself through strict zoning and ordinance, but in the landscaping and  most importantly, the architecture.  This place is a dream for anyone who loves Georgian, Craftsman, Tudor and Colonial revival.  And while I cannot personally take you through the winding, gentle hills of the town chocked full of absolutely gorgeous homes tucked in among North Carolina's native cedars, oaks and rhododendrons galore, I can show you the current homes for sale.  (I thought I may get arrested and truly be charge with house stalking if I were to take photos myself.)  Biltmore Forest today is home to some of the largest estates and is one of the wealthiest towns in the country.
For more on the history of Biltmore Forest , watch this adorable video below.
https://vimeo.com/184888955
I love getting a notification from
Zillow
when a new house comes on the market in 28803!
Below is a sampling of my current favorites.  I found one for just about every decade.  All available through  Beverly – Hanks realtors and all available for interior design services through yours truly.
Let's start with the oldies, but goldies.  Click address to follow links to listings.
Nothing feels more grand than pulling up to a historic Georgian home!  The red brick and white columns get me everytime.  They always feel very nostalgic and very much like a family home, easy to fall in love with at first sight.

Stats: $3,175,000.00 / Georgian, Built 1928 / 3+ acres / 7,569 sq ft / 6 Bedroom, 6.5 Bath / Favorite Room: Den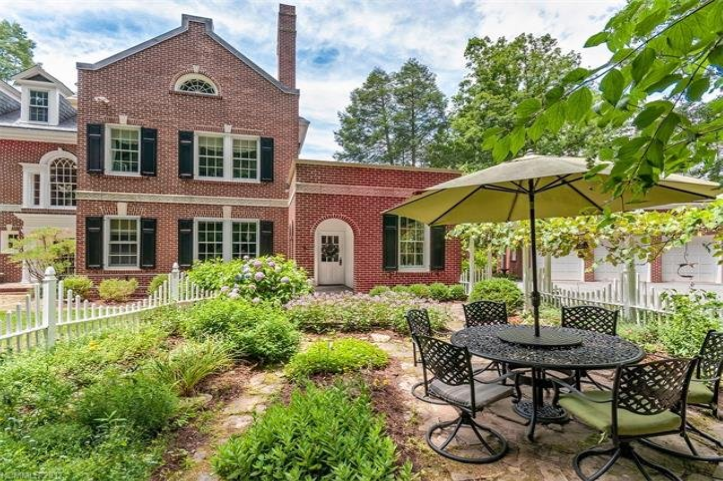 Check out the garden out back!  Reminds me of Colonial Williamsburg!!
Oh my, Tudor Revival at its finest!!  Designed by architect William W. Dodge (he was also a silversmith!)this home has been loved by its owner for the last 70 + years!  The ceruse oak wood casings and moldings are absolutely gorgeous!!!

Stats: $1,875,000.00 / Tudor, Built 1927 / 1.77 acres / 5,831 sq ft / 6 Bedroom, 7.5 Bath / Favorite Room: Sunroom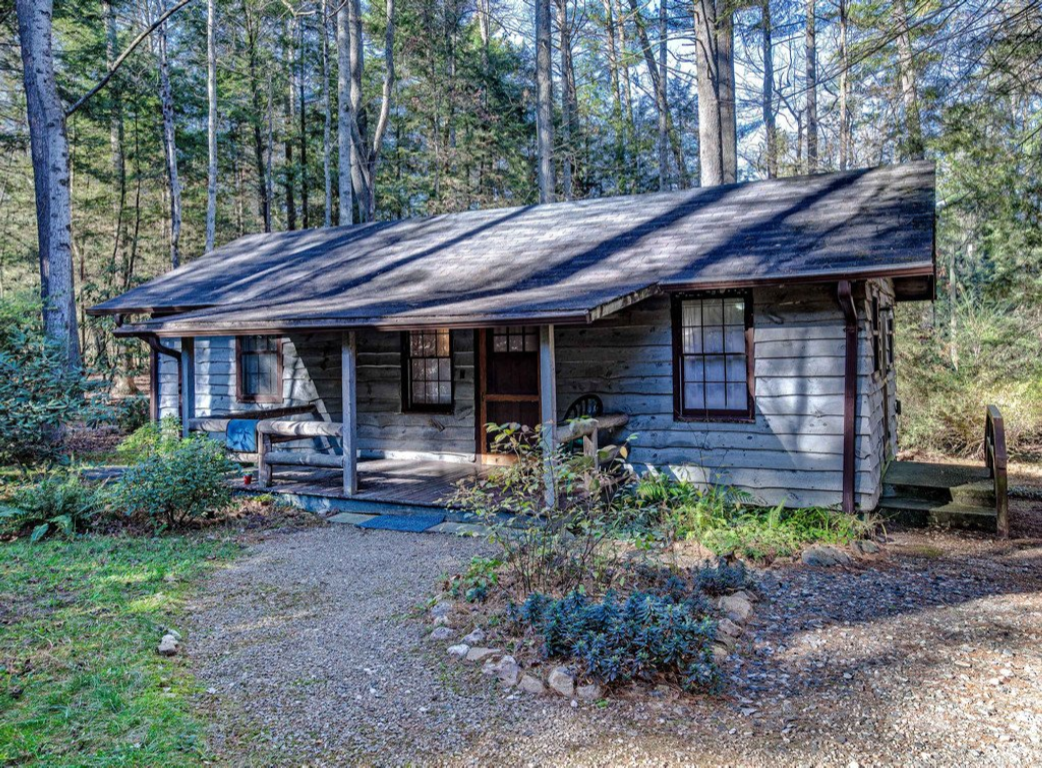 OH, and it comes with a small charming cabin .  Heaven!
As stated on Beverly-Hanks' website,  "This classic traditional must surely reflect what Edith Vanderbilt had in mind when she conceived the idea of Biltmore Forest."  We couldn't agree more!

Stats: $1,722,000.00 / Colonial, Built 1929 / 1 acre / 4,621 sq ft / 5 Bedroom, 3.5 Bath / Favorite Room: Entry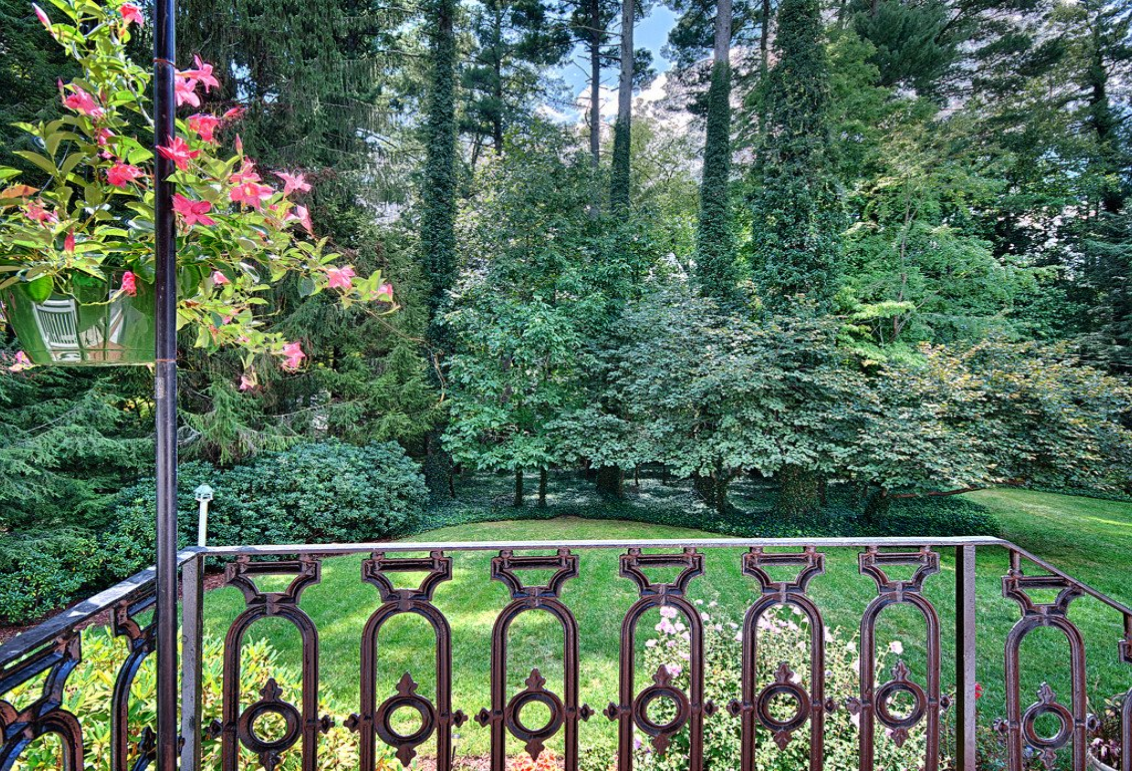 See what I mean about the natural landscape?!
Who wouldn't want to come home to a turret front door everyday?  This tudor was designed by  Asheville's renowed architect Henry Irven Ganies and boast large rooms and beautiful landscaping.

Stats: $1,260,000.00 / Tudor, Built 1941 / 1.11 acre / 3,923 sq ft / 3 Bedroom, 3 Bath / Favorite Room: Study
Another Henry Gaines home,  this time with updates by Robert Griffin.   Charming, clean and crisp the delicate historic molding details blend seamlessly with modern updates.  This one also boast a view of the 5th green!

Stats: $1,850,000.00 / Traditional, Built 1962 / 1.21 acre / 6,689 sq ft / 4 Bedroom, 4.5 Bath / Favorite Room: Sitting Room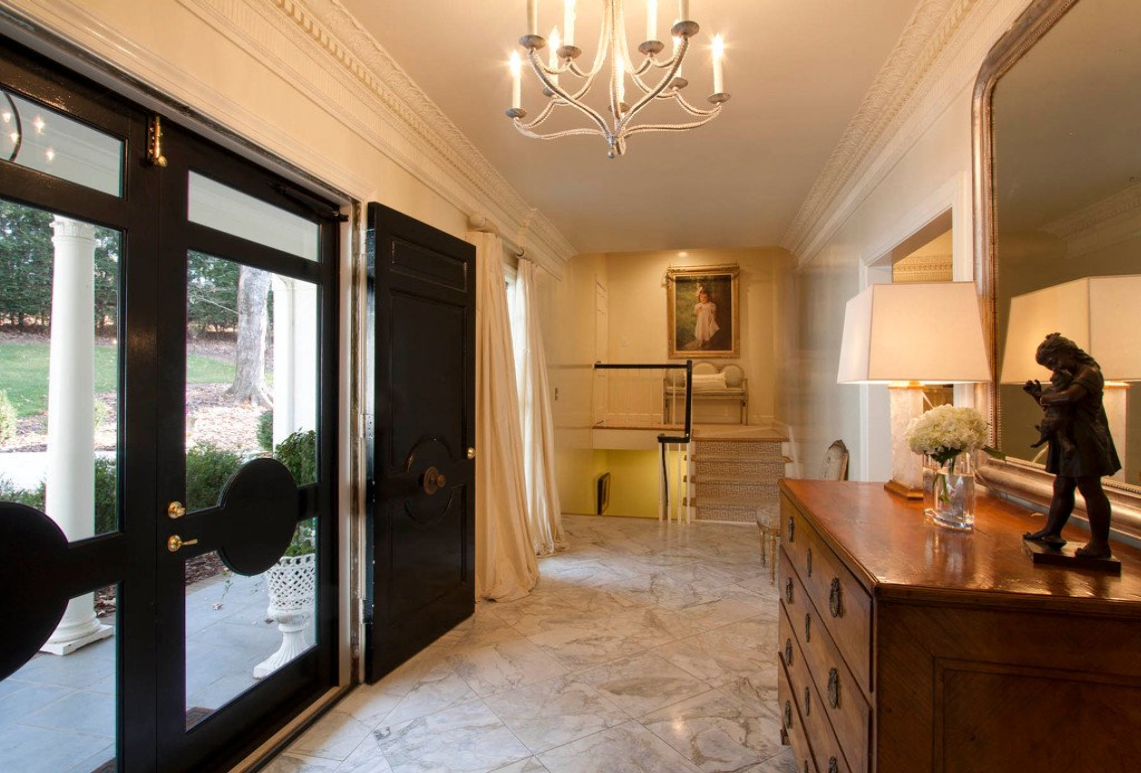 Check out these front doors!
Ok, hear me out on this one.  It's two houses in one!  And yes it is stuck in retro land!!  And yes it needs a ton of renovation!!!  And yes that is a loft in the cottage!!!!  But it is a steal!!!!!  Fabulous location and great bones with great potential.

Stats: $675,000.00 / Retro, Built 1977 / 1.05 acre / 3,255 sq ft / 4 Bedroom, 3.5 Bath / Favorite Room: Kitchen!
Designed and built by the owner (who is an architect) this one is not just for anyone.  But it is spectacular!!
Full of angles, wood accents, panels, and ceiling details, it is Bauhaus inspired  interiors and a mountain house exterior.  It has a viewing tower.  Check it out!!

Stats: $899,000.00 / Contemporary, Built 1992 / 1.82 acre / 2,999 sq ft / 2 Bedroom, 2.5 Bath / Favorite Room: Upstairs Sitting Room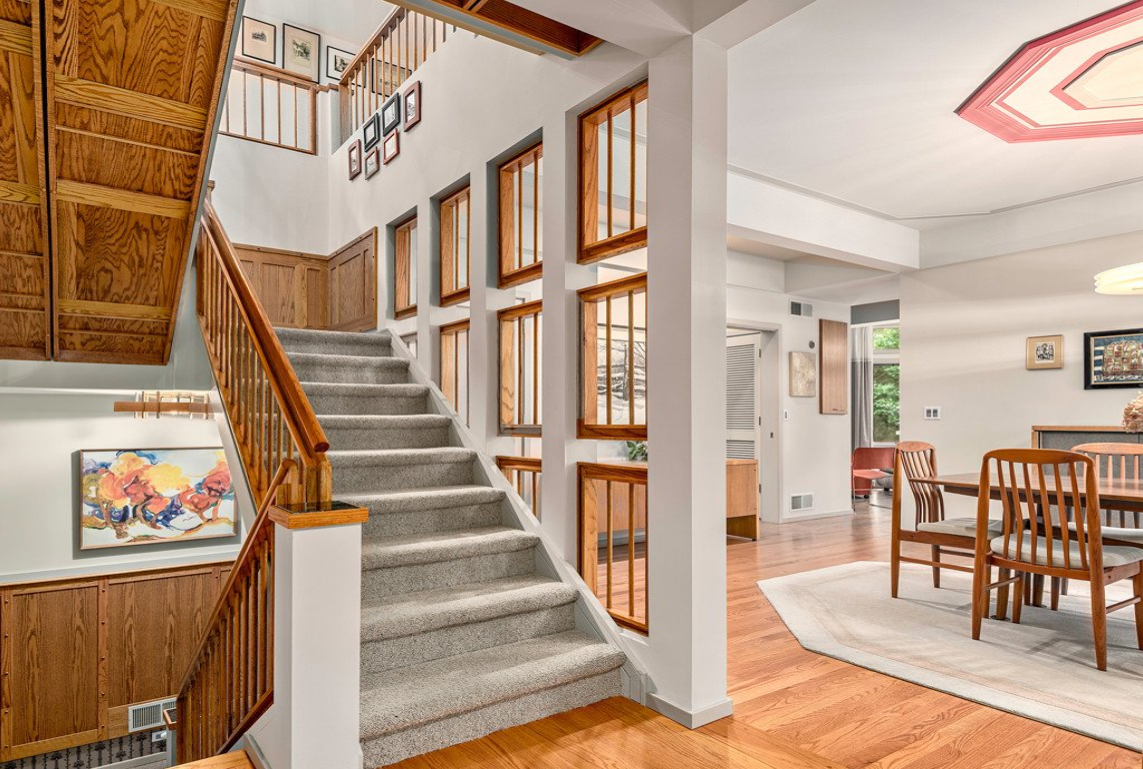 Unique way to open your stair well and incorporate custom wood elements.
In no way does this home look like it was built  in 2007!  This French Provincial new construction blends in seamlessly with the surrounding older homes.

Stats: $2,650,000.00 / French Provincial, Built 2007 / .85 acre / 6,031 sq ft / 5 Bedroom, 7 Bath / Favorite Room: Master Closet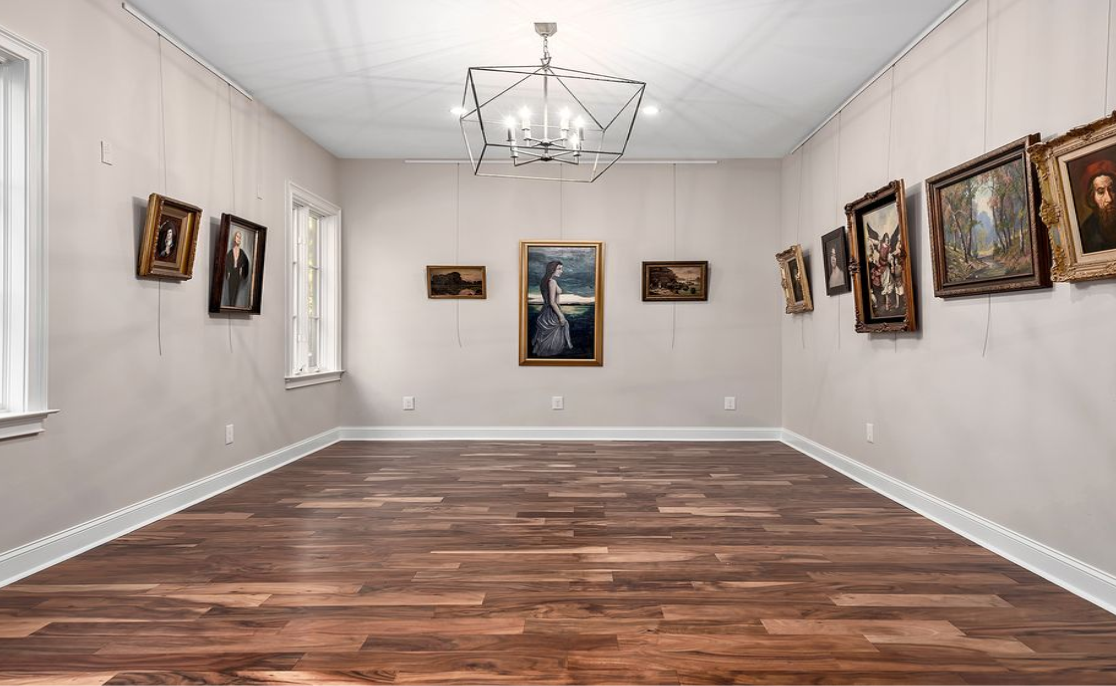 Because every home should have a room dedicated to art!
Our youngest home of the bunch, a modest Tudor is just on the other side of the Blue Ridge Parkway. Don't worry, here you are still considered Biltmore Forest.  And for all of our hiking fanatics, the Mountains-to-Sea Trail is basically in your front yard!!

Stats: $1,095,000.00 / Tudor, Built 2014 / .69 acre / 2,630 sq ft / 3 Bedroom, 3.5 Bath / Favorite Room: Screened In Porch
And last, but definitely not the least,  a tastefully done sprawling 16,000 square foot French Chateau complete with, wine tasting room, home theater, card room, two-story dining room, Roman bath and 5 kitchens.  Just five, that's all.  I would say there is no mistake that the person who built this property chose Biltmore Forest as it's home!

Stats: $10,750,000.00 / French, Built 2006 / 1.99 acre / 16,221 sq ft / 5 Bedroom, 7.5 Bath / Favorite Room: Too Many To List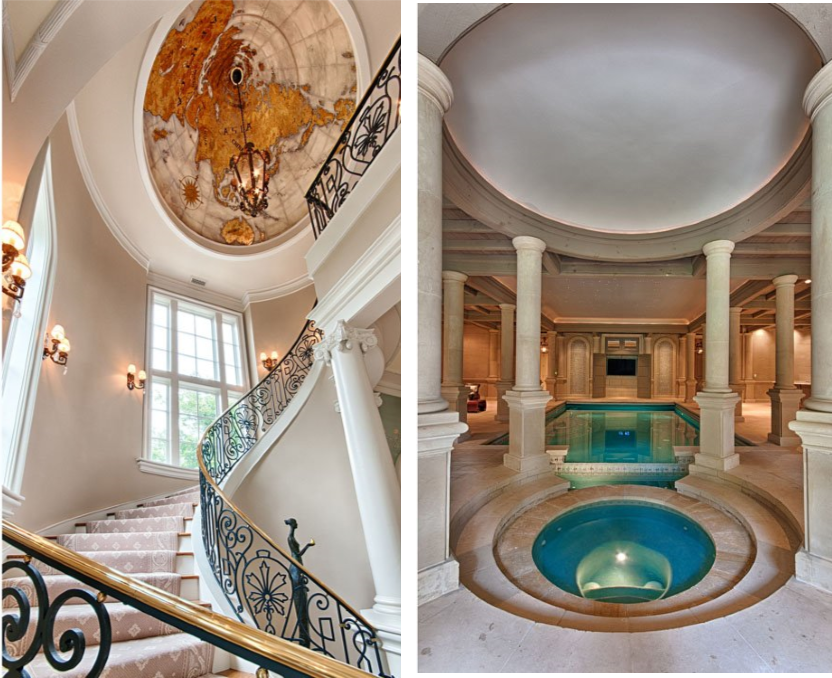 Click HERE for a full tour.
Where are some of your favorite neighborhoods and towns with spectacular homes?  We would love to hear about them!