Aaaahhh! Spring is in sight with all the trees starting to bloom and daffodils poking out of the ground. Now if we could just get a break of sunshine we would be set! With Easter just around the corner we are here to help and give some guidance to hosting a stress free Easter. We have come up with some great ways to make this possible along with sharing some tasty brunch treats from the beloved Merridee's Breadbasket in downtown Franklin.
Hosting an Easter brunch can be effortless! We like the idea of a no-cooking brunch that is super easy to throw together! It's all about the charming details and simple food preparation!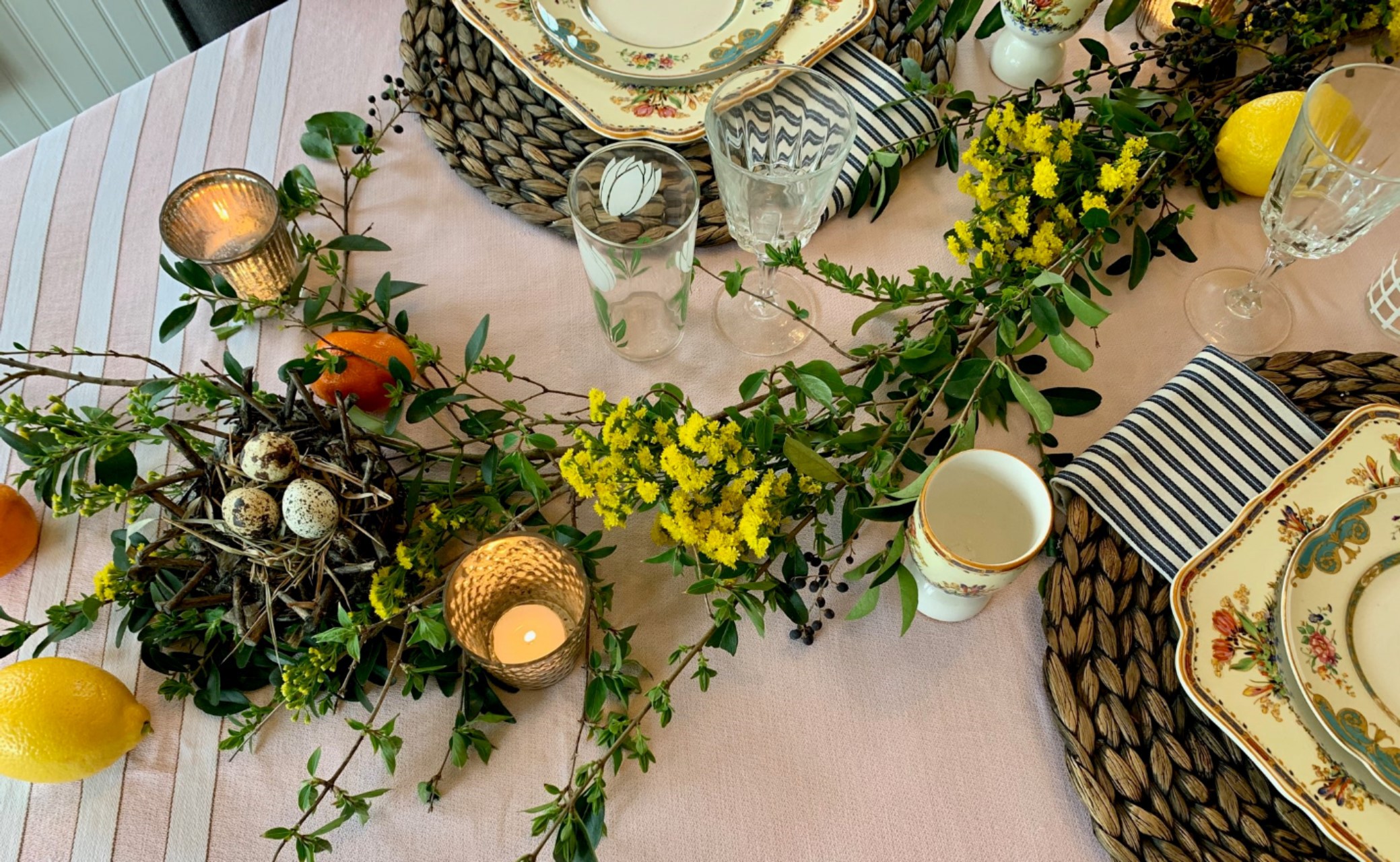 Easter Brunch /  Photo Credit: Amber Grabowski
Charming Details!
First things first!! Its always fun to pull together your items for your table. We are big believers in using what you have first, which gives a reason to pull out your favorite pieces that have been passed down through your family. Those special items are what make your tablescape meaningful and heartfelt.
For our Easter table we want to keep it easy and inexpensive without sacrificing its charm and tastefulness. Yes… it is possible! The fun thing about heirloom pieces is getting to mix and match all the patterns and colors. That's our favorite! Combining old with new creates an eclectic look that makes a statement for your table. We have collected vintage china, old-fashioned juice glasses and great grandmas patterned basketweave tablecloth all combined with typical entertaining essentials.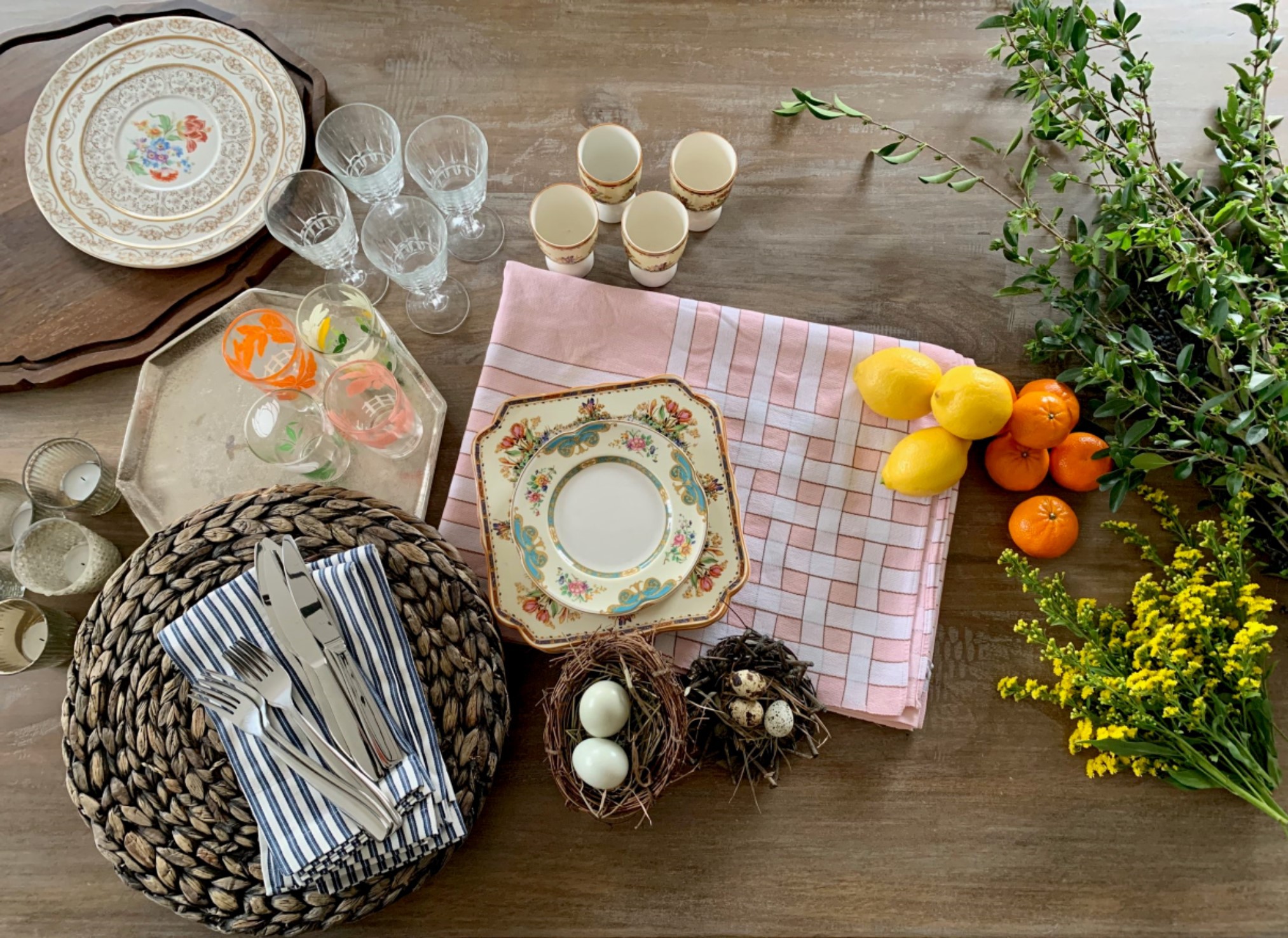 Easter Table Essentials  /  Photo Credit: Amber Grabowski
Once the main idea and pieces are selected for the table, we can start to think about… FLOWERS!!! Flowers are everything and finish the whole table. For our table we want to keep it affordable, fuss free, and fresh! Before running off to the farmers market we look to our own backyard first. There are an abundance of bushes, trees, and flowers (if you have a green thumb) that can be used to save on cost and time. We opt to use branches that have clusters of blue berries and green leaves for the base of the table garland, which we place at an angle from one end to the next for a nontraditional update. We accent with a yellow filler flower called Solidaster that is super cheap and has the pop of color needed against the base branches. Fresh lemons and oranges are added in along with little birds' nests for texture.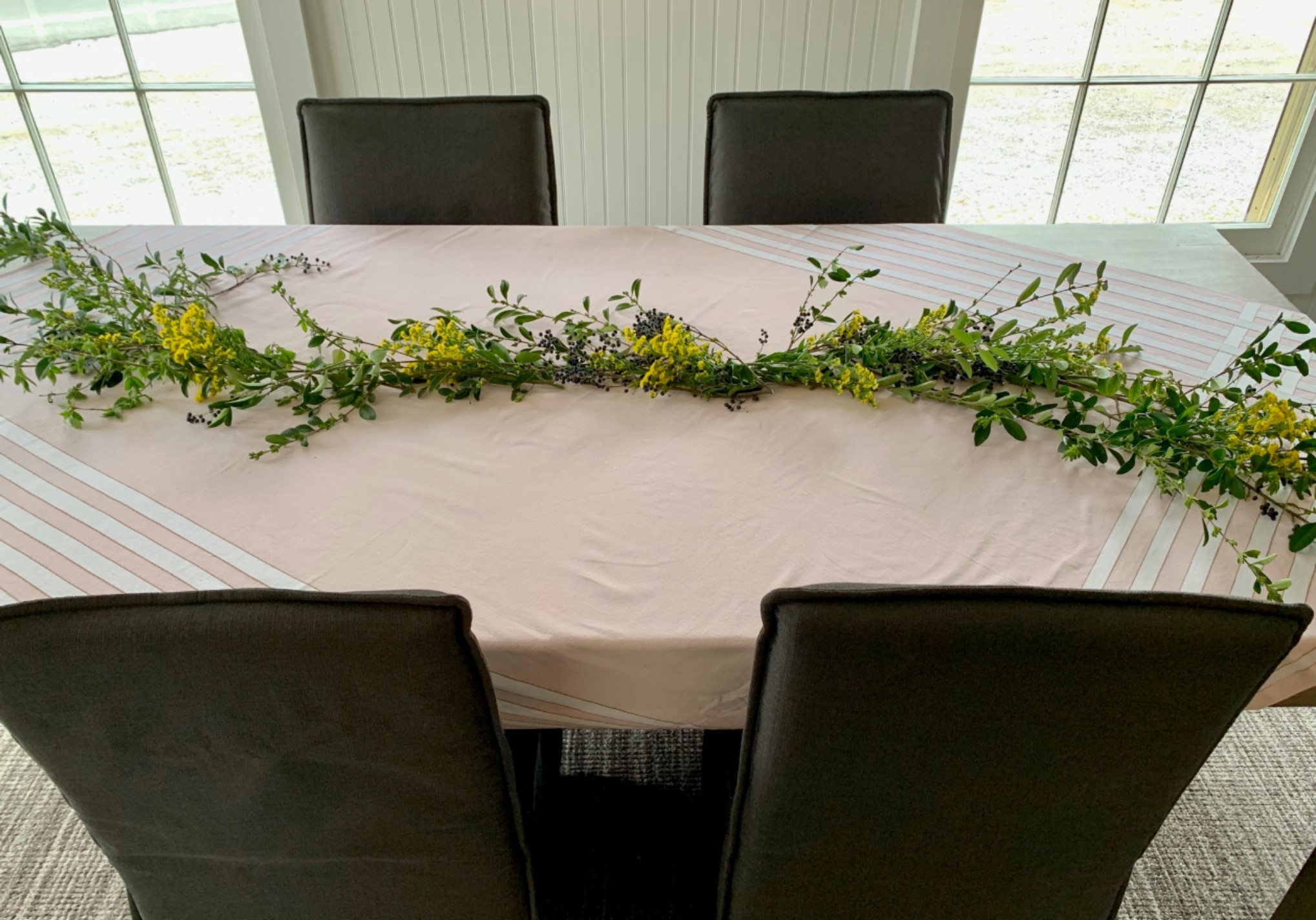 Easter Table Garland  /  Photo Credit: Amber Grabowski
Don't worry!! The hardest part is done and everything can fall into place! Start with your chargers and layer in plates and napkins… then fill in your drinkware, flatware and serveware. Before you know if your table is guest ready!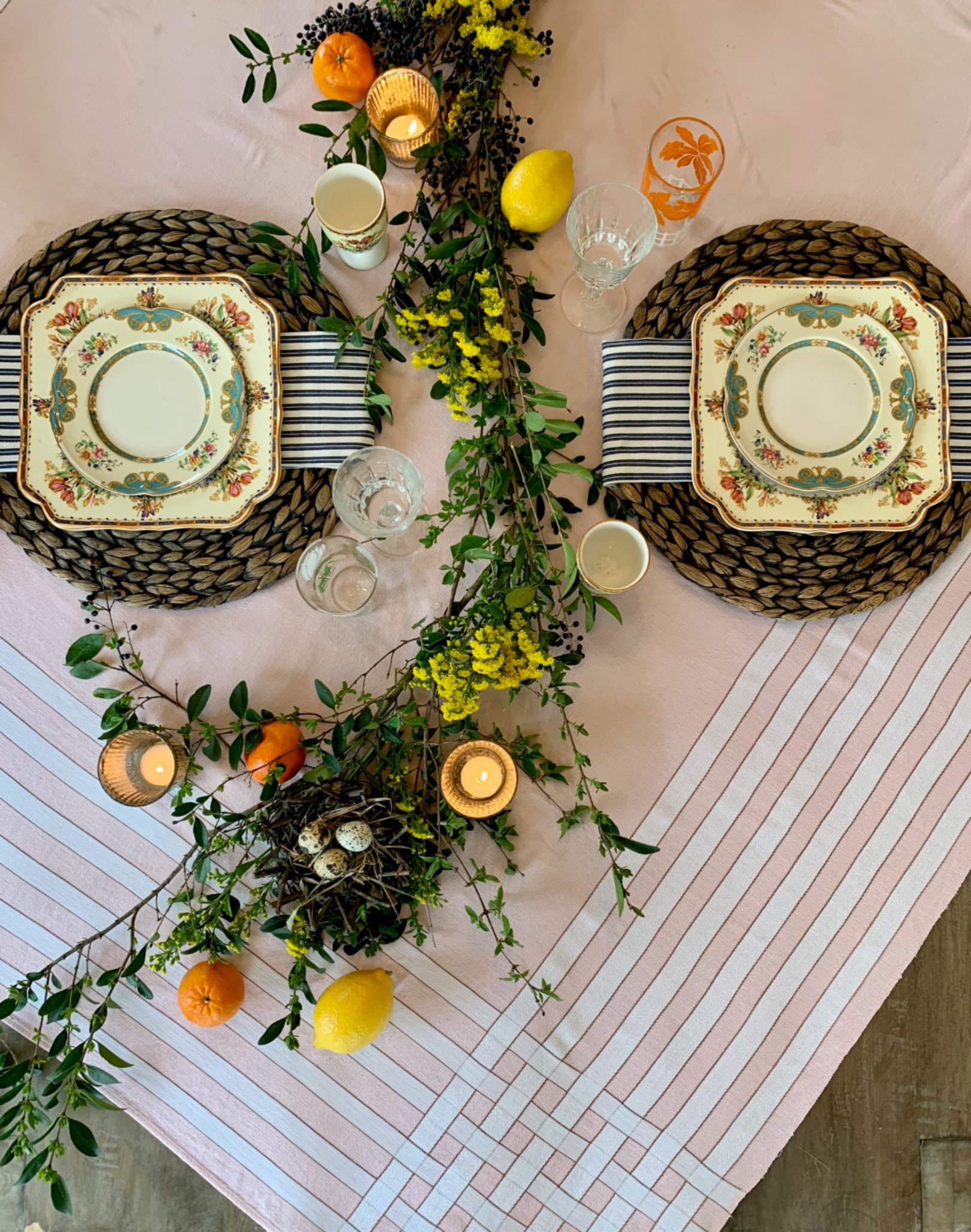 Easter Brunch /  Photo Credit: Amber Grabowski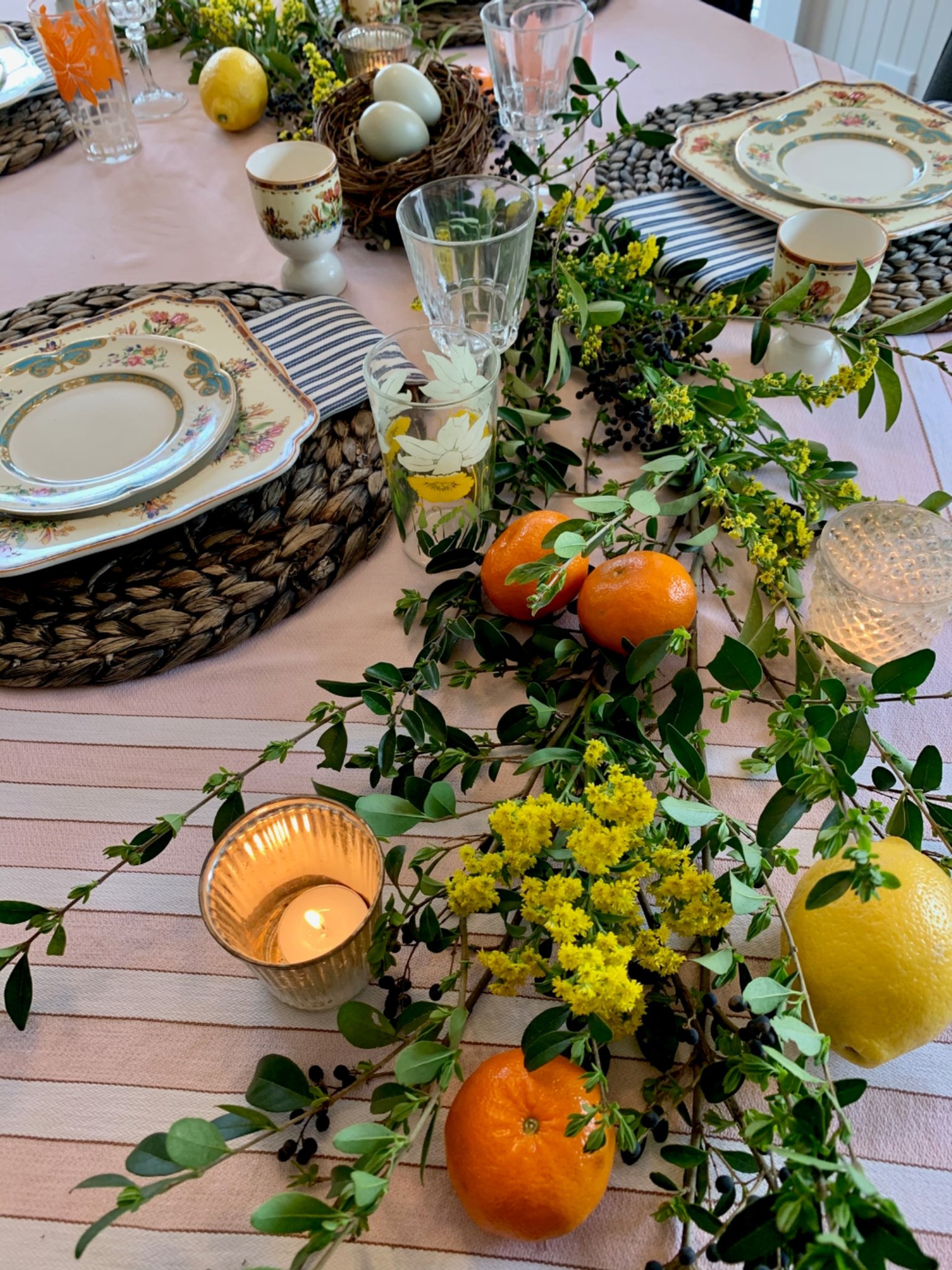 Easter Brunch /  Photo Credit: Amber Grabowski
One easy tip before moving on to food!! Keep things a little less stressful in the hours leading up to Easter brunch and put together the table the night before!
The No Cooking Plan!!
When planning our no cooking menu we knew exactly where to go for most of the brunch essentials! Even though this menu is a no cooking menu the goal is to still provide guests with scrumptious food. We chose to stay local with one of our favorite bakeries Merridee's Breakbasket in downtown Franklin. What we love is everything is made the old-fashioned way… from scratch! On our menu we'll be enjoying some of their most popular Easter items that are sure to make your mouth water!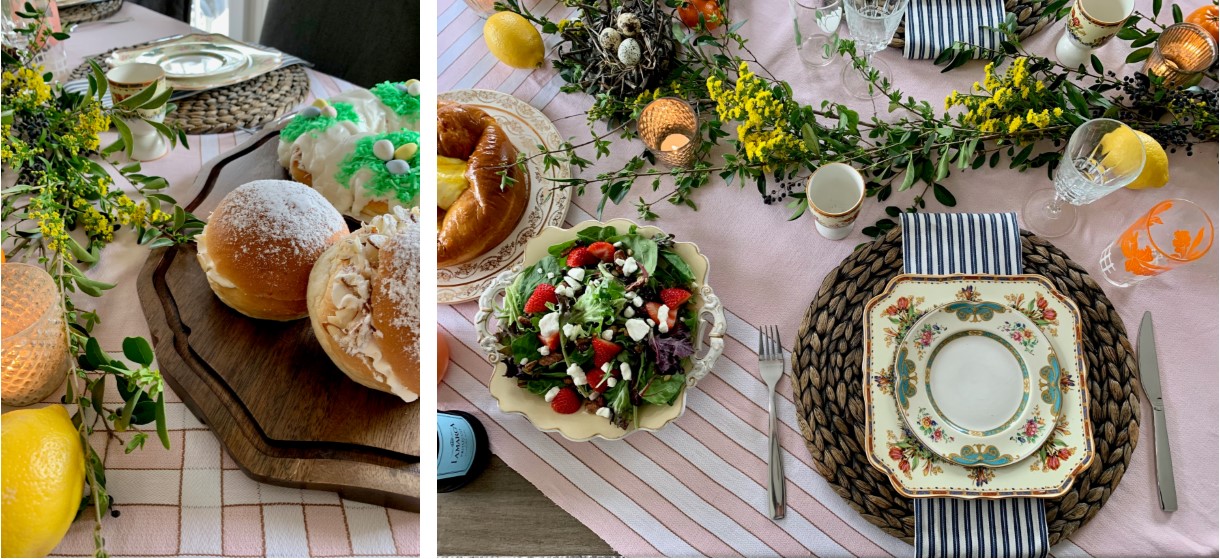 Easter Brunch /  Photo Credit: Amber Grabowski
Babka Bread – This is a twisted raisin bread baked with golden raisins and sweetened cream cheese rolled within. Once baked it is topped with a large scoop of sweetened cream cheese and a delectable apricot glaze.
Hot Cross Buns – This is a sweeter bread roll that has cardamom, nutmeg, cloves and candied fruit then topped with their signature apricot glaze and of course iced with an X on top.
Swedish Tea Ring – This is a must and so pretty for Easter! Made with their raisin bread dough and rolled within is butter, pecans, cardamom, cinnamon and sugar. It is then rolled up and shaped into a ring that is then cut and fanned out before baking. Once baked it is topped with icing and green shaved coconut with candied eggs to resemble a little nest. So cute and delicious!
Assorted Quiches – Merridee's offers several homemade quiches that are ready for purchase. The only thing you have to do is pop it in the oven to heat up! This is a nice companion to their delicious pastries and rings we have on our Easter brunch menu.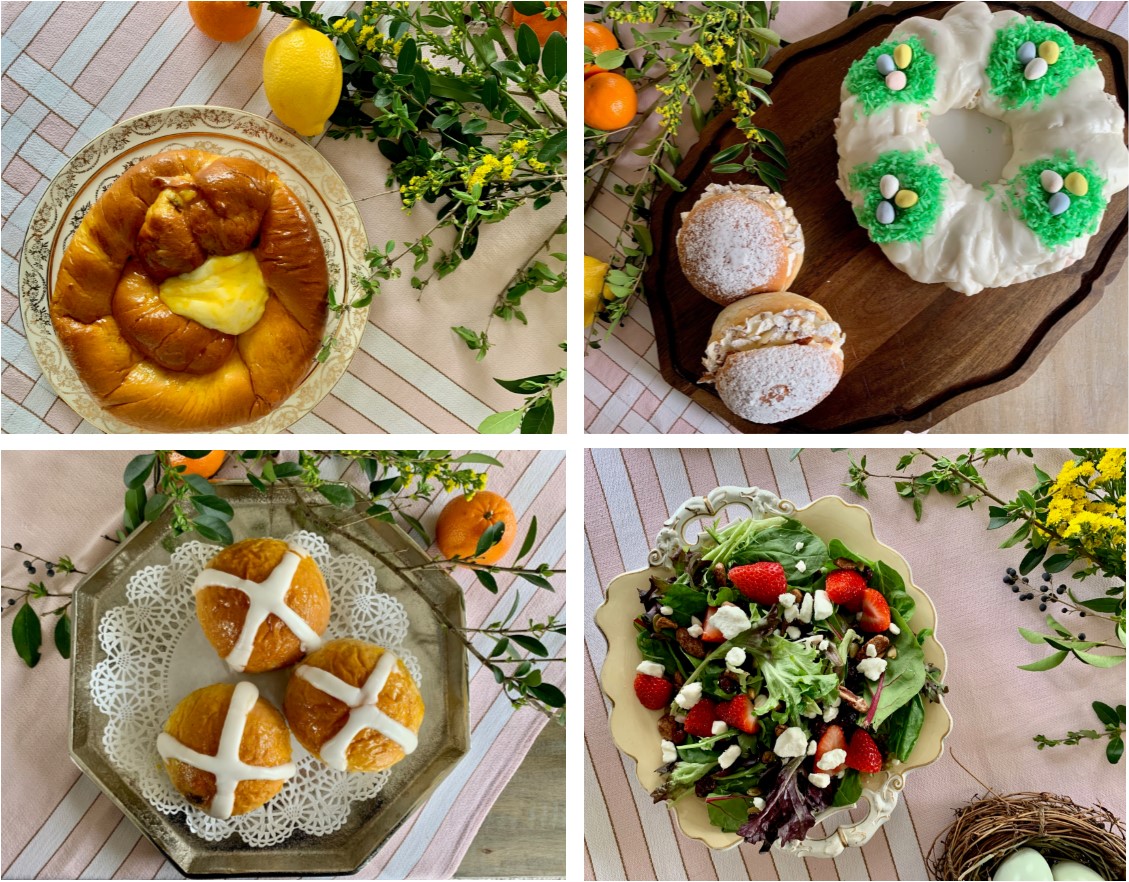 Babka Bread (Top Left), Hot Cross Buns ( Bottom Left), Swedish Tea Ring (Top Right), Spring Salad (Bottom Right) /  Photo Credit:  Amber Grabowski
Alongside all the deliciousness from Merridee's we have made a light spring salad tossed with fresh strawberries, glazed nut and fruit trail mix, apple vinaigrette and crumbled goat cheese. Plus, we can't forget the cocktail! We opt for a traditional mimosa bar. You can never go wrong with a mimosa!!
Hosting Easter brunch this year will be so simple and stress free with these tips! Your guests will leave with full bellies, happy hearts and a great time shared with friends and family.