My love for pumpkins stems back to my childhood. Although I did not live there for long, my first home had quite a bit of land consisting of a small pond, a barn, and fields where my parents grew pumpkins. As this was not my parents full time jobs, we moved for my father's job when I was still young, but the pumpkin business was not out of our blood. My uncle, whom runs the family farm growing corn and soy beans added pumpkins to the list. Ever since I can remember, my family and I would go out to the farm and trek through the fields to pick our pumpkins and gourds.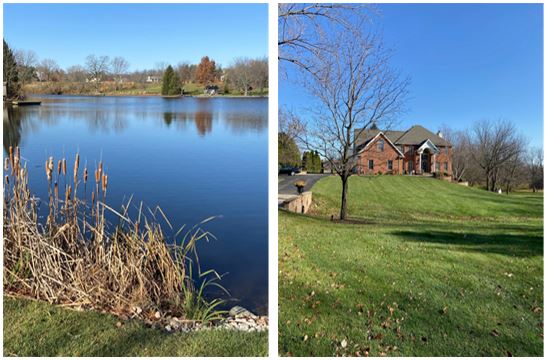 My first home, the Mailingham house and pond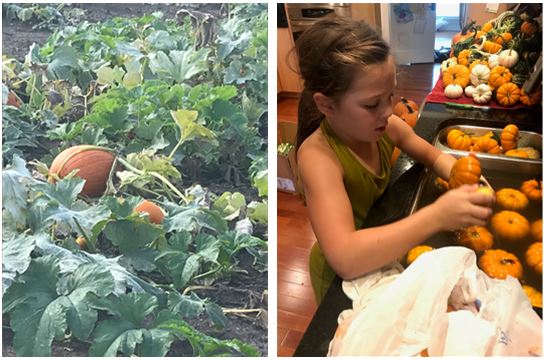 The Stoller Farm in Gridley, IL. (right) My neice, Harper cleaning all the pumpkins and gourds.
What comes to mind when you think of pumpkins? Possibly decorations, jack o'lanterns, pumpkin pie or even Charlie Brown? What you may not know is that pumpkins have many health benefits.
According to the United States Department of Agriculture's FoodData Central database, 1 cup or 245 grams (g) of cooked, boiled, or drained pumpkin, without salt, contains:
1.76 g of protein
2.7 g of fiber
49 calories (kcal)
0.17 g of fat
0 g of cholesterol
12 g of carbohydrate
Pumpkins provide a range of essential vitamins and minerals that can help protect your liver, support healthy blood pressure, promote healthy cholesterol, regulate blood sugar levels, boost your immune system, promote weight loss as well as healthy skin, and more! The vitamins and minerals include:
vitamin A
vitamin C
vitamin E
riboflavin
potassium
copper
manganese
thiamin
vitamin B-6
folate
pantothenic acid
niacin
iron
magnesium
phosphorus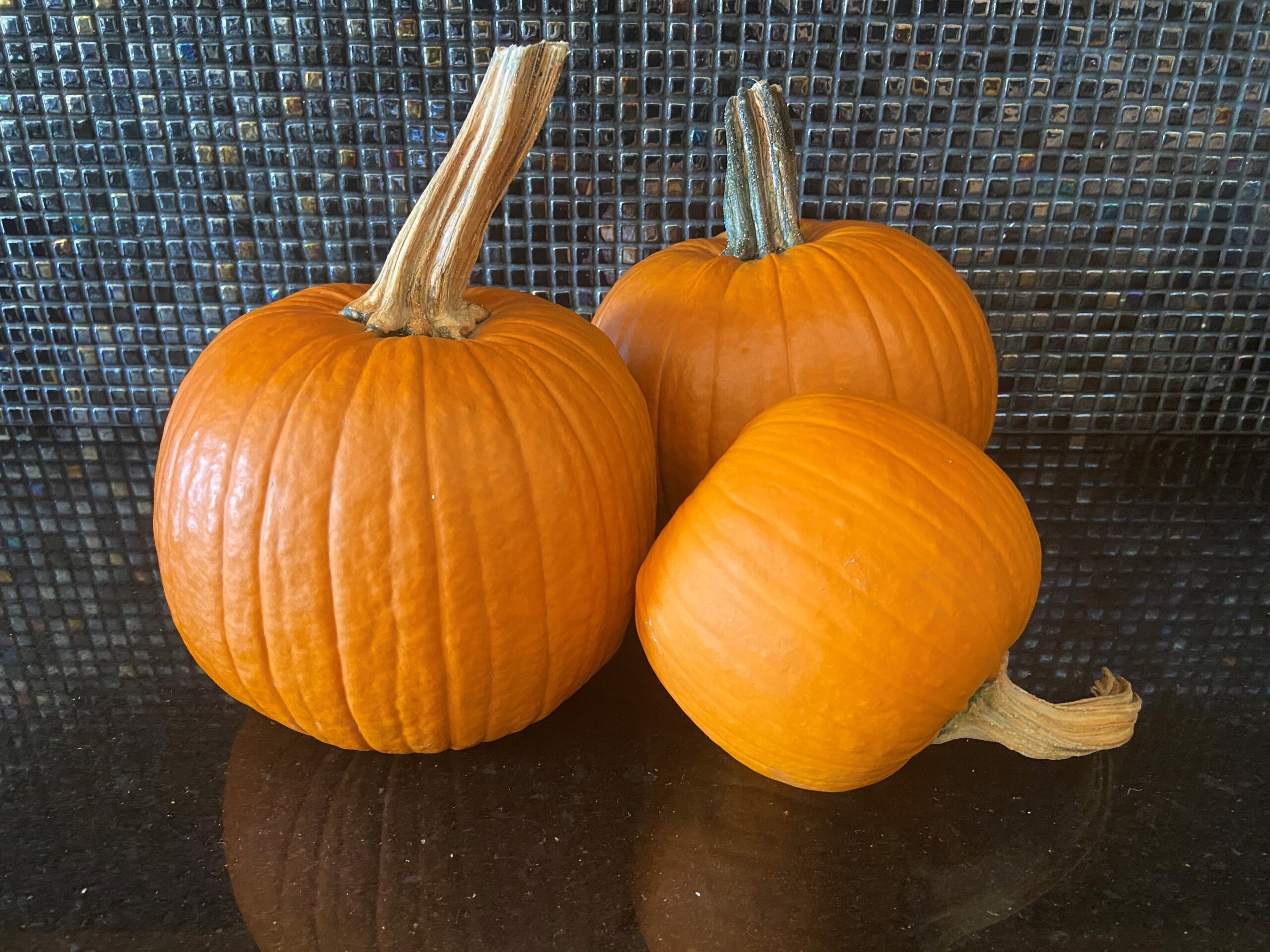 Although you can get many of these same health benefits in canned pumpkin from the store, I truly believe there is such a difference in your recipes when you use fresh, homemade pumpkin. Baking a pumpkin may sound intimidating, but I promise it is much easier than it sounds!
Pumpkin Purée
Ingredients and supplies
1 pie pumpkin
Olive oil
Cutting board and knife
Spoon or a scooper
Baking sheet
Food mill and bowl or a food processor/blender
Directions
Preheat the oven to 350 degrees F
After washing the pumpkin, use a sharp knife to cut the pumpkin lengthwise.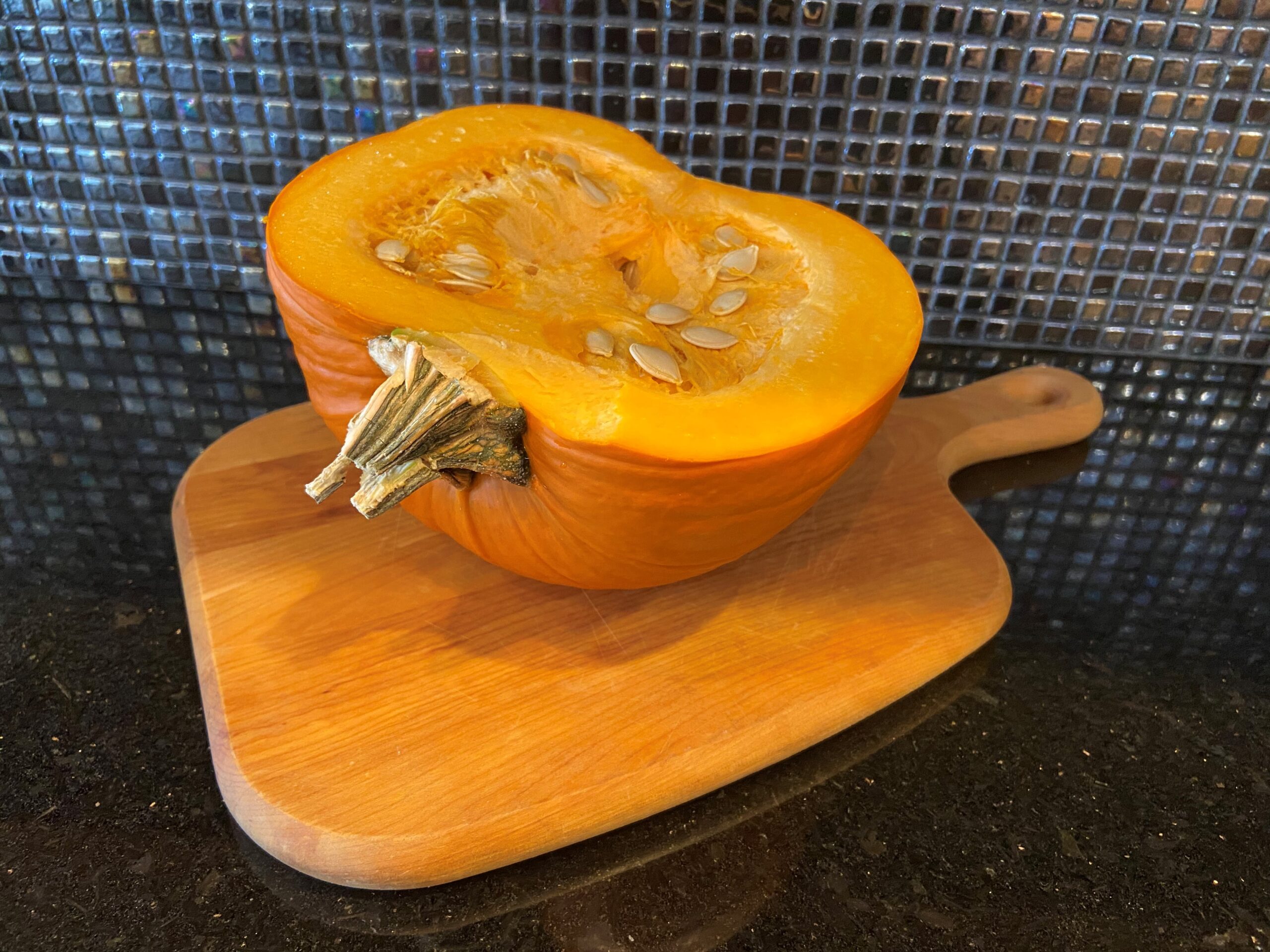 Use a spoon or sharp scoop to remove the pumpkin pulp and seeds. Remember to save the pumpkin seeds for roasting!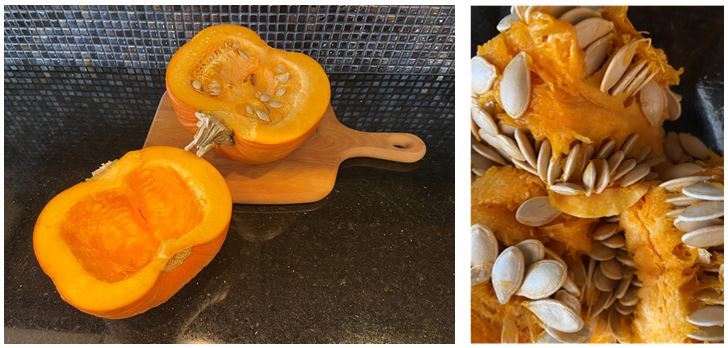 Brush oil onto the flesh of the pumpkin. This helps lock in moisture.
Place both pumpkin halves face down on a baking sheet lined with tin foil and place into the preheated oven.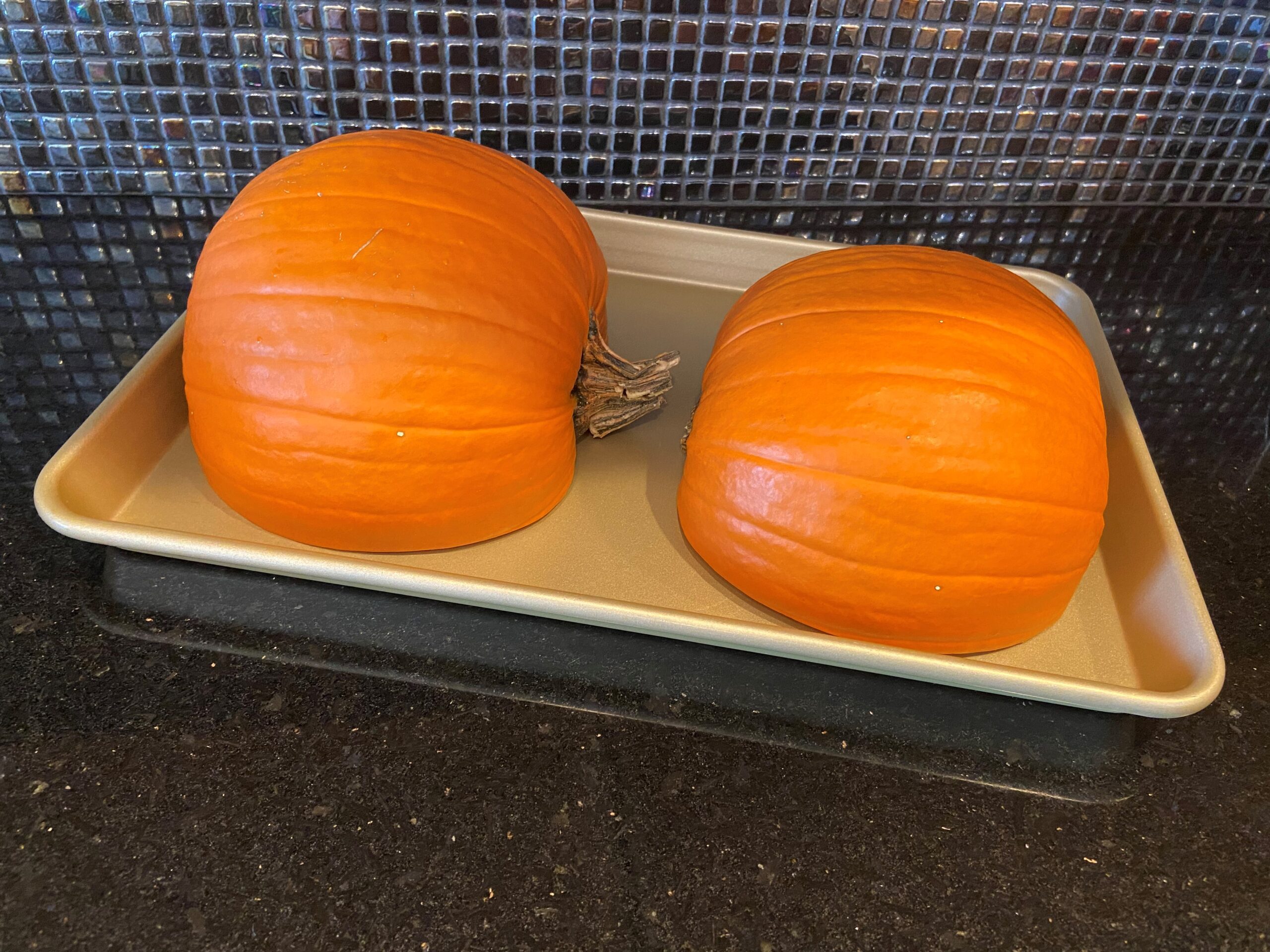 Bake for approximately 45-60 minutes or until a fork easily pierces the skin. Cooking times may vary depending upon the size of your pumpkin. Adjust baking time accordingly.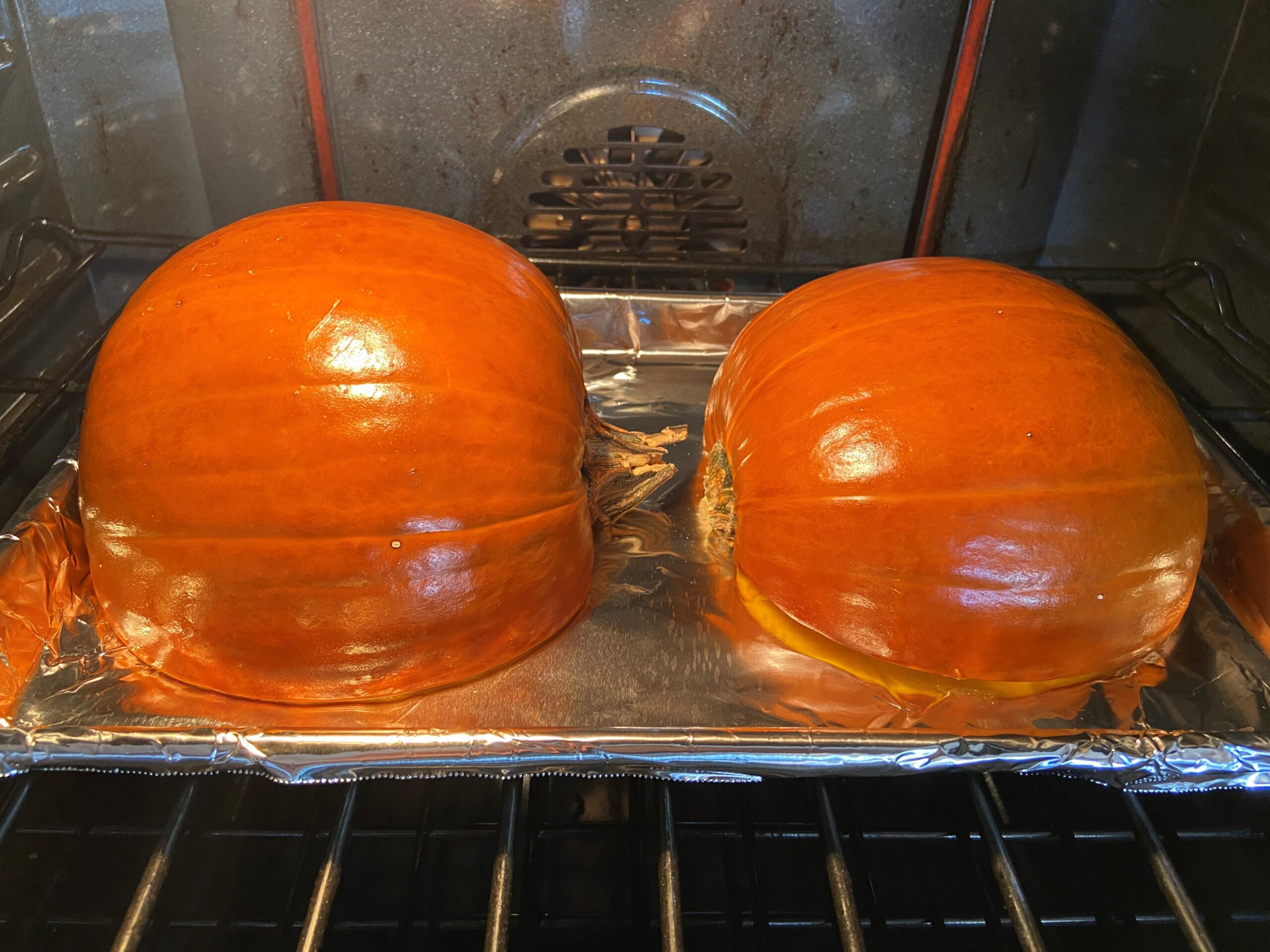 Upon finishing baking, remove the pumpkin from the oven and let it sit for 10 minutes.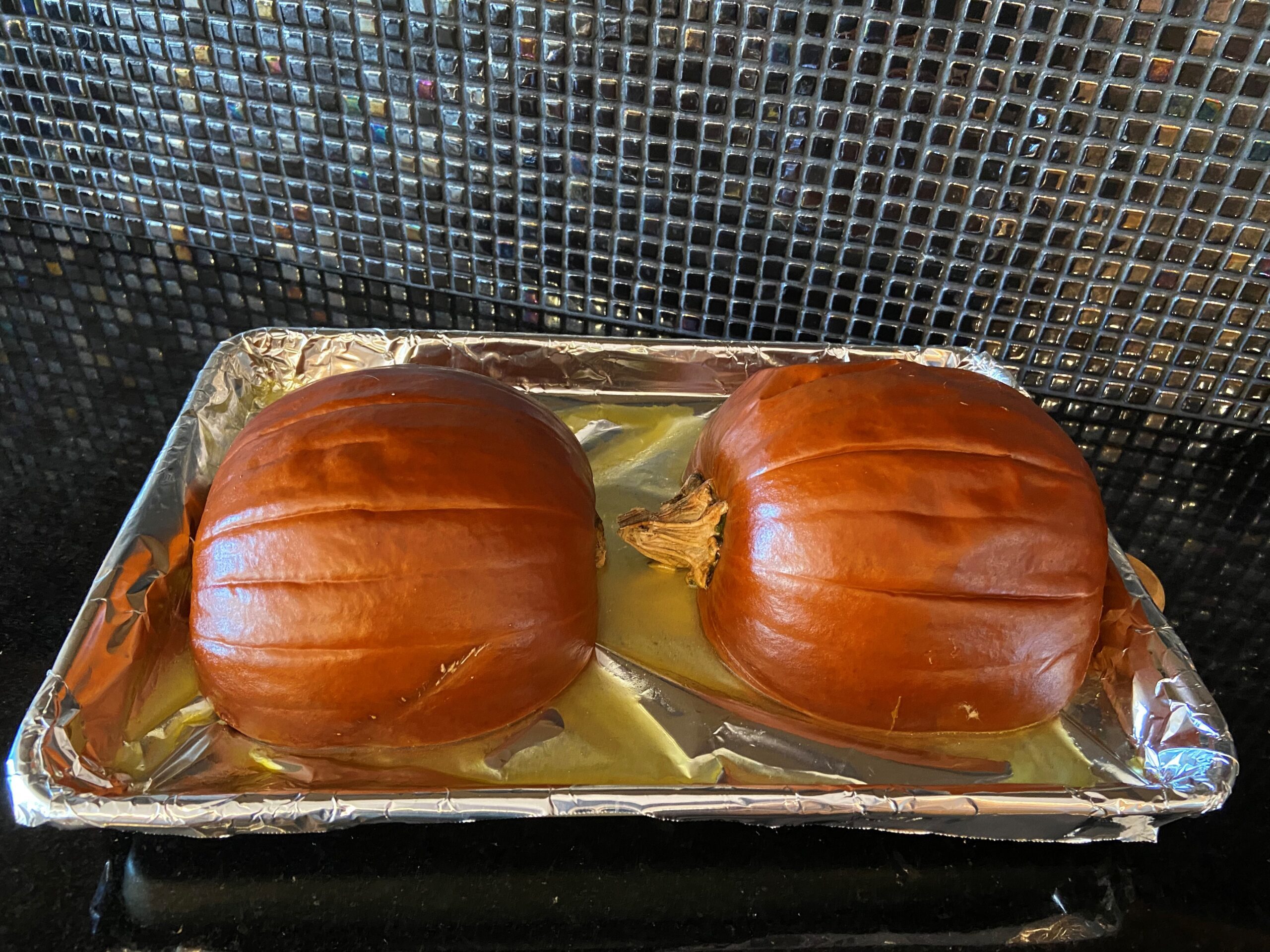 Once cooled, use a spoon to scoop out the pumpkin. It should come out very easily.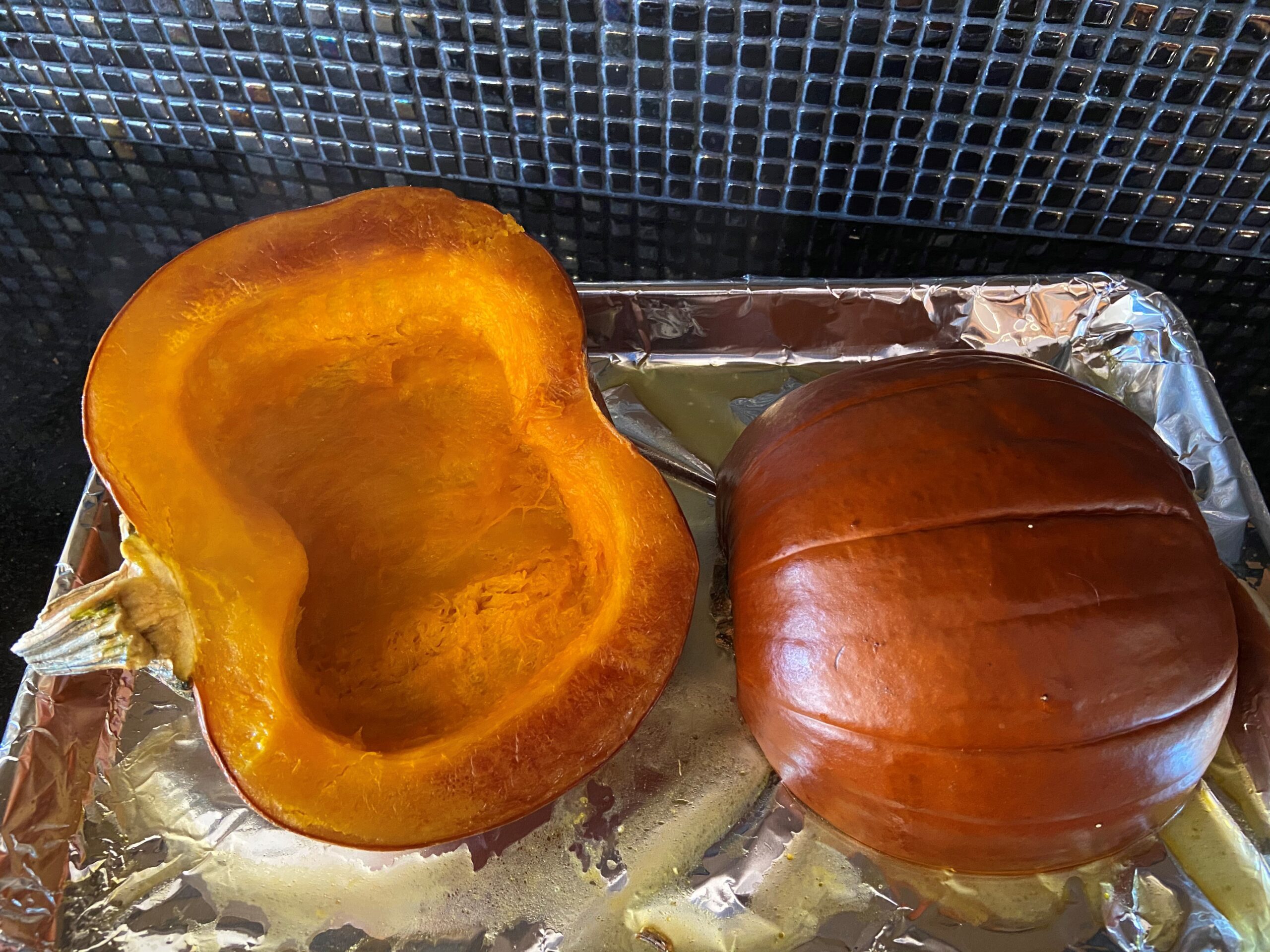 To make the pumpkin purée, you can either use a food mill or a food processor. I generally use a food mill which will ensure that no stringy parts of the pumpkin will make it into your purée.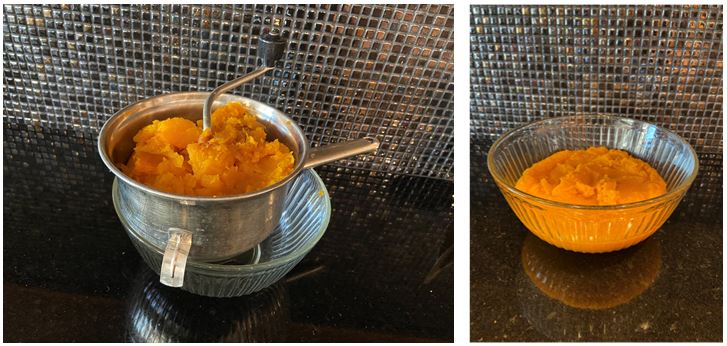 Once puréed, the pumpkin is now ready for your recipe or you can freeze it for later use.
There are a multitude of recipes you can use for your roasted pumpkin seeds, but I generally like to do one sweet and one savory.
Sweet Pumpkin Seeds
1/2 cup of raw pumpkin seeds
1 tsp. olive oil
1/2 Tbsp. brown sugar
1/2 Tbsp. granulated sugar
1/4 tsp. cinnamon
1/4 tsp. allspice
Pinch of salt
Savory Pumpkin Seeds
1/2 cup of raw pumpkin seeds
1 tsp. olive oil
1/2 tsp. salt
1/4 tsp. garlic powder
1/8 tsp. black pepper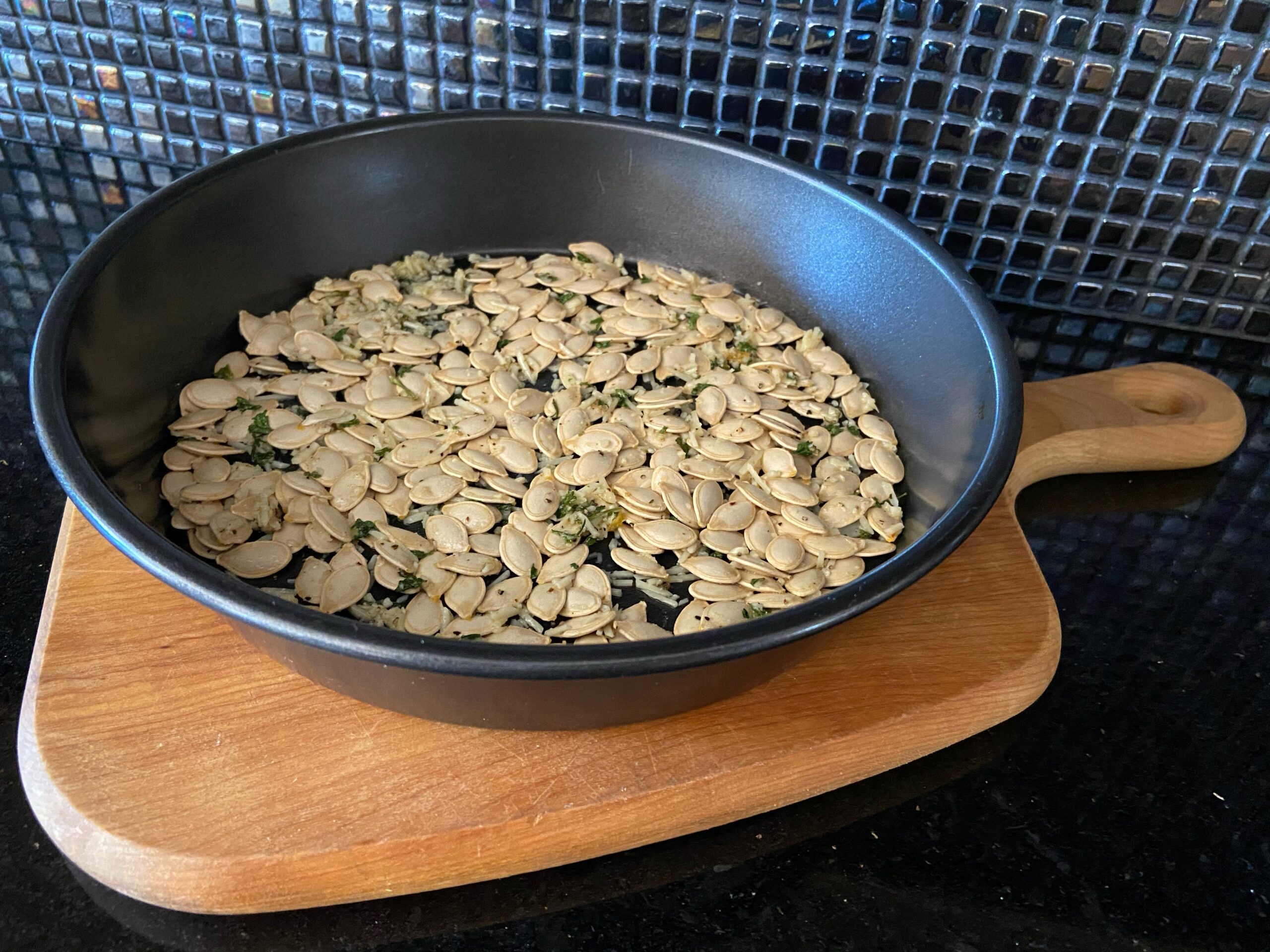 Preheat your oven to 300 degree Fahrenheit.
Rinse your pumpkin seeds and pat dry.
Toss the seeds in a bowl with either your sweet or savory mixture.
Spread evenly on a cooking sheet lined with parchment paper.
Cook for 45 minutes or until golden brown; stir occasionally.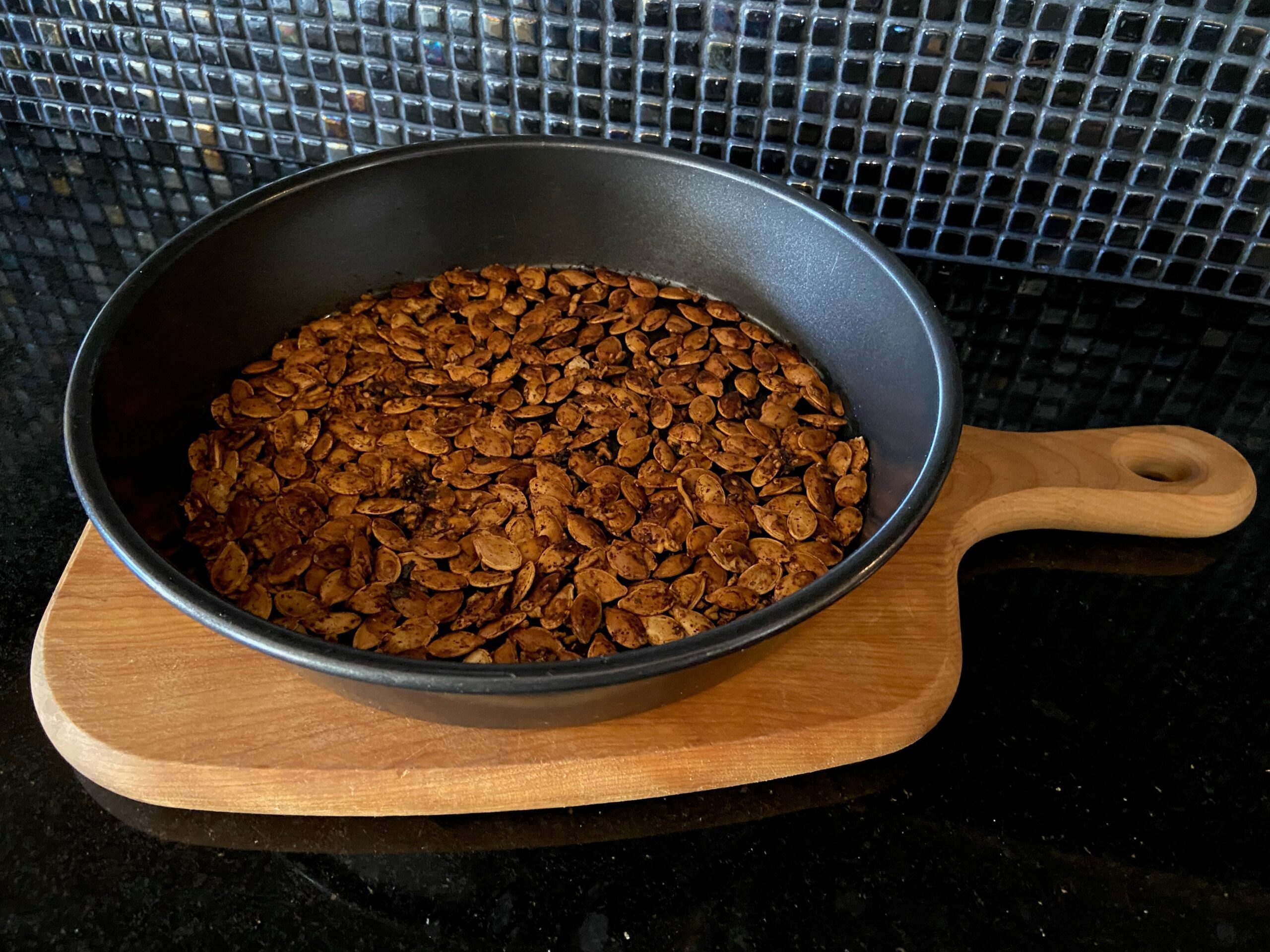 Finished sweet pumpkin seeds.
While spending more time at home as of late, my mom and I have been exchanging pumpkin recipes including both old family recipes and well as a few new. Some of my favorites include Pumpkin Cake, Savory Pumpkin Soup, and Pumpkin Alfredo Pasta.
Pumpkin Cake

Ingredients
2 c. sugar
1 c. vegetable oil
4 eggs
2 c. flour
1/2 tsp. salt
1 tsp. baking soda
2 tsp. baking powder
1 tsp. cinnamon
1/2 tsp. ginger
1/2 tsp. nutmeg
1/2 tsp. cloves
2 c. pumpkin puree
Directions
Preheat the oven to 350 degree Fahrenheit.
Mix all ingredients and pour into a pan.
Bake for 30 minutes.
Let cool and then frost
Optional: top with shredded almonds and craisins
Cream Cheese Frosting
Ingredients
3 oz cream cheese
3/4 stick of butter
1 tsp. vanilla
1 1/2 c. powdered sugar
1 Tbsp. milk
Directions
Mix all ingredients together. For a thinner consistency, add more milk.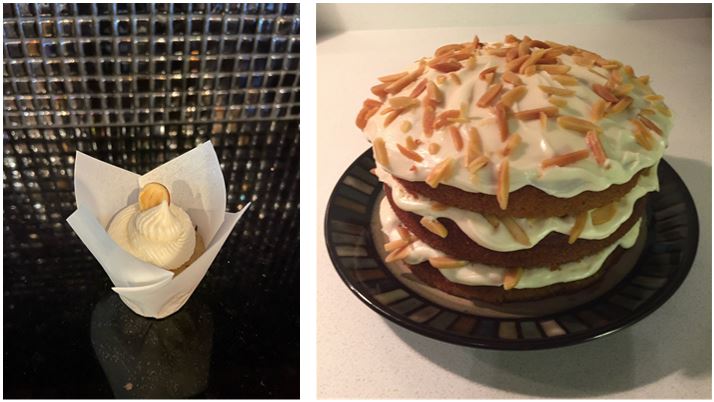 Use this pumpkin recipe to make pumpkin bars, cupcakes, or even a cake. The holidays are not complete without my mom's 3-layer pumpkin cake!
Savory Pumpkin Soup
Ingredients
2 c. pumpkin puree
2 Tbsp. olive oil
1 c. onion (diced)
1 c. carrot (diced)
1 rib of celery (diced)
1 Tbsp. garlic (minced)
1 tsp. salt
1/2 tsp. pepper
1/4 tsp. celery salt
1/4 tsp. onion powder
1 tsp. parsley
4 c. chicken broth
1/2 c. heavy whipping cream
Garnish with parsley or chives (optional)
Directions
In a heavy soup pot or Dutch oven over medium heat, heat oil. Add the onion and garlic; sautée until golden. 
Add carrots, celery, 1 cup of the chicken broth, salt, pepper, celery salt, onion powder and parsley. Bring to a boil and simmer until carrots and celery are cooked through.
Add the pumpkin the remainder of the chicken broth. Bring to a boil, then reduce heat. Let simmer, covered, for 30 minutes, stirring occasionally.
Remove from heat and blend soup using an immersion blender or food processor.
Pour heavy whipping cream into soup, and stir thoroughly to combine. Remember to taste the soup to check the temperature and flavor; if cooled down too much, let soup stay on heat source for another 30 seconds. If soup is too spicy, mix in a little more heavy whipping cream.
Serve soup immediately with parsley or chives as garnish.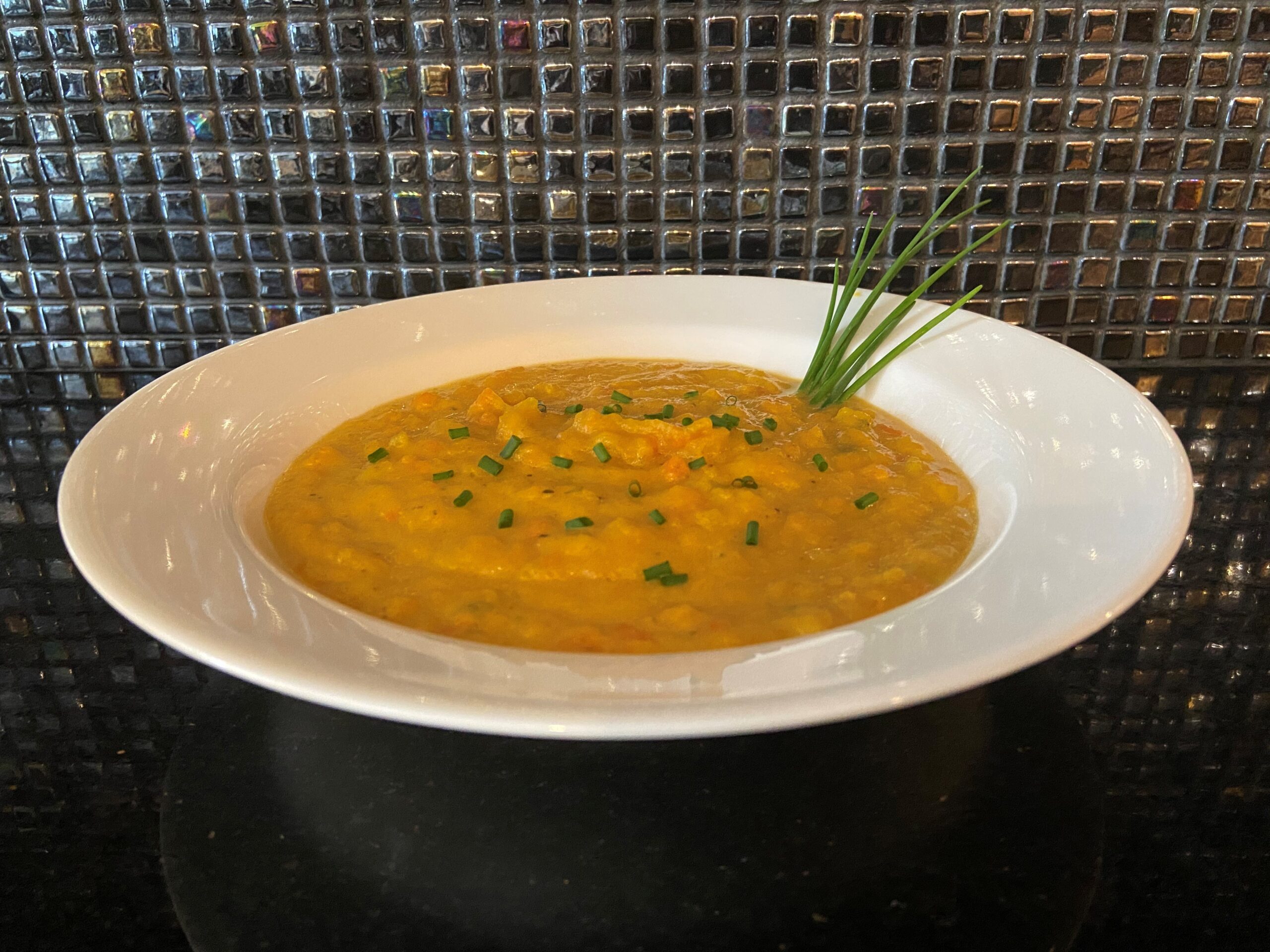 1 lb. penne or pasta of choice
1 Tbsp. olive oil
8 leaves fresh sage
1 onion (finely chopped)
Salt and pepper to taste
2 cloves garlic (pressed)
1/2 c. dry white wine
14 oz. pumpkin puree
1/4 c. heavy cream
1/4 c. grated Parmesan, plus more for serving
Directions
Cook pasta per package directions. Reserve 2 cups cooking water, drain pasta, and return to pot. 
Meanwhile, heat oil in a large saucepan on medium. Add sage and cook until crisp, 4 minutes; transfer to paper towels.
Add onion to saucepan, season with 1/2 tsp each salt and pepper, and sauté until tender, 4 to 6 minutes. Stir in garlic and cook 1 minute. 
Add wine and simmer until reduced by three-quarters, 5 minutes. Stir in pumpkin, cream, cheese, and 1 1/2 cups reserved cooking water and heat through, 3 minutes. 
Use blender to puree until smooth, then toss with pasta, adding more cooking water if needed. Serve with sage, artesian garlic bread, and additional cheese if desired.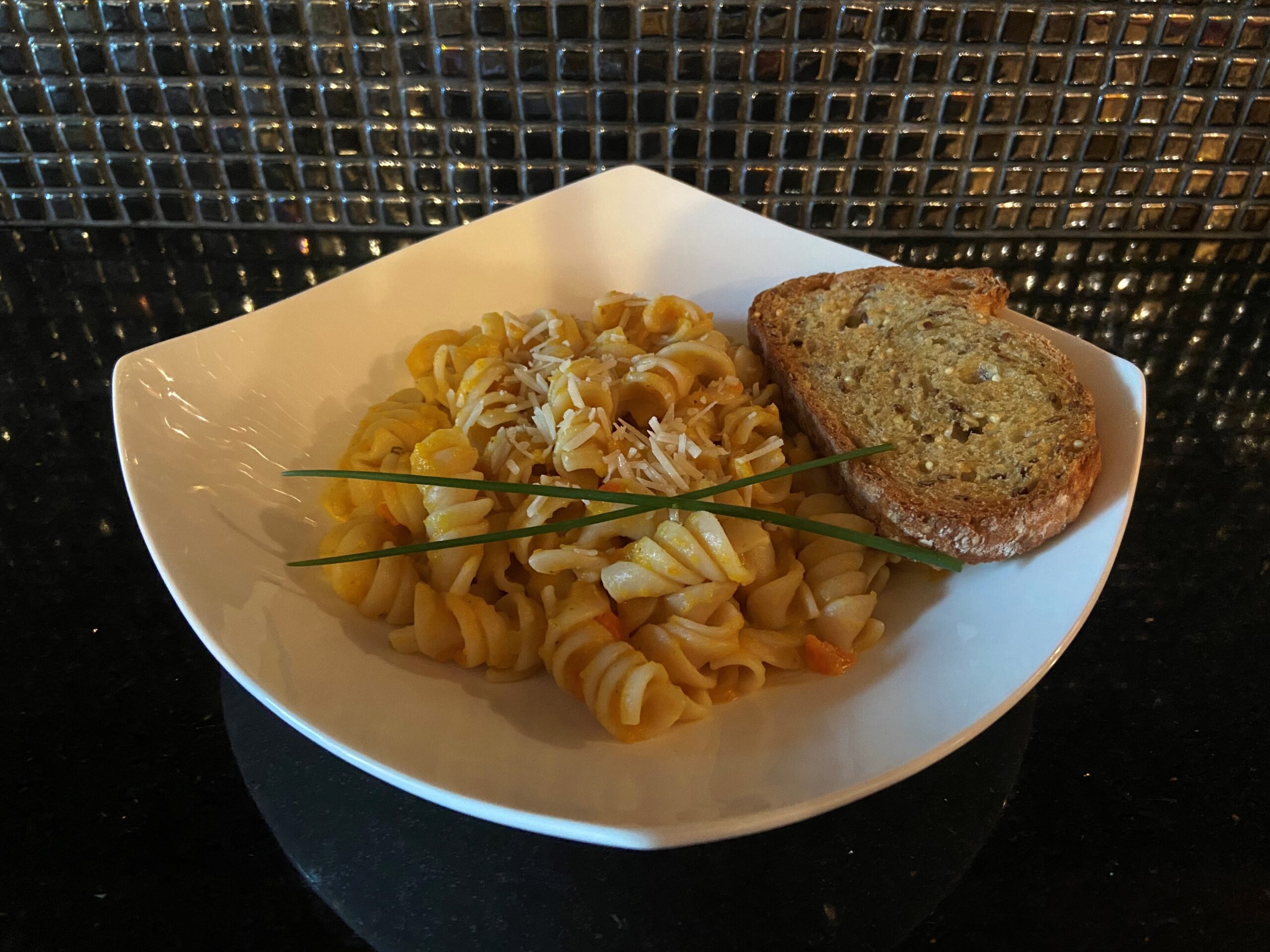 The holidays are full of traditions. For my family, no autumn is complete without a trip to the pumpkin fields, pumpkins and gourds accessorizing our home both inside and out, and of course, some delicious pumpkin cake. What are some of your family's traditions?