Cast Iron Recipe-Featuring Smithey Ironwar
We have an exciting new addition to the Emporium…Smithey Ironware!  Designed and made in Charleston, SC, Smithey Ironware is creating iron cookware that will be passed down for generations. The interior of their cookware is polished to a satin finish that is naturally nonstick and easy to clean. Shop Smithey Ironware in store and online!
To highlight this new addition to the emporium, we are sharing a cast iron recipe…Chicken Pot Pie! A perfect one pan meal.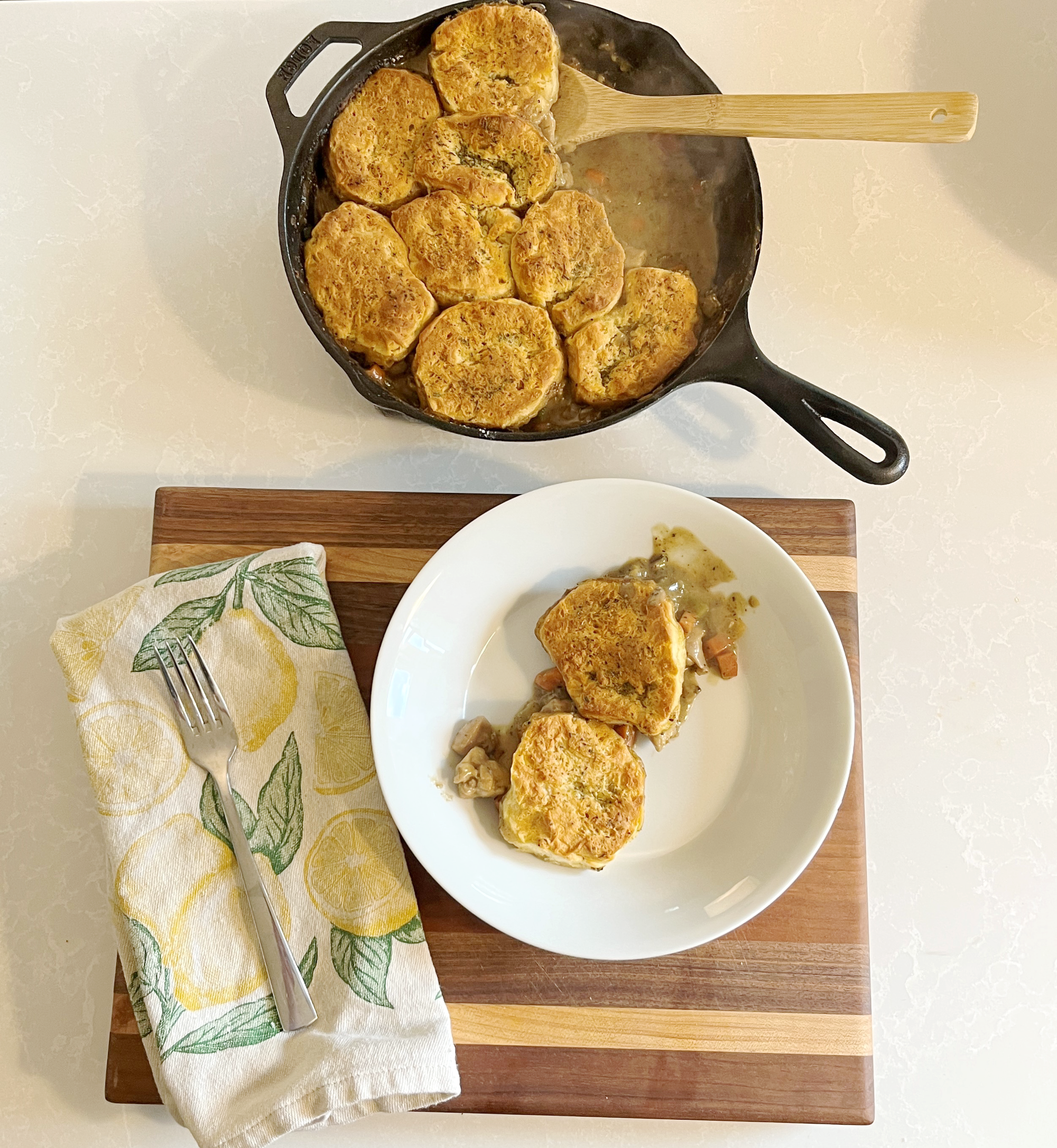 Cookware
Medium Cast Iron Pan
Peeler
Cutting Boards
Knives
Wooded Spoon
Small Bowl
Pastry Brush
Measuring Spoons and Cups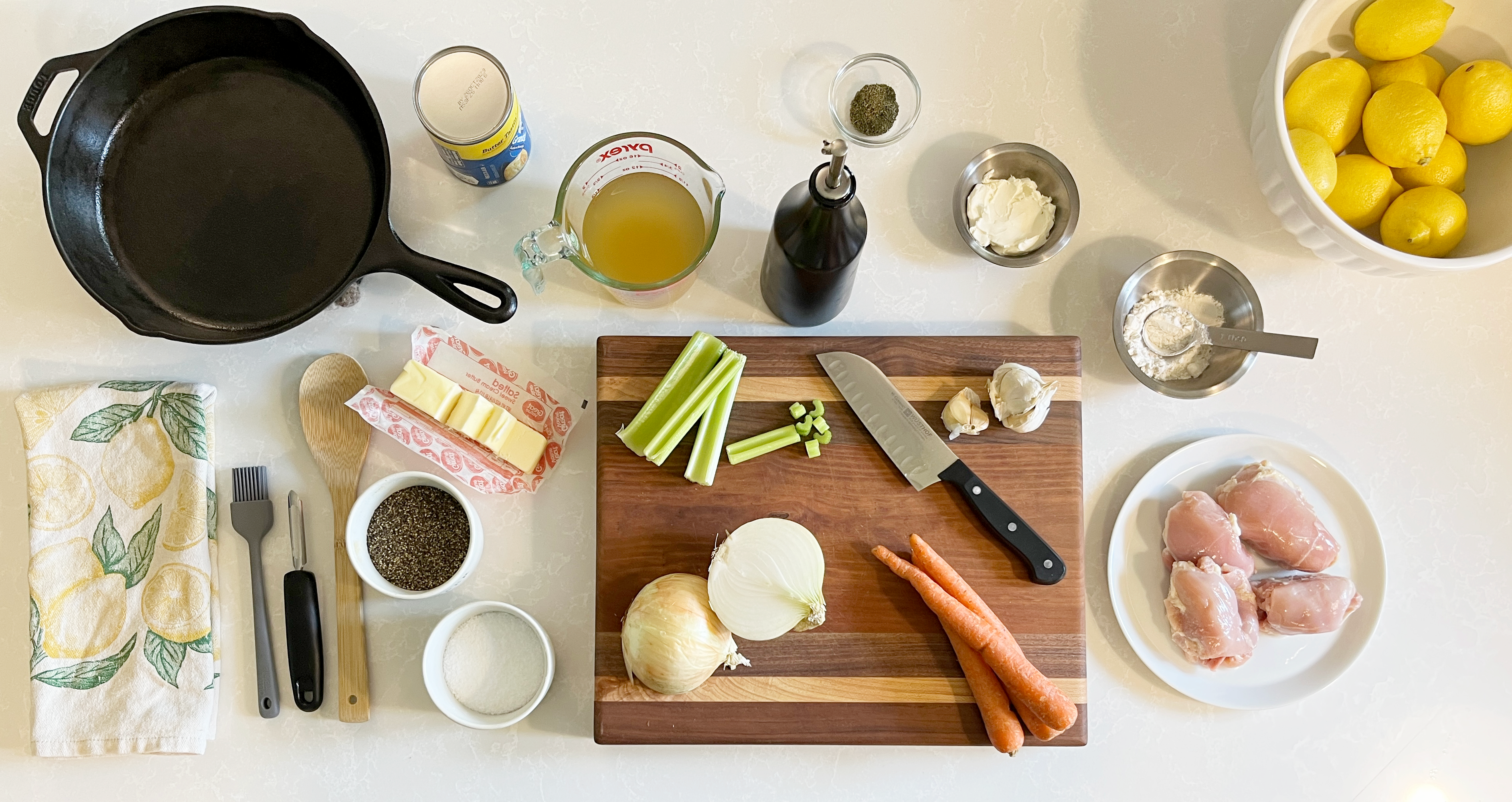 Step 1
Preheat oven to 425F. While preheating, wash and prep veggies by trimming, peeling, and dicing carrots. Dice celery. Halve, peel, and dice onion. Peel and mice garlic.
On a separate cutting board, cut chicken into bite size pieces.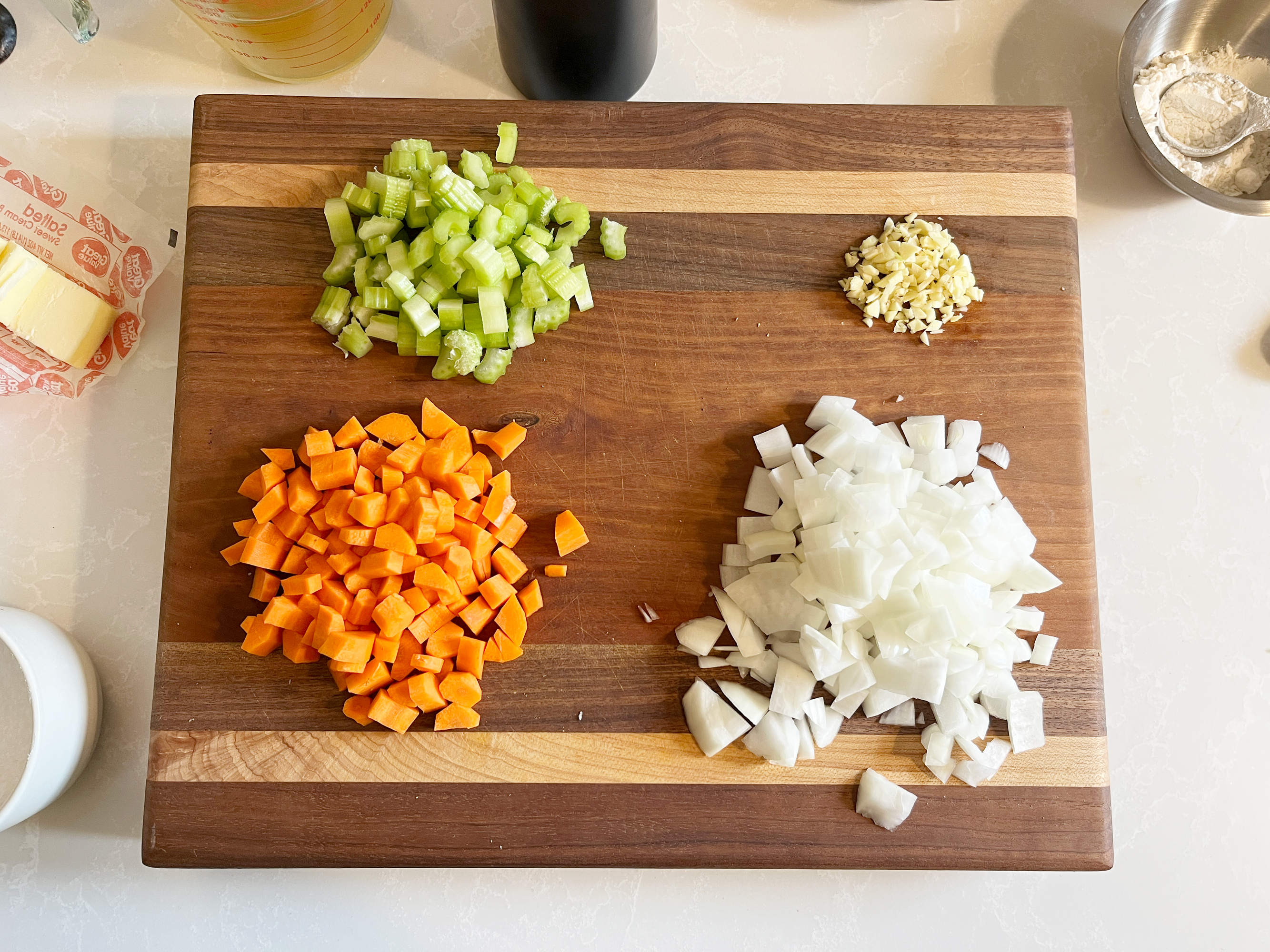 Step 3
In the same pan, add in additional swirl of cooking oil and carrots, onion, celery, salt, and pepper. Stir veggies every few minutes until soft. About 5 minutes.  Once softened, add in 1/2 tsp thyme and garlic. Cook for about 1 minute stirring frequently.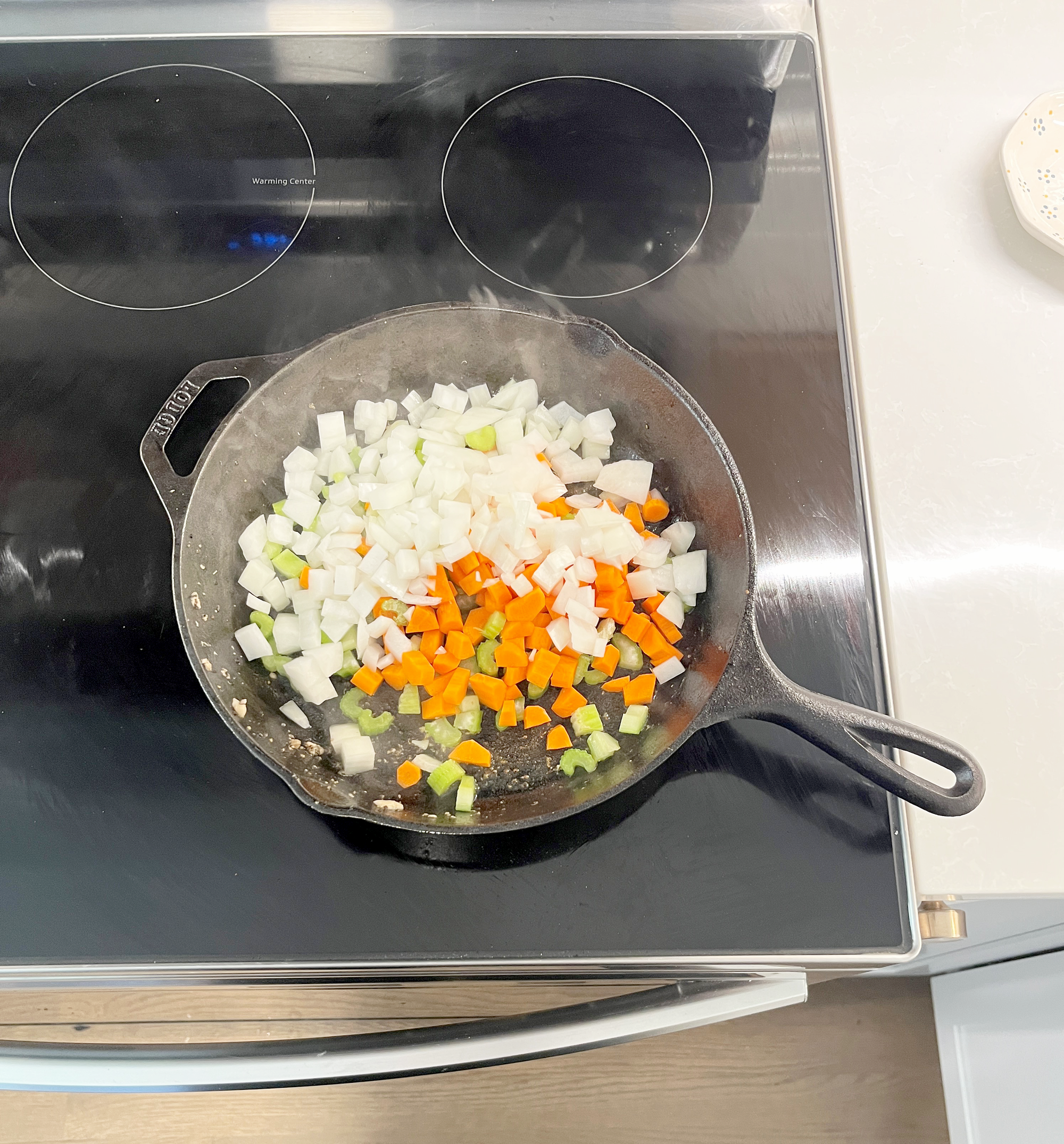 Step 4
Push veggies to the side to create room in the center of pan to add butter. Add 2 tbsp butter and melt. Once melted, stir butter into veggies and add flour. Stir constantly, cooking for 1 minute. Slowly add in 1 1/4 chicken stock, stirring until small amount of stock is incorporated. Continue until all stock is added.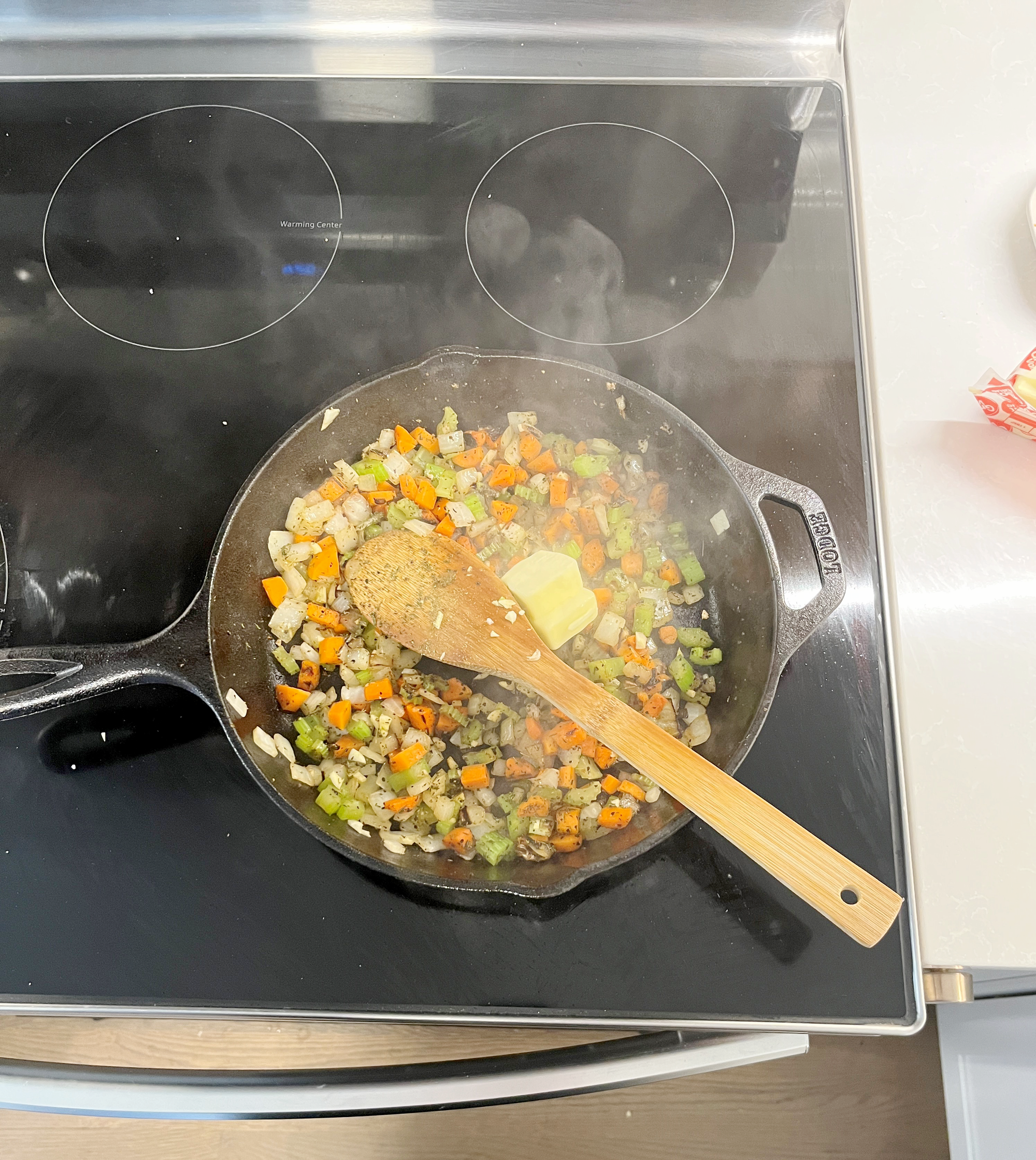 Step 5
Stir in a pinch of salt and pepper. Bring to simmer and allow to thicken, stirring occasionally. About 3 minutes. Turn off the heat and stir in cream cheese until melted. Add chicken back to pan and stir.
Step 6 
Place 1 tbsp of butter into small bowl. Microwave in 30 second increments. Once melted stir in remaining thyme and set aside. Open can of biscuits and peel apart at the middle, splitting each in half creating ten half biscuits.

Step 7
Add biscuits on top of filling, brush thyme butter on tops of each biscuit, and bake on the middle rack for 12-15 minutes. Biscuits should be golden. Allow to cool for a few minutes and enjoy!