Meet Artist Melodie Grace
I recently had the opportunity to chat with artist Melodie Grace and learn about her amazing work. Let me tell you, just a few minutes into our conversation and I was in complete admiration listening to her speak so energetically about her forte. Every word that poured out spoke with sincere passion and knowledge for her art.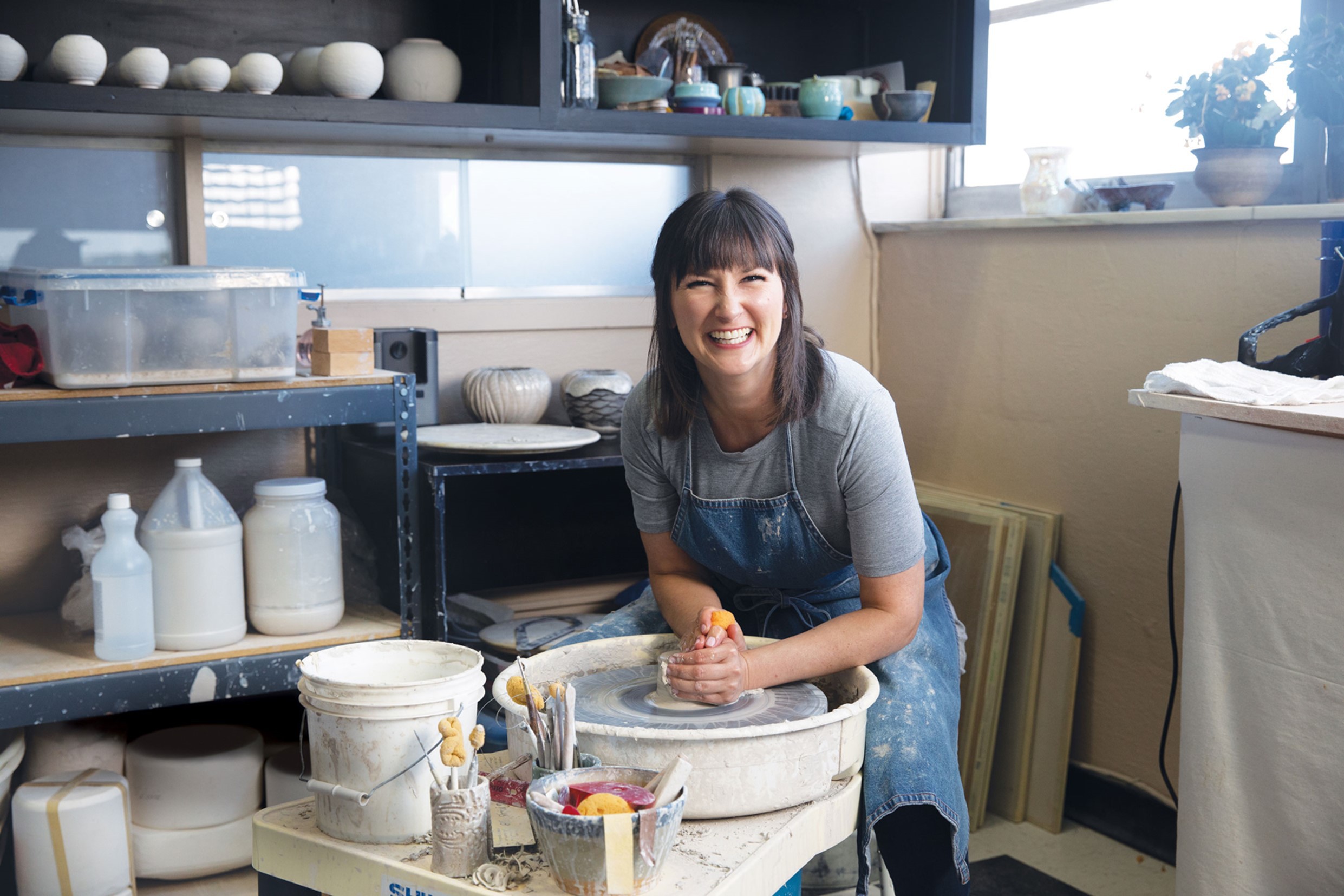 Melodie Grace in her studio / Photo Credit: David Bean
Melodie Grace has considered herself a potter since she was nine years old. Her works include exploration into earthenware and porcelain pottery. You will find beautifully designed vessels, some with hand carved detailing to functional ware and even charming jewelry and ornaments.

Some of Melodie's Creations / Photo Credit: Tiffany Clapp (Left), Melodie Grace (Middle), Melodie Grace (Right)
Melodie's Work
In Melodie's work she instills meaning to each piece. Melodie "is most interested in honoring quiet moments, images or textures that evoke a memory or connection" ensuring that each piece made "is its own small celebration" (Melodie Grace). Her passion for what she does is very clear and truly represents the fine art of pottery.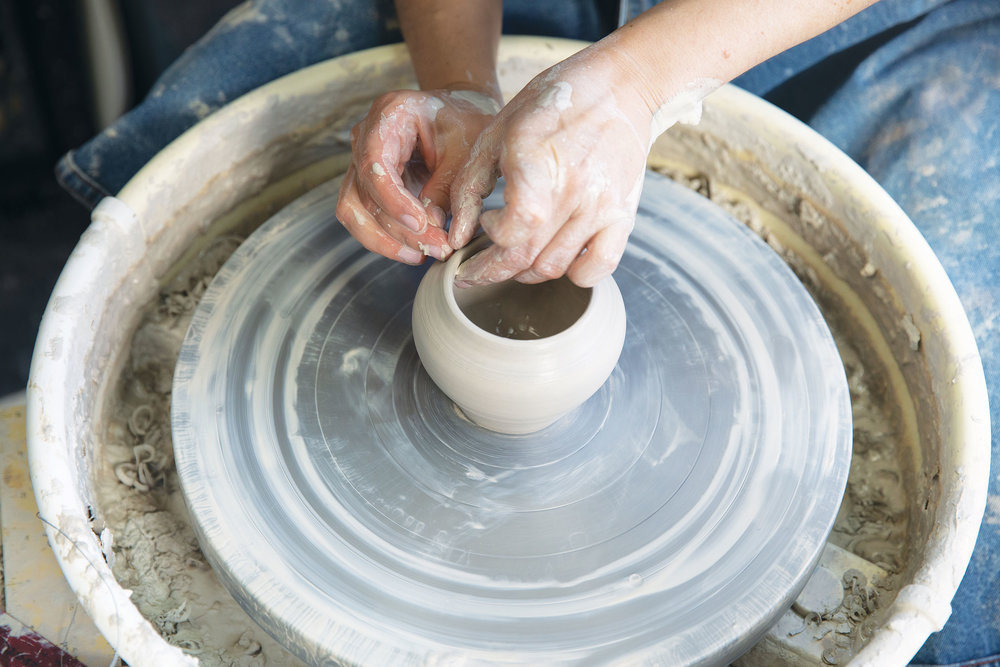 Throwing Pottery On the Potters Wheel / Photo Credit: David Bean
Even though Melodie has works from both earthenware and porcelain her focus is that of raku pottery. If you are like me, you have probably never heard of raku pottery! I learned that this is a type of earthenware that has a very intricate process to reach the end result. Raku pottery is Melodie's specialty and what most of her time is spent creating. Each of these pieces are rare and distinct, detailing sharp clean lines that embrace an organic but refined flare. Her raku pieces are very different than most raku. You will typically find this pottery to be chunky and very rustic, but she likes to concentrate on the intimacy and delicateness of a cleaner and smaller scale for her pieces.
There is a reason for her fond appreciation of raku. The process for this art brings forth a primitive technique that requires dedication and awareness. Melodie is directly involved in every step from the beginning transformation of raw clay, to building a small kiln, blending glazes, and cultivating the piece through a process that involves the relationship of fire and smoke.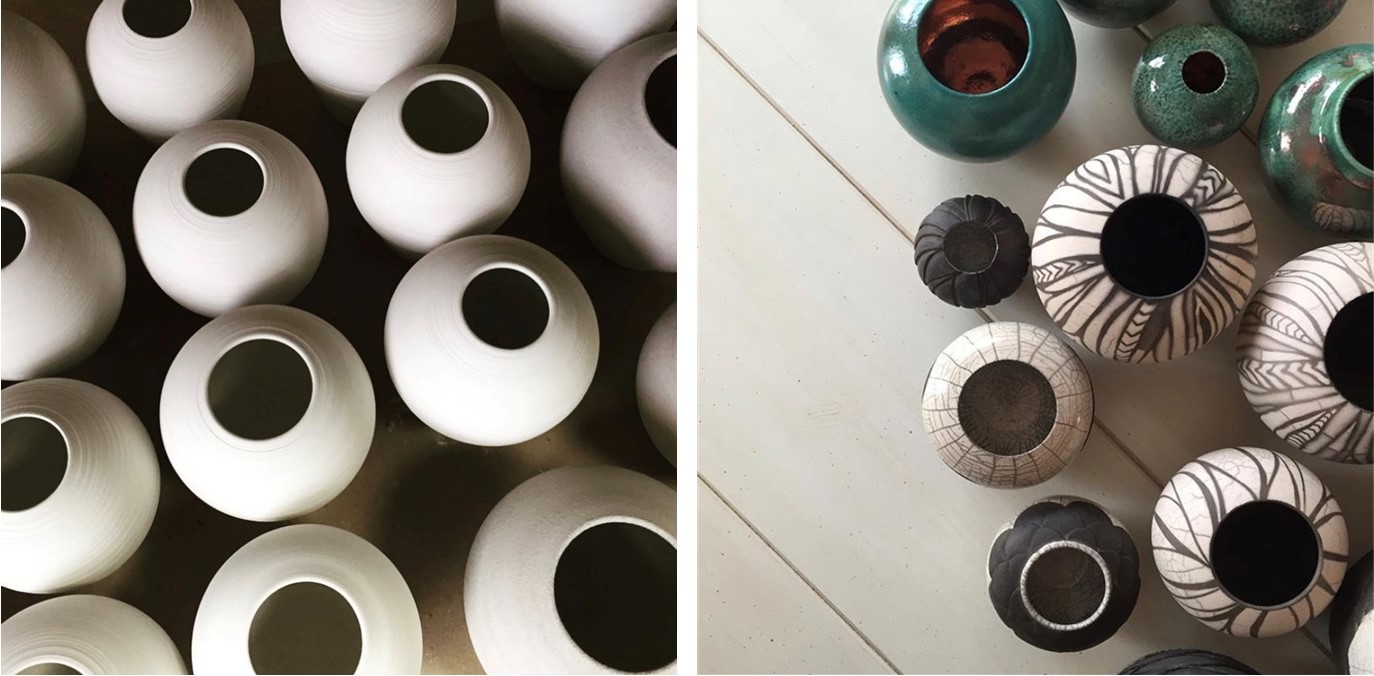 Bisque Fired Pottery (Left), Melodie's Copper and Naked Raku (Right) / Photo Credit: Melodie Grace
But… What is Raku Pottery?
The original Japanese process of Raku dates to the early sixteenth century and is an extension from the Buddhist influences in life. Raku firing is one of the purest techniques in pottery and the elements found in nature can be recognized in each step. There is a true art to this process.
The process starts with the earthenware being bisque fired (i.e. the pottery has been fired and is still a true ceramic material… no glaze). The bisque pieces are then painted or dipped into glaze.
Ultimately where the raku pottery begins to unpredictably transform and become distinctly its own is seen in the next steps.
Once the pottery is glazed it is put into a raku kiln. These are typically smaller and run on gas. Unlike the conventional firing process where the pottery is cooled within the kiln, with raku the pottery is quickly removed from the kiln while at its peak temperature and is still glowing red from the heat.
Building A Raku Kiln / Photo Credit: David Bean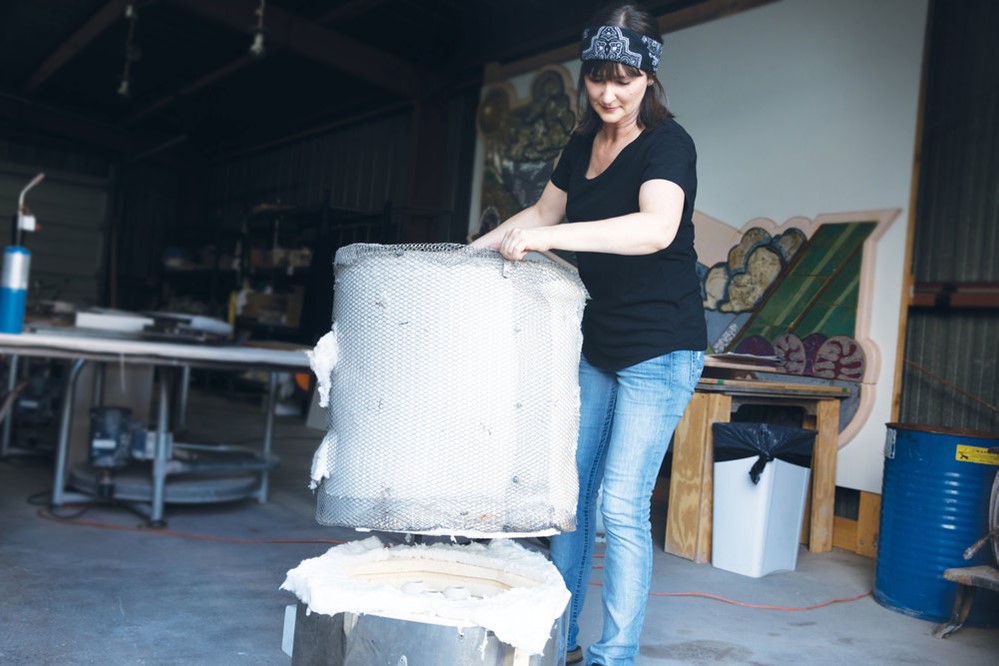 Raku Kiln / Photo Credit: David Bean
The pottery is transferred with tongs to a metal pit known as the reduction chamber which contains natural materials that are combustible like wood or sawdust. Melodie chooses to use shredded newspaper. Depending on the material you choose, each produces a different effect with the color of smoke produced. Shredded newspaper creates a greyer smoke which aesthetically Melodie likes for her pieces.  Within the pit a reduction environment has been created and the oxygen inside is being consumed. This stage is responsible for the unique and unpredictable look of the raku pottery.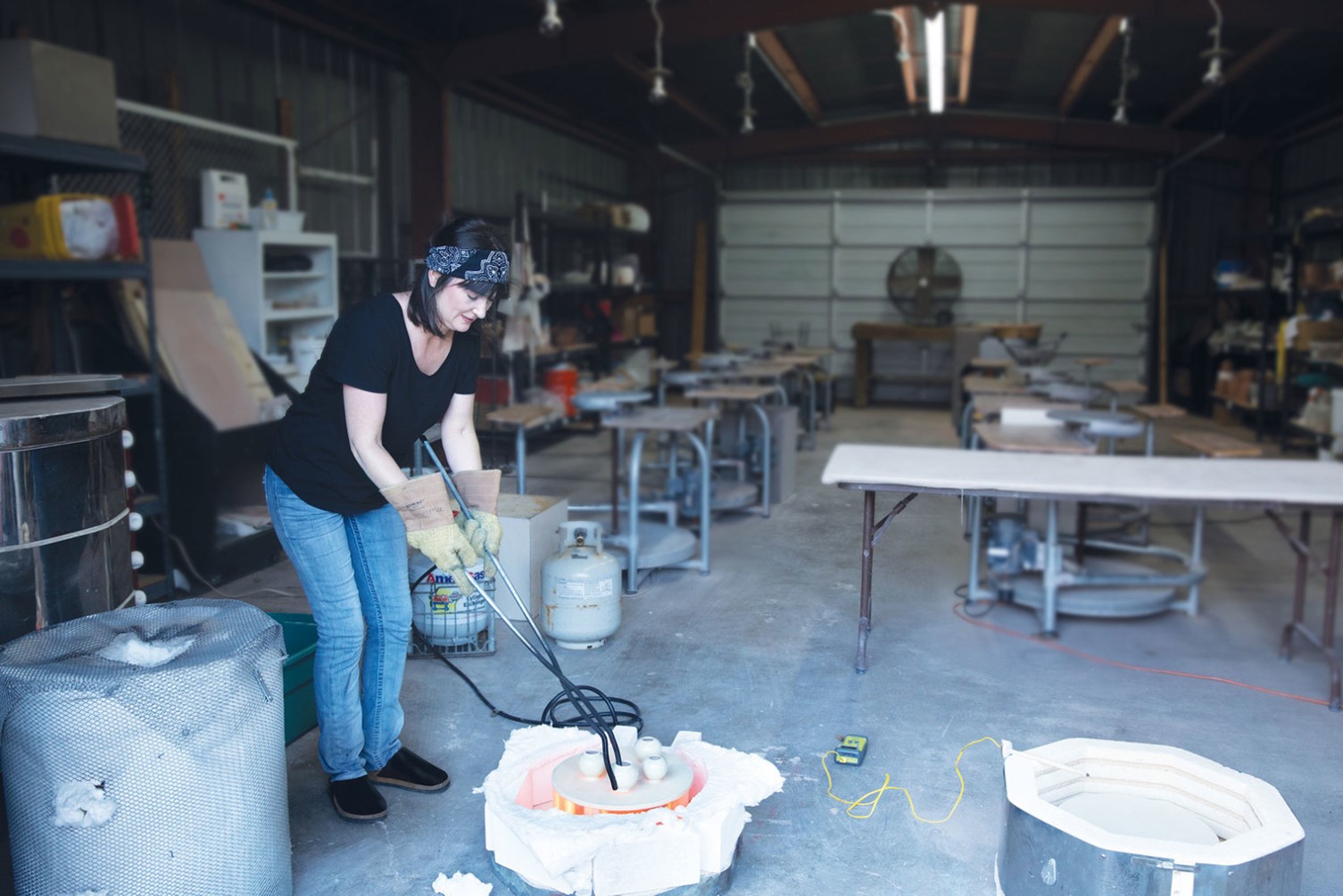 Removing glowing red pottery from the raku kiln / Photo Credit: David Bean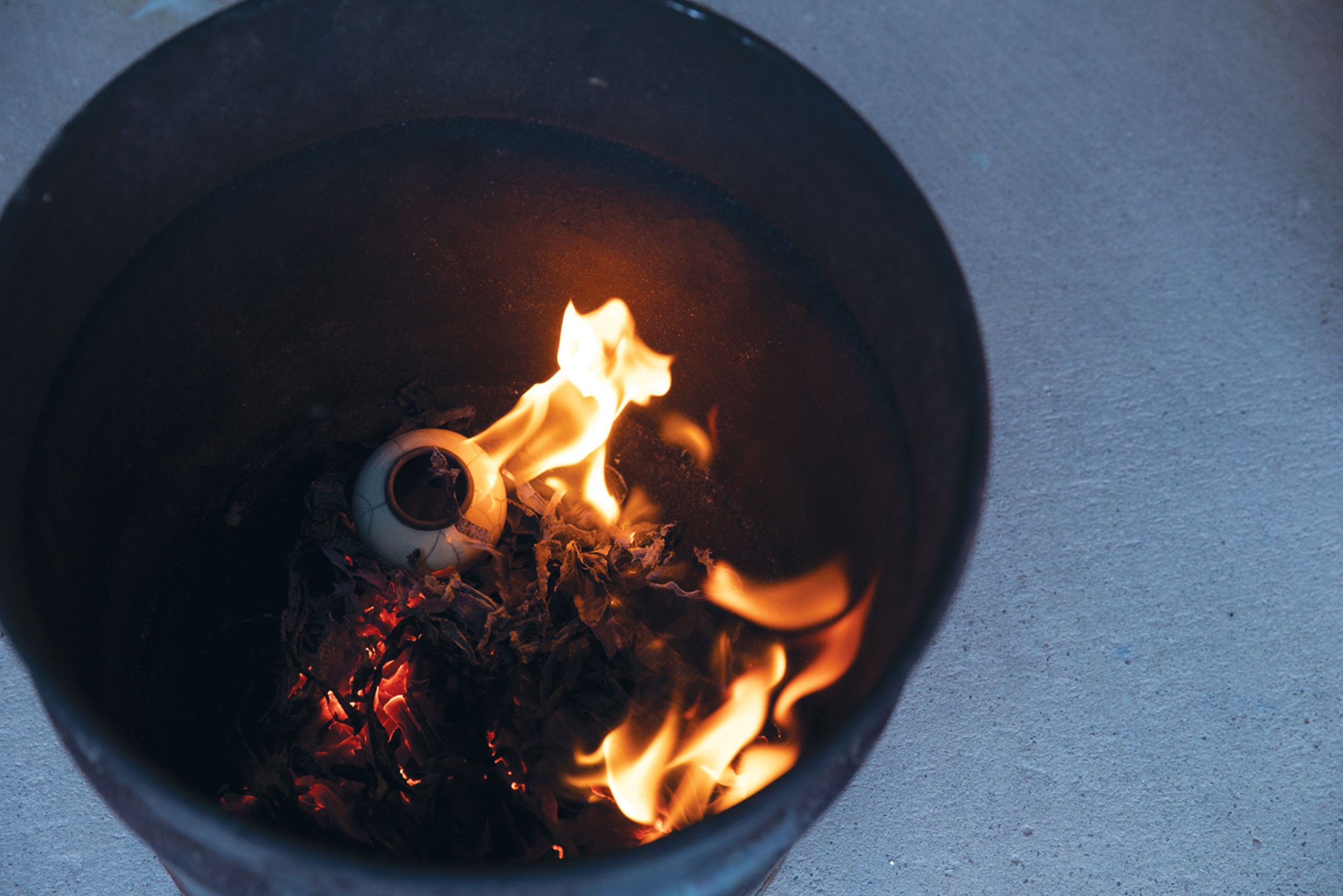 Metal Reduction Pit / Photo Credit: David Bean
Once removed from the pit the piece is immediately submerged into cold water and cleaned to reveal the raku pottery or depending on the type of raku it will air cool.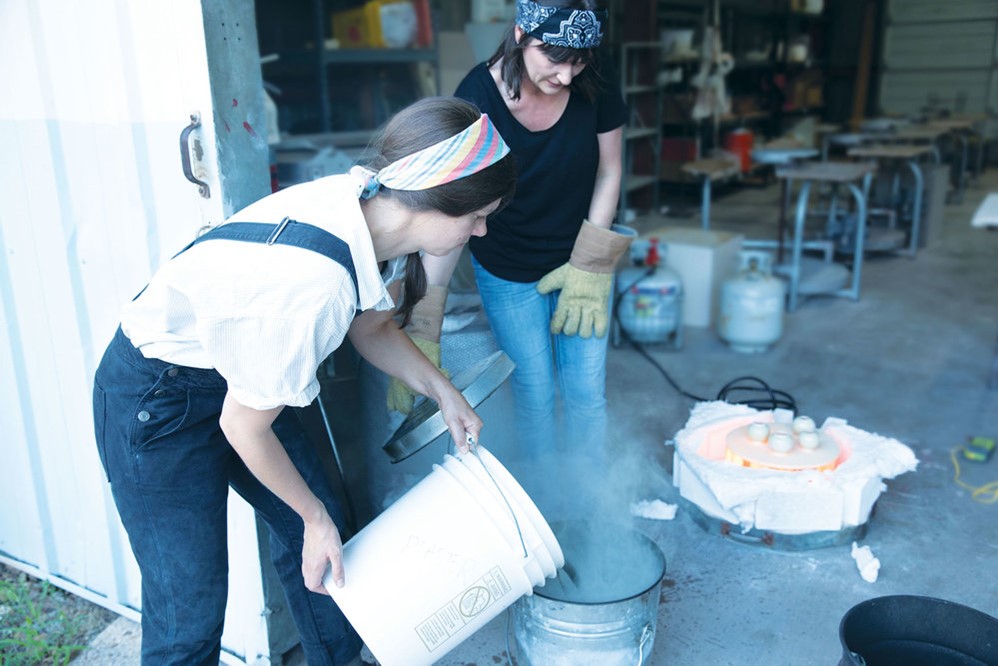 Dousing raku pottery with cold water / Photo Credit: David Bean
It is truly remarkable to see the unpredictable outcome of each piece that endures the ancient Japanese art form of raku.
Video Credit: David Bean, Directed By: Katie Peninger, Music By: Patrick Norris
Melodie works with both traditional and naked raku, each having their own unique traits. Traditional raku follows the ancient firing process  with a glaze applied to the ceramic.
Naked raku is a variation of the raku technique in which a resist slip or "barrier" is applied to the piece before it is placed in the raku kiln. The resist slip cracks and breaks apart during the firing and is chipped off after to reveal a blackened crackle pattern. In some of Melodie's naked raku pottery she will choose to carve freehand details such as birds or trees after the slip is applied. This carved detailing will penetrate though the slip revealing the bisque fired pottery and after fired to temperature is then placed into the reduction chamber or pit. The smoke will reach the naked surface and create a colored effect where the details were carved into the applied slip.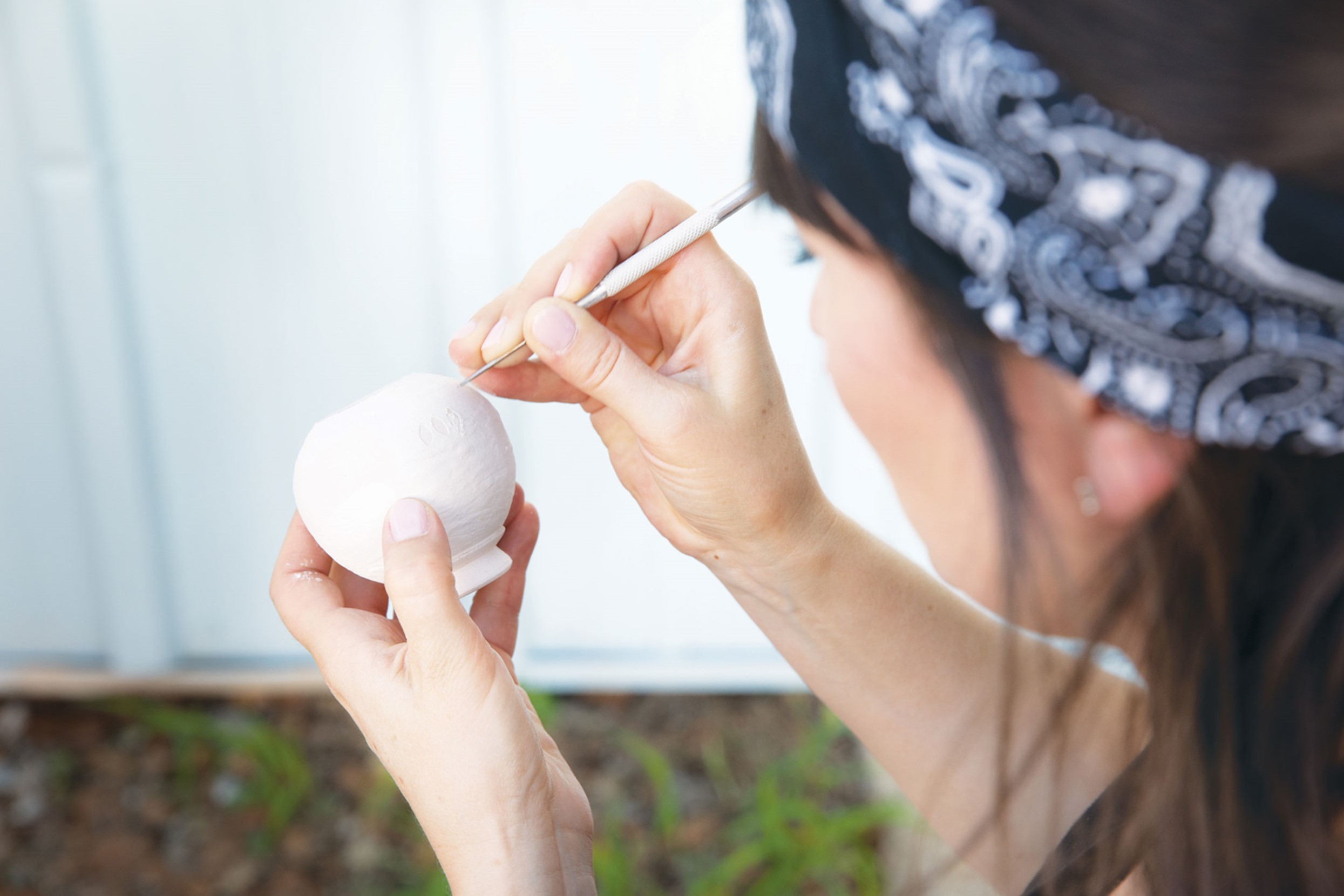 Adding freehand details to the naked raku / Photo Credit: David Bean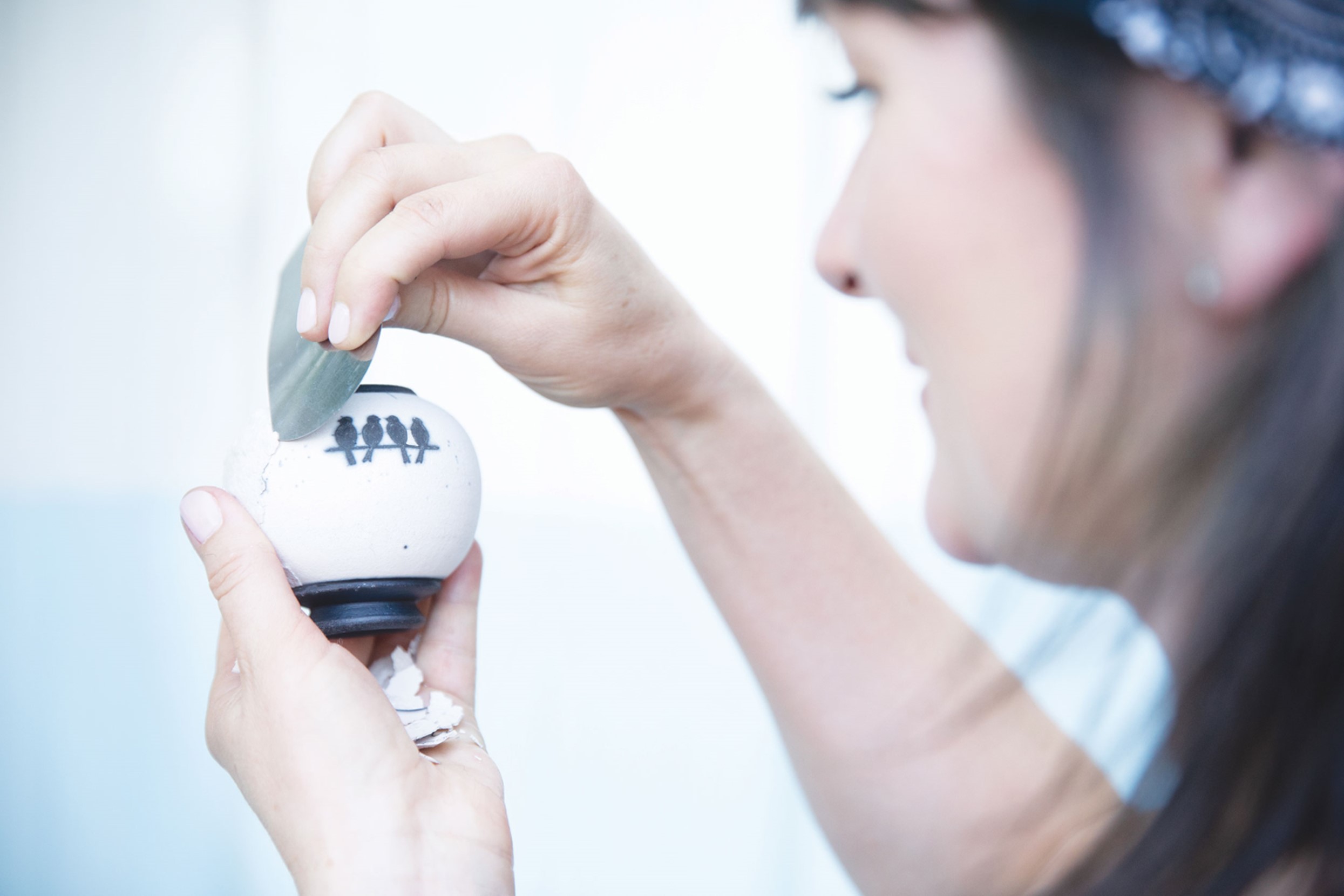 Breaking away the resist slip after being put in the reduction pit / Photo Credit: David Bean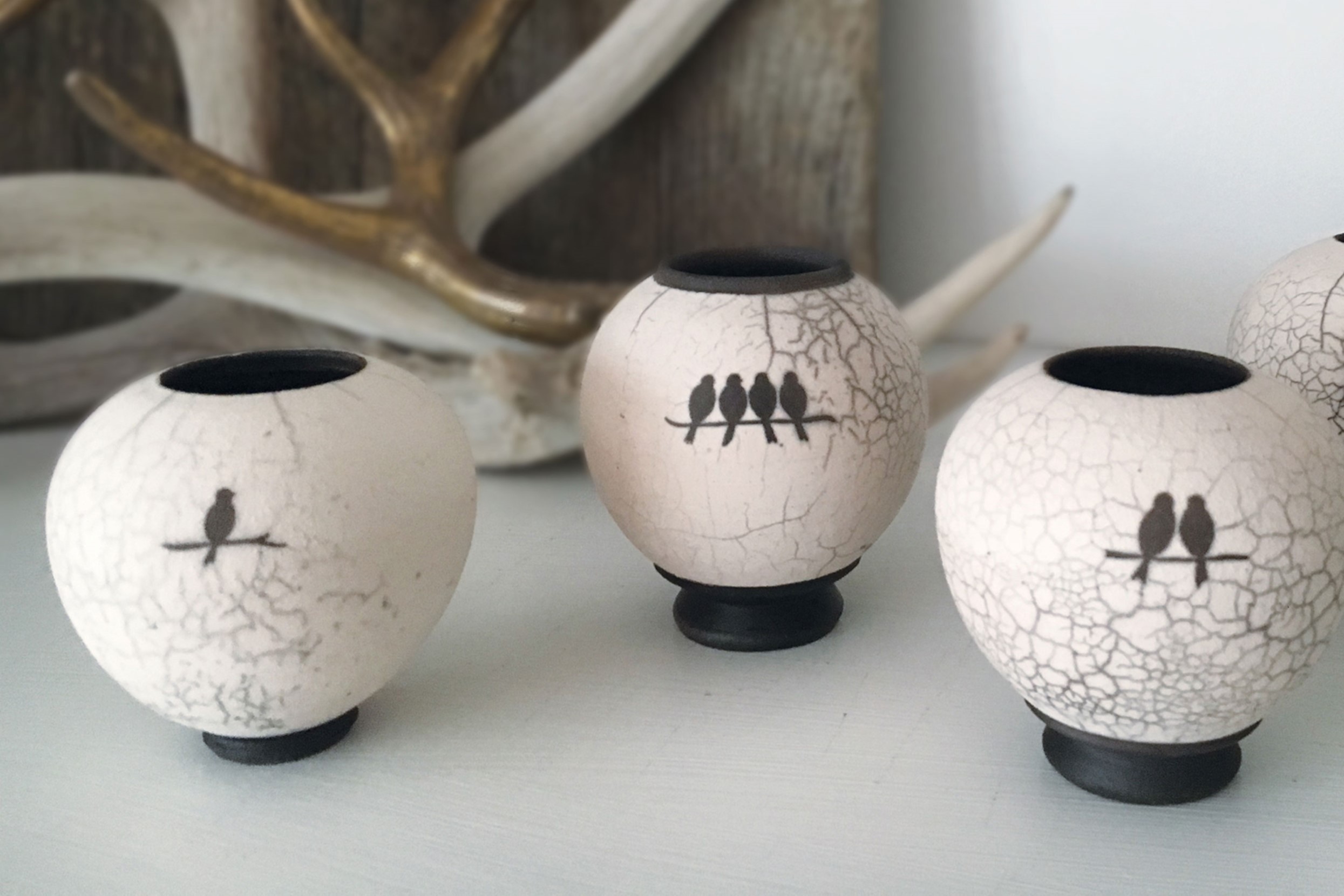 Naked Raku / Photo Credit: Melodie Grace
Recently Melodie had the amazing opportunity to collaborate with West Elm. This collaboration process was both intense and invigorating. Melodie's copper raku was the inspiration for the limited-edition stoneware. Yes, I said stoneware. Most of Melodie's work is not in this category of pottery but due to a few circumstances such as functionality and the need to be watertight these pieces could not be made through the raku process but instead with the conventional firing technique. Melodie created prototypes for the collection that were true to her work and conformed to West Elm's aesthetic. Over the course of two years, three designs were agreed upon that conformed to Melodie's brand and yet had the functionality West Elm needed. This limited collection was produced by a family run pottery workshop in Thailand. 600 pieces total for the collection were handcrafted and each numbered and signed by Melodie Grace.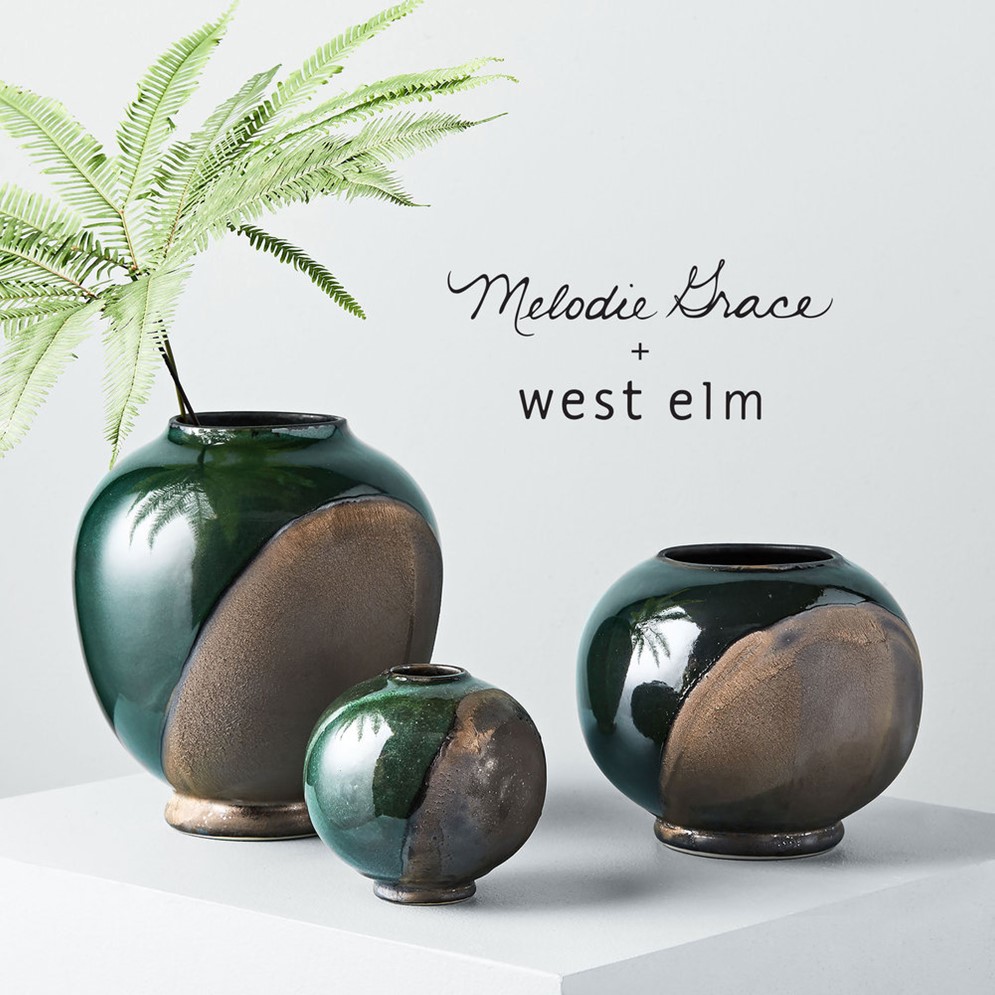 Collaboration with West Elm / Photo Credit: West Elm
Melodie's work truly is something to talk about. Not only is the passion for pottery evident in her works but she has also mastered an ancient technique that has been refined to make her pieces one of a kind. Be sure to stop by  our emporium, Interior Anthology to shop some of her creations!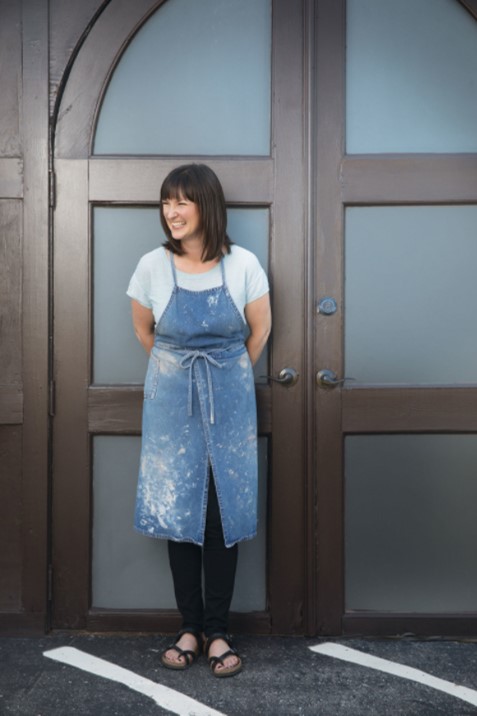 Melodie Grace / Photo Credit: David Bean