The other day I was asked "who has been your favorite client or what item have you framed that stands out as a favorite?" There have been many wonderful clients and numerous interesting items and even a few bizarre ones – clients and items. Given a moments thought, I said the work I've done with the
Nashville Downtown Public Library
comes to mind.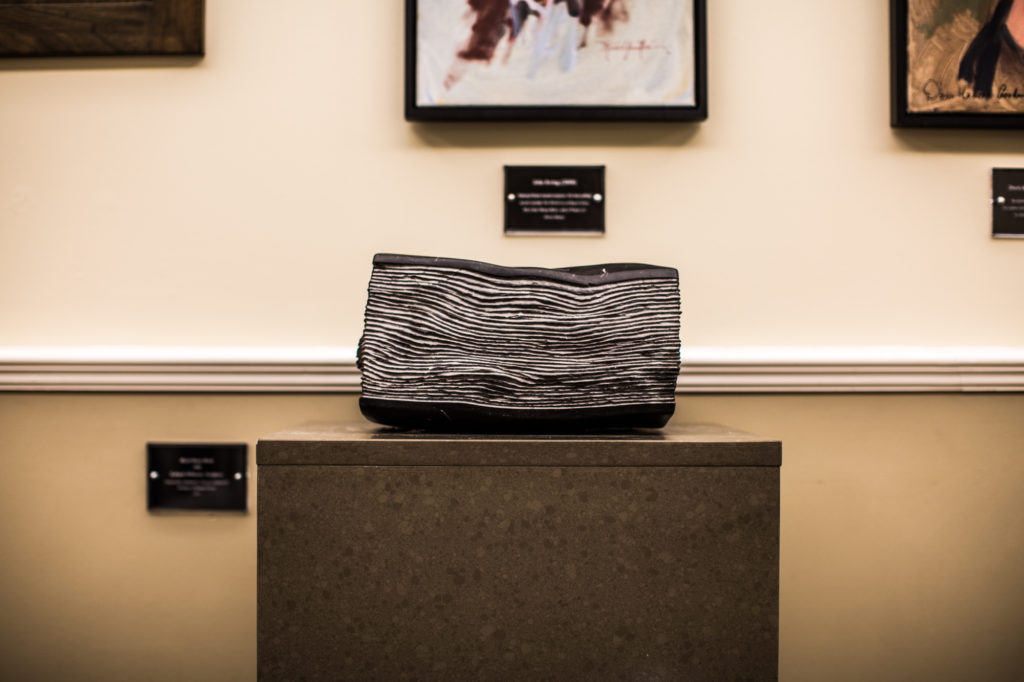 Book Sculpture / Artist: Kubach-Wilmsen / Photographed by: Andrea Behrends
I first met Donna Nicely, Library Director, during the painting of her portrait by
Michael Shane Neal
. I was instantly struck by her interest in every detail of the process, not of her own interest (it was a painting of her after all), but rather making sure that in all ways the library was best served by the process. Commissioned for her retirement, I was pleased to be framing her portrait, which would hang in the library, across a grand hall from a portrait of Mrs.
Margaret Anne Robinson
– library matriarch. During the months to follow I was introduced to several library and Library Foundation staffers, all of who's passion for the library is a major factor in the great feelings I have for the projects I've done with them. Interesting, caring people working toward a common goal makes for a pretty wonderful environment and even as a guest it was quite inspiring. After a wonderful unveiling ceremony/retirement party I installed Donna's portrait in its designated location – job done.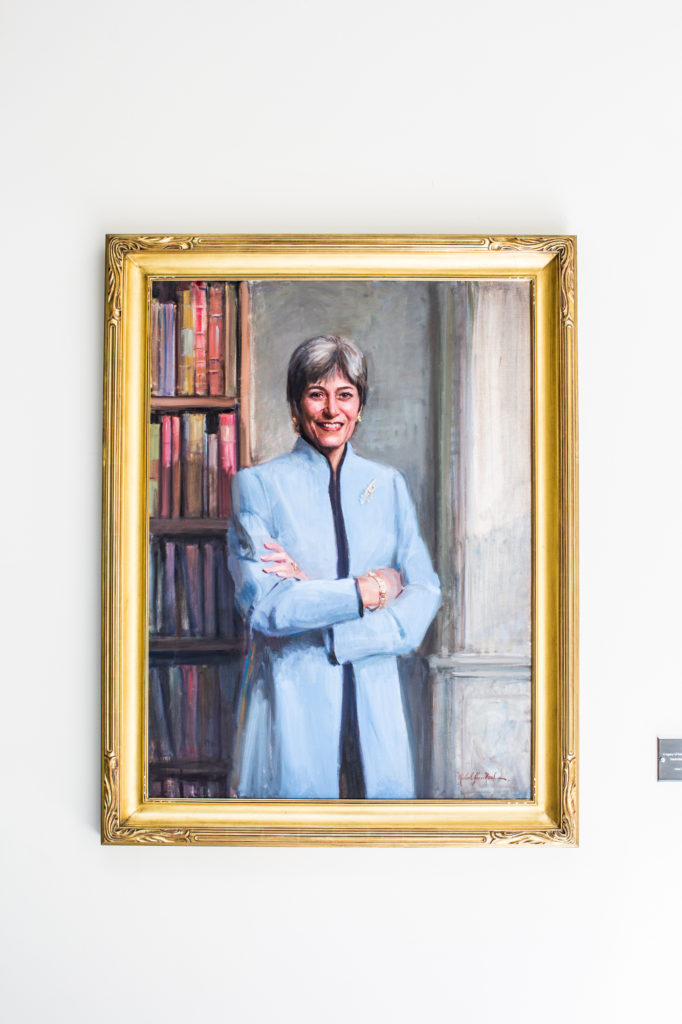 Painting of Donna Nicely / Artist: Michael Shane Neal / Photographed by: Andrea Behrends
Not long after completion I received a call from Donna to come down and discuss another library project with her and Tari Hughes, President of the Nashville Public Library Foundation. Artist
Bruce Wolfe
was sculpting a bust of Governor Phil Bredesen for the library and it was going to need a base and plaque. As it was explained to me, as Mayor of Nashville, Phil Bredesen made the downtown library happen. We selected a location and with photos in hand and a sense of the importance of this sculpture, I was off.
Growing up on a farm in southern Indiana I have a close connection to limestone. Indiana limestone has been the material of buildings, landmarks, and monuments for hundreds of years. I see in it strength, stability, a stately elegance and in many other ways everything need for this project. After a couple of weeks scaling and modeling I presented the concept, which was enthusiastically approved, especially the limestone. As Donna put it "it has to be limestone. The library façade is limestone because of Phil Bredesen." In conception, drafting, and editing the base came together quite easily. I had a vision, it just need to be realized. I had no idea how much work it would take to plant my vision on the staircase landing in the library. Rocks are heavy and big rocks are really heavy. I think the base weighted in at some number over a half ton – no elevator, no lift and 12-14 steps in either direction. With careful planning (I hired the right crew) and some onsite engineering we were able to see a vision realized.

Installation process of sculpture base for bust of Gov. Phil Bredesen
Time for another unveiling.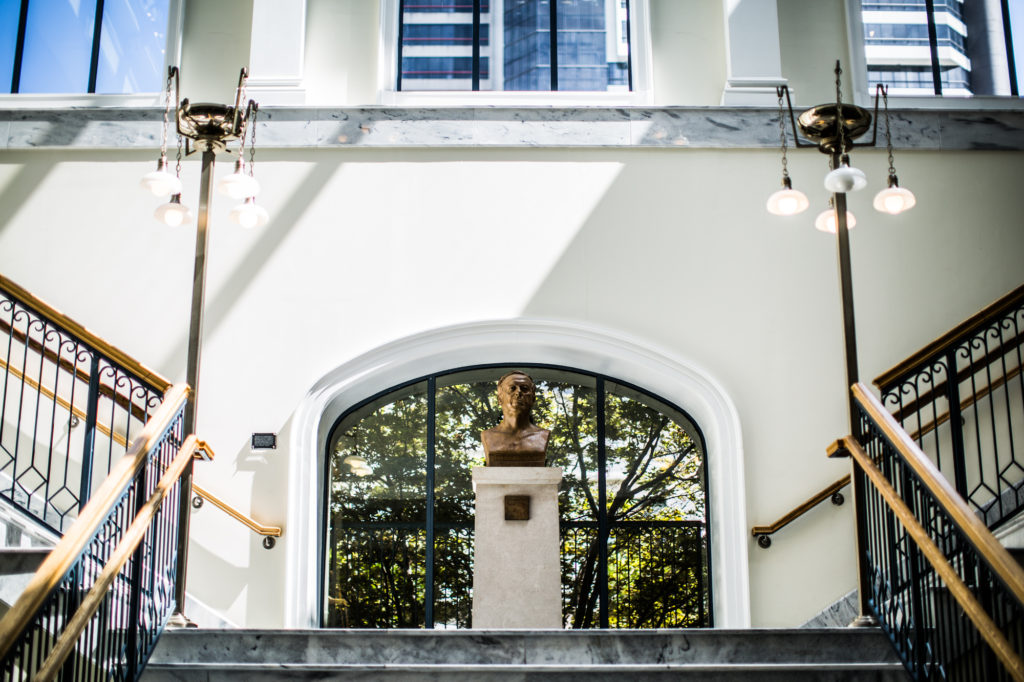 Sculpted Bust of Governor Phil Bredesen / Artist: Bruce Wolfe / Photographed by: Andrea Behrends
The next call was from Tari, she wanted to do a Library Foundation donor recognition piece to hang in the library – "not the normal plaque on the wall, but a piece of art."  Again, armed with the parameters and scope of the project, I was off.  The more I thought about the big plank wall the more I thought about a big plank canvas.  Wall as a canvas equals mural, but mural seemed too "of the wall" to me.  It needed to be a piece to its self – a painting.   
Dawn Whitelaw
 quickly came to mind.  With an uncommon intellect of painting, an amazing creative sense, and the skill set to realize the goal – she was perfect.  The concept quickly developed into a portrait of the library with a stenciling of the donors.  An artist known for her portraits and landscapes – this seemed a perfect combination of the two. A sketch was approved an we were underway.  When I say we, I mostly mean Dawn. I stretched a canvas and made a frame, but she had to do all the painting.  A few months passed and with the painting dry it was time to frame and install.  In a thirty minute installation time a plan of several months was brought to a close – project complete.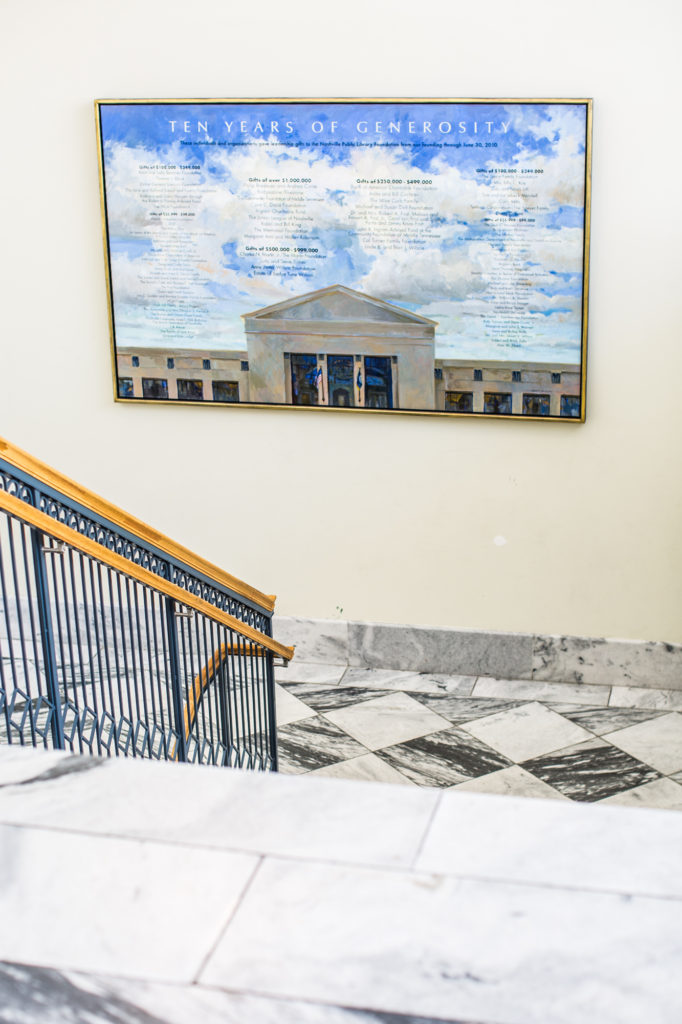 Donor Recognition / Artist: Dawn Whitelaw / Photographed by: Andrea Behrends
I have worked with my friends at the library on other projects over the years, and I feel the key is "friends."  I love starting with nothing or maybe just an idea and seeing a vision, a dream develop into a realized see-it, touch-it, feel-it thing.  If you happen to be blessed enough to work with wonderfully enthusiastic, dedicated, and creative friends – all the better.