Inspiration comes in so many forms and enables the artist in us all to imagine, create, and design. I find it so refreshing to see a new perspective from a true artist; I love to understand how they draw from their inspirations and imagination to create their pieces. 
In August I had the wonderful opportunity to sit down with artist, Robin Schlacter. As we sat and spoke of her perspective on life and art and what it means to her, I couldn't help but to take a deeper look at the world around me and try to comprehend how another artist draws her inspiration for design.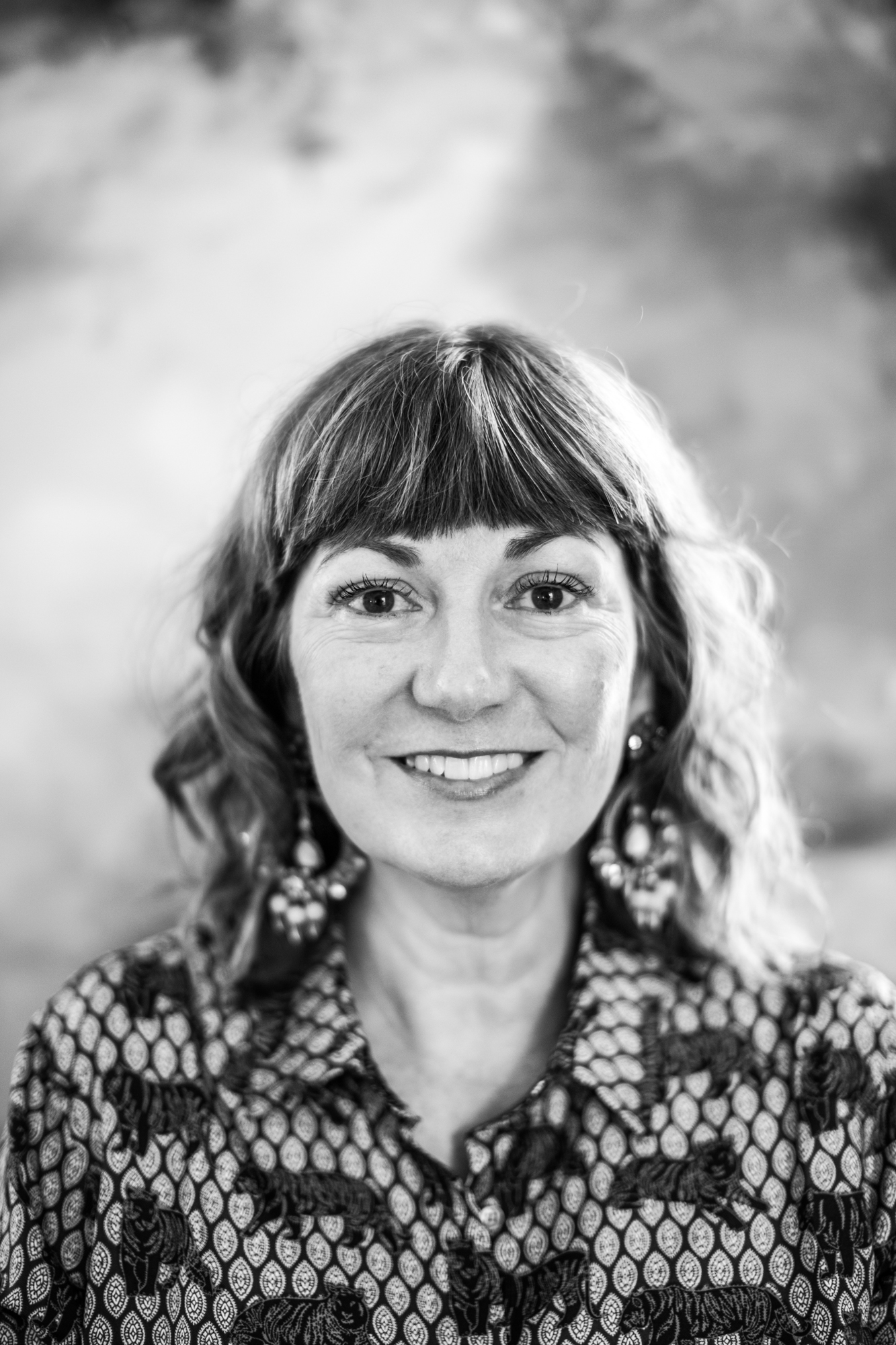 Artist: Robin Sclacter / Photo Credit: Andrea Behrends
Without further ado… let me introduce you to Robin! Robin is from Atlanta but has lived a big portion of her life in Nashville, no wonder why Robin is such a great artist! She had been influenced by the creative culture of beautiful Nashville throughout her whole life. Her mother was a gardener and her father was always finding ways to fix things. As a child she was encouraged to think outside of the box.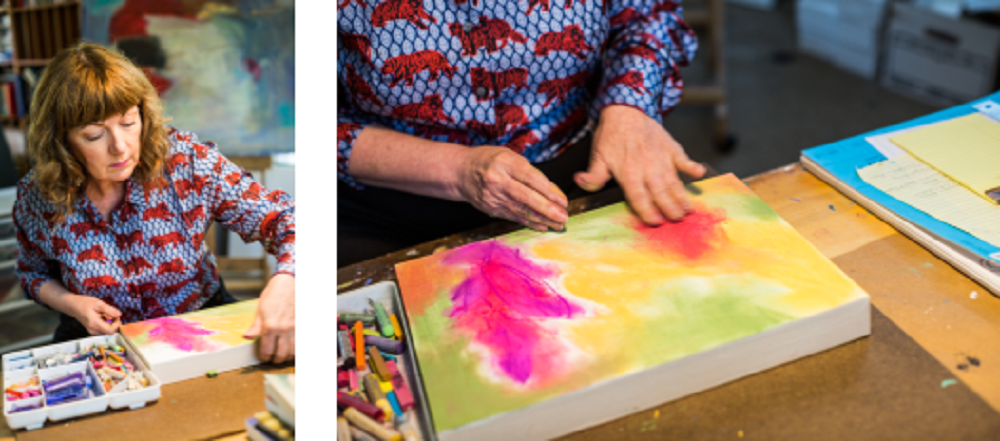 Artist: Robin Schlacter in her studio / Photo Credit: Andrea Behrends
I asked Robin why she does what she does; she said without even a pause that she has the need to be creative in her daily life, everyone has an outlet and art is hers. She literally surrounds herself with it. Robin's family shares the same desire she does, her husband is a composer and her daughter followed in her footsteps by becoming an artist. I had the chance to tour her studio that both her daughter and her share, it was wonderful seeing how they inspire each other.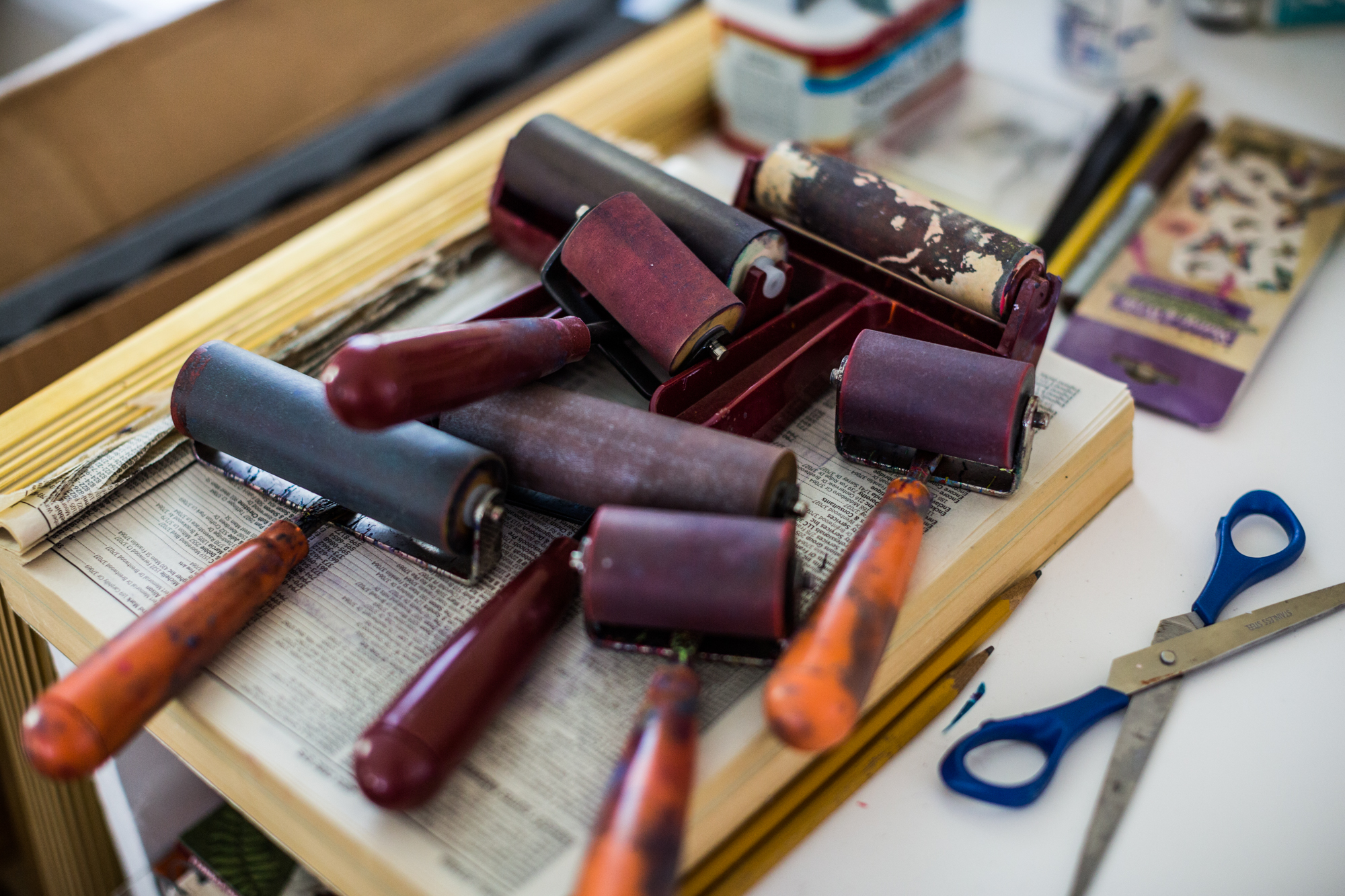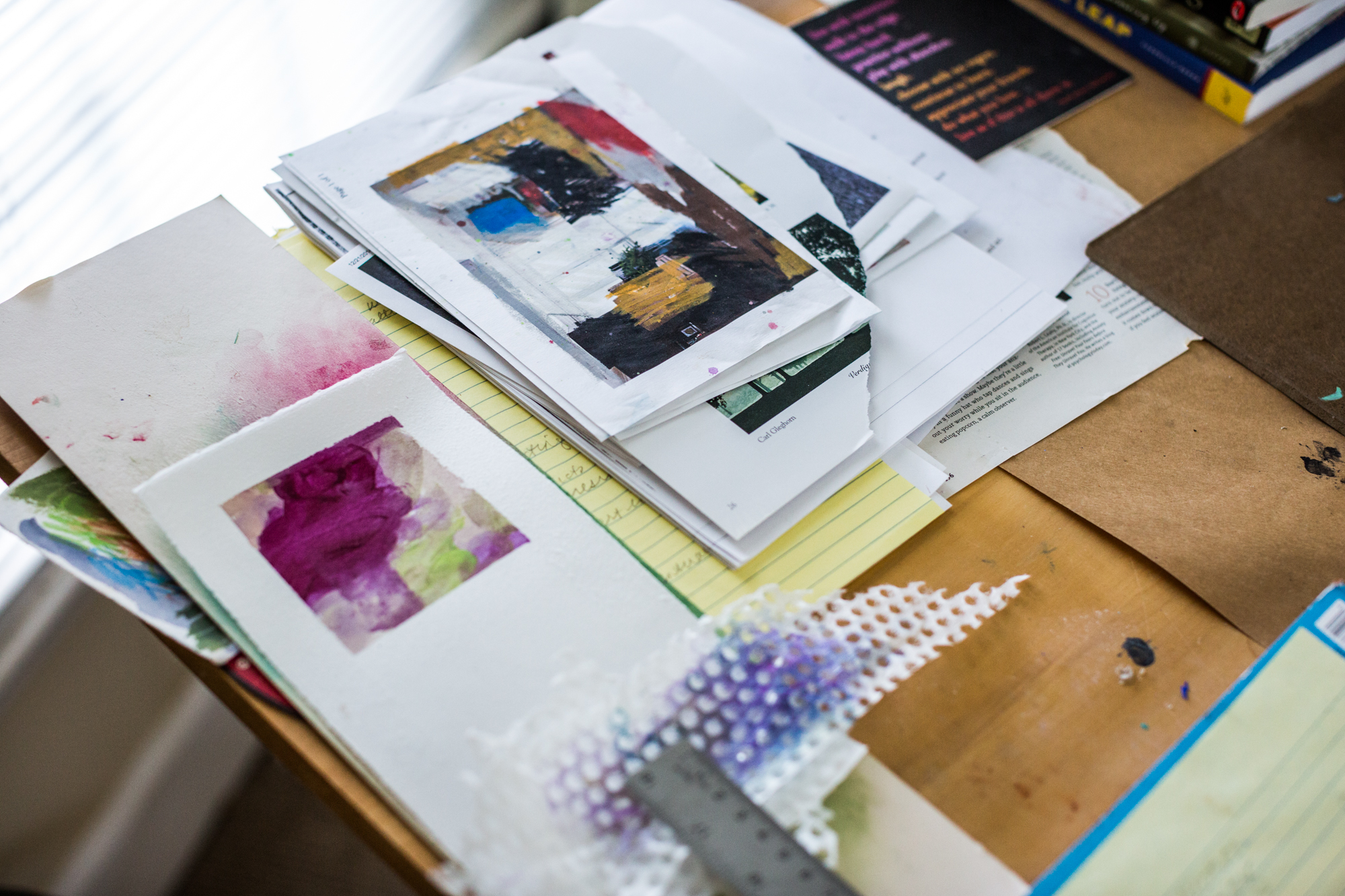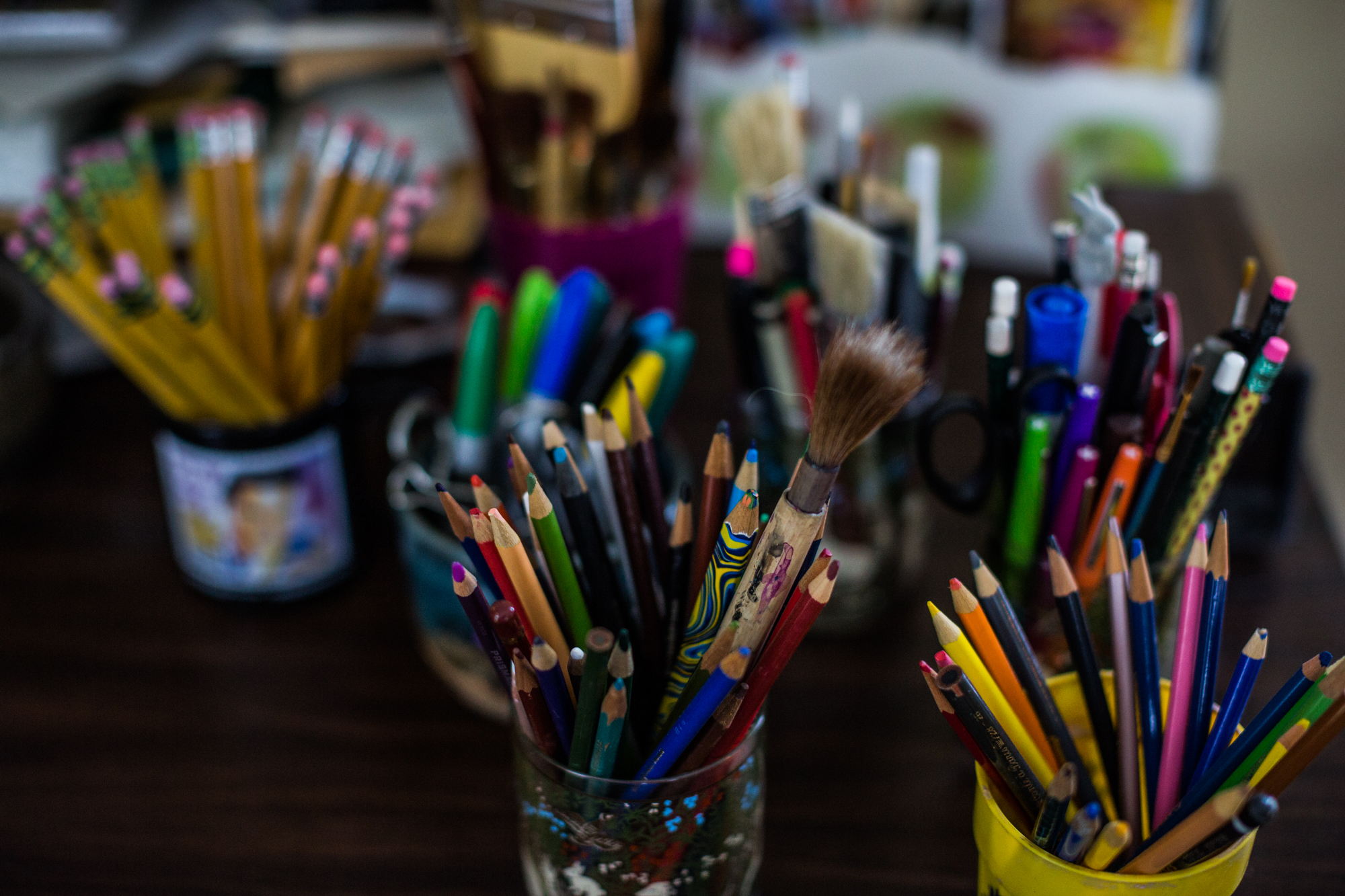 Tools and current prints in Robins' studio / Photo Credit: Andrea Behrends
Robin believes in living a balanced life which she finds allows her to be more creative. She draws inspiration from films, both fiction and non-fiction books, travel, food, nature and absorbing the world around her. She fuels her creativity with all the details surrounding her and all the excitement of life. Listening to Robin explain this had me in awe, you could feel her passion about what she does and why.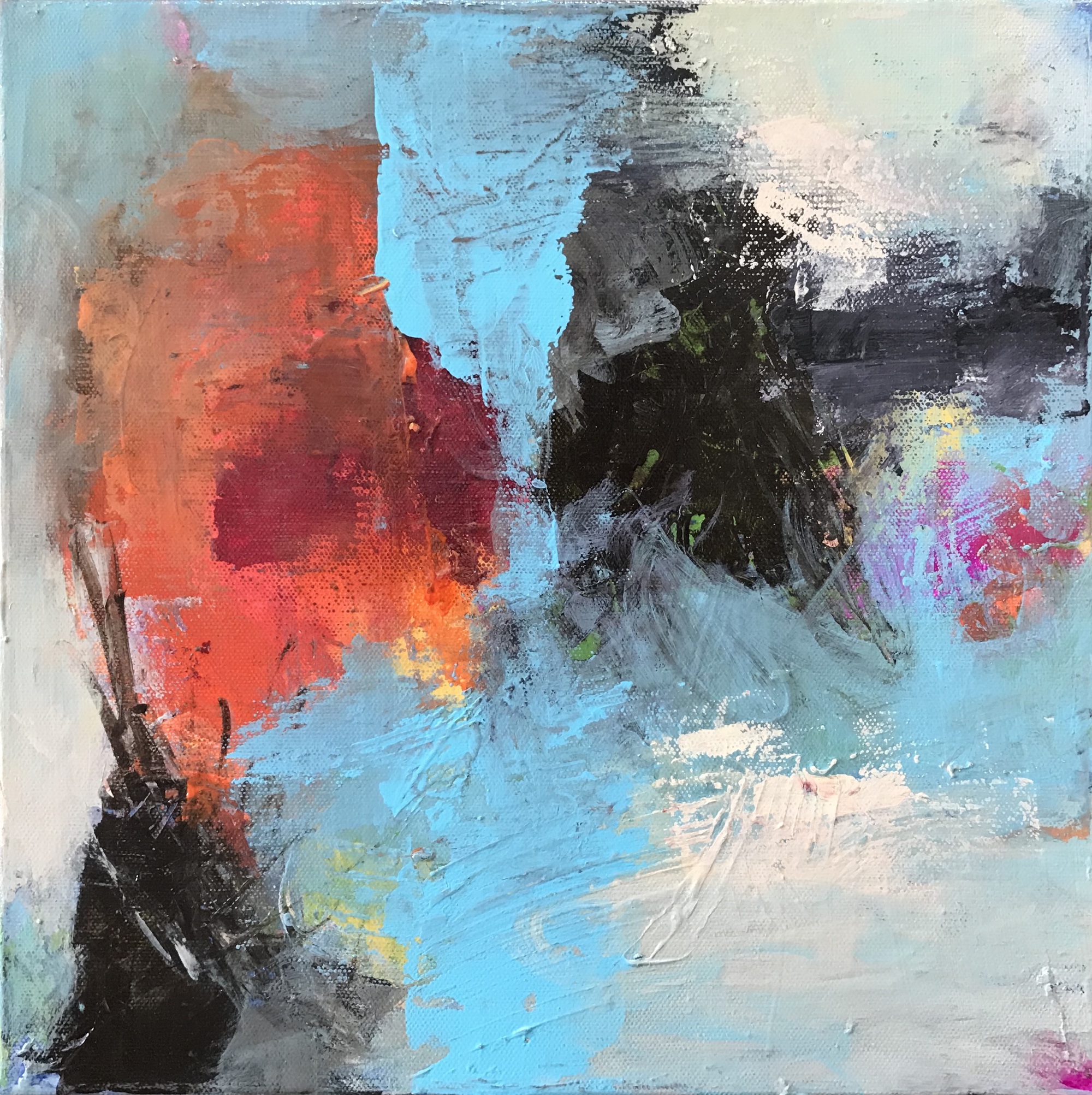 Highlands / Photo Credit: Tiffany Clapp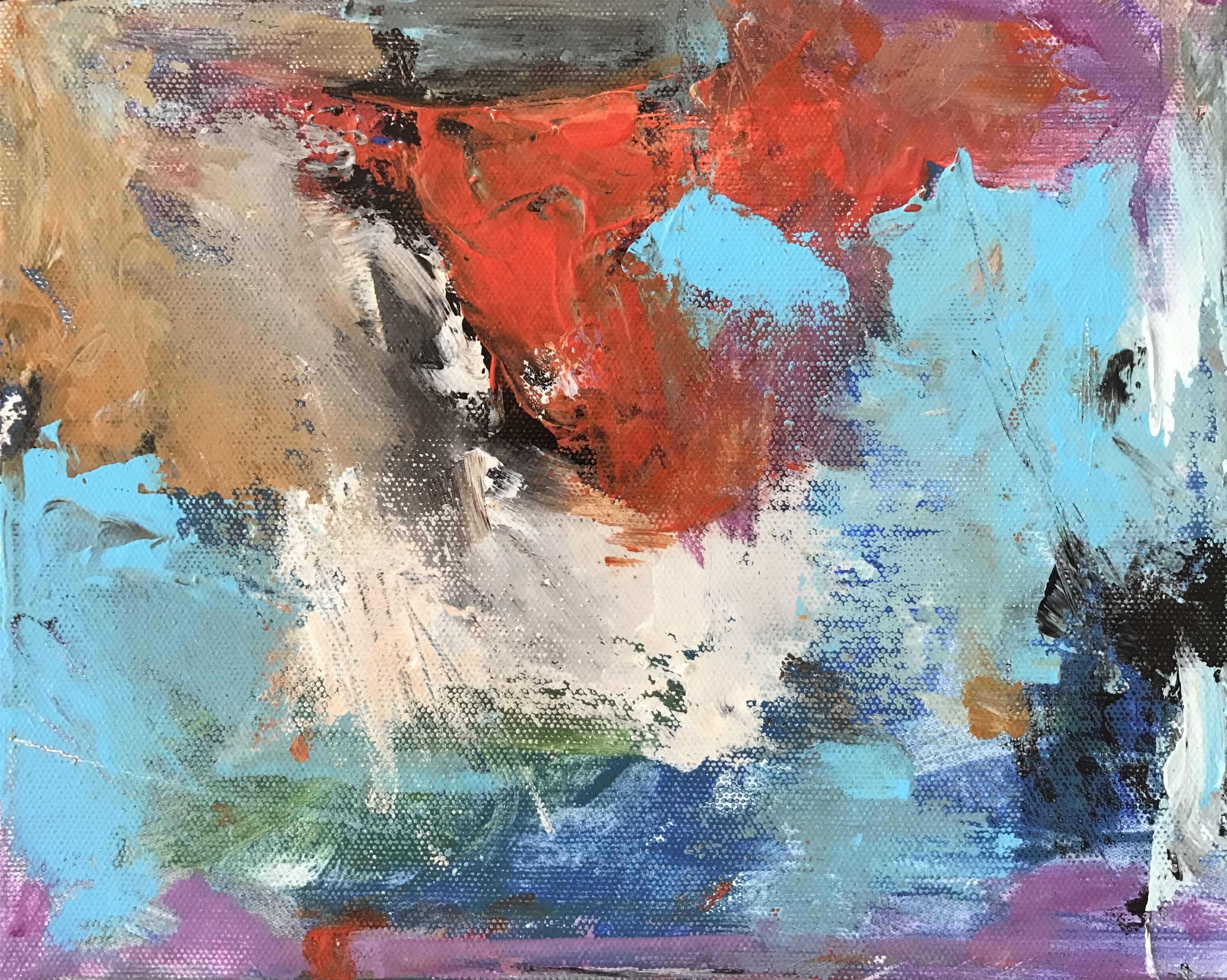 Vista / Photo Credit: Tiffany Clapp
Robin is both a painter and a printmaker with a deep love for color. Much of her work is comprised of vibrant acrylic paintings on canvas and oil-based monotypes on paper. She develops all her work to be immersed with rich expressive color and texture. With each of her pieces she finds herself exploring different mediums and plays with the effect of psychology and color. Typically, you will find the colors in the piece butting together to form her story. Robin will add and take away color until it makes her desired composition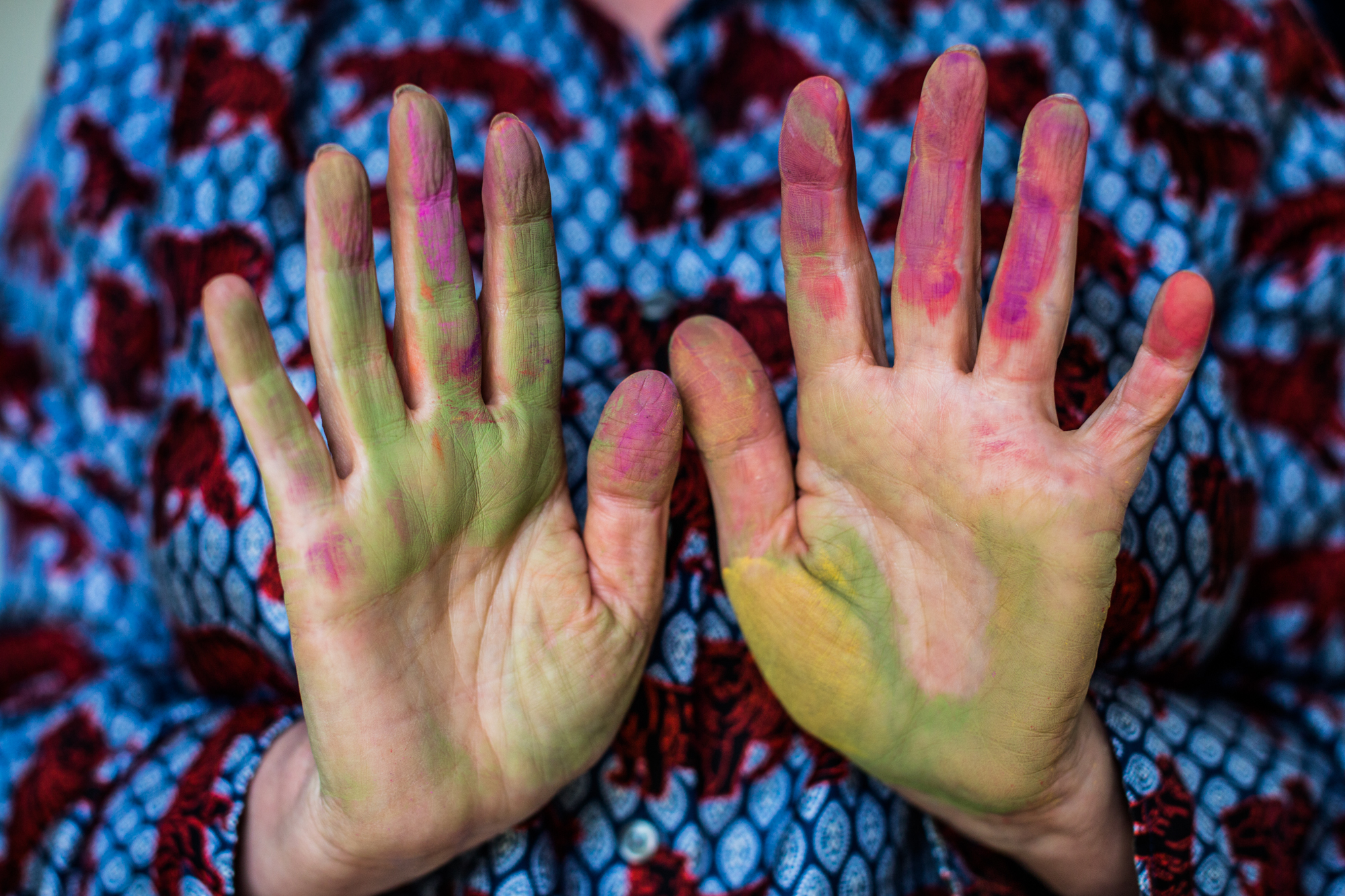 Artist: Robin Schlacter in her studio / Photo Credit: Andrea Behrends
Robin said she identifies her work most with abstract art. Her art is a non-representational expression comprised of lines, textures, and layers of vibrant hues. All her techniques develop unique, innovative and spontaneous art.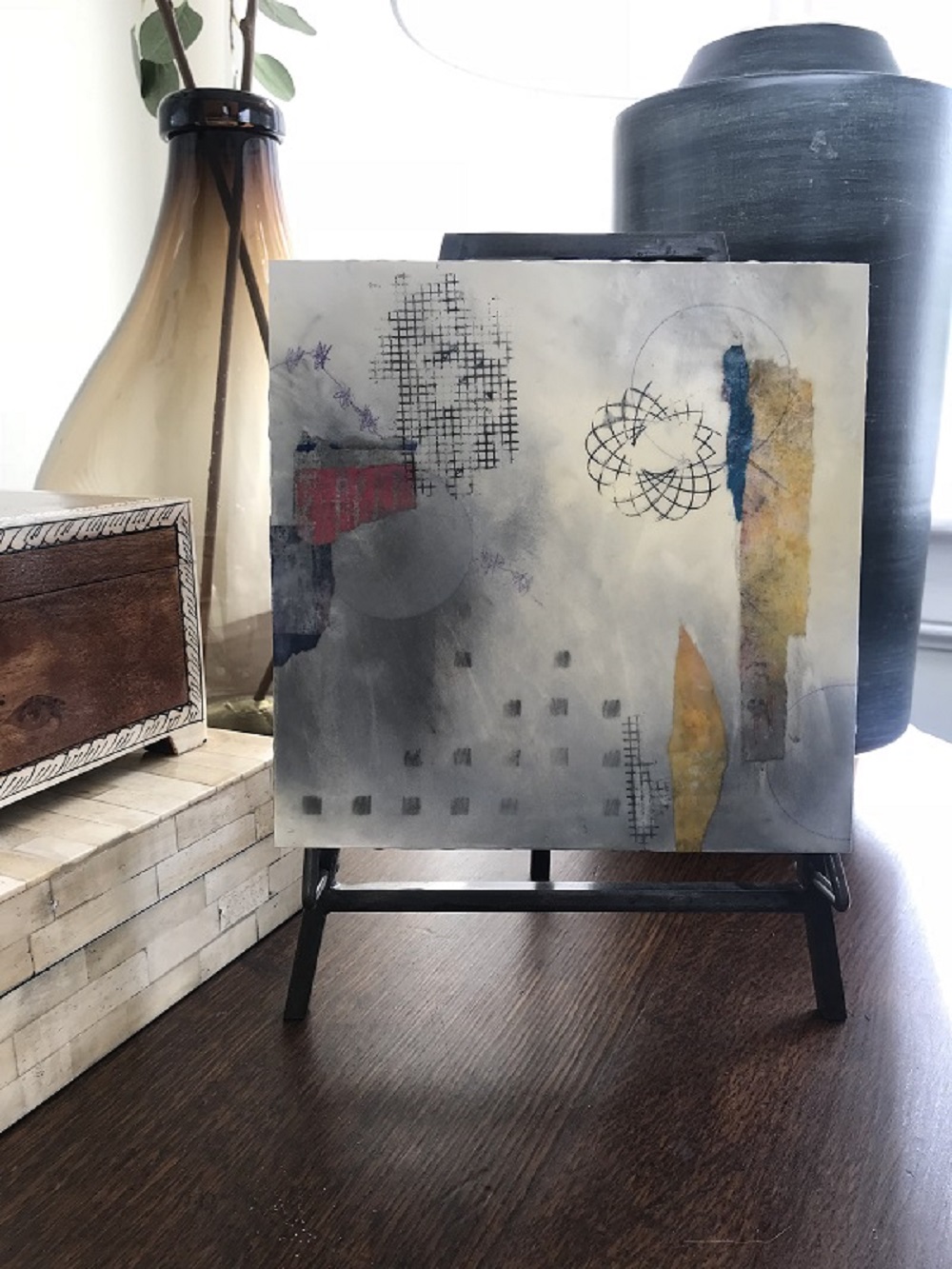 Cirque Encaustic / Photo Credit: Tiffany Clapp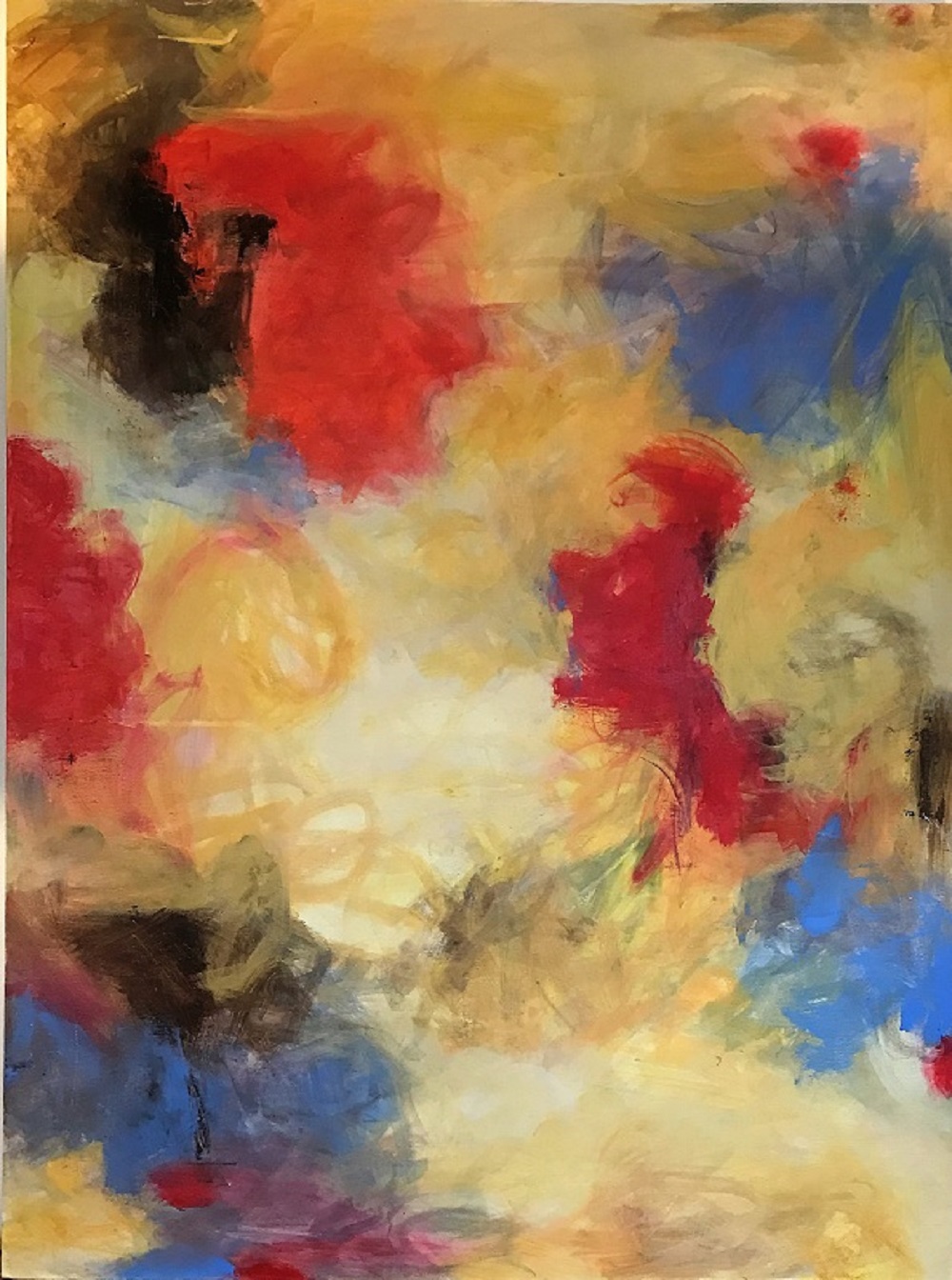 Abandoned Daffodils / Photo Credit: Tiffany Clapp
After meeting Robin and seeing her work you can tell that her personality is bursting from her art. It is exploding with happiness, positivity and inspired by the colors surrounding her. Interior Anthology is so humbled that we get to showcase these exquisite pieces in our showroom!
As an interior designer, having the opportunity to meet with Robin and understand how she pulls so much of her inspiration from her daily life and the world around her, gives me many more avenues when it comes to my own creativity. I think there is so much to be said when it comes to understanding the amazing artists of our city and where they draw their inspiration from. Being open to others' inspirations can, in turn, open so many doors for individuals like me.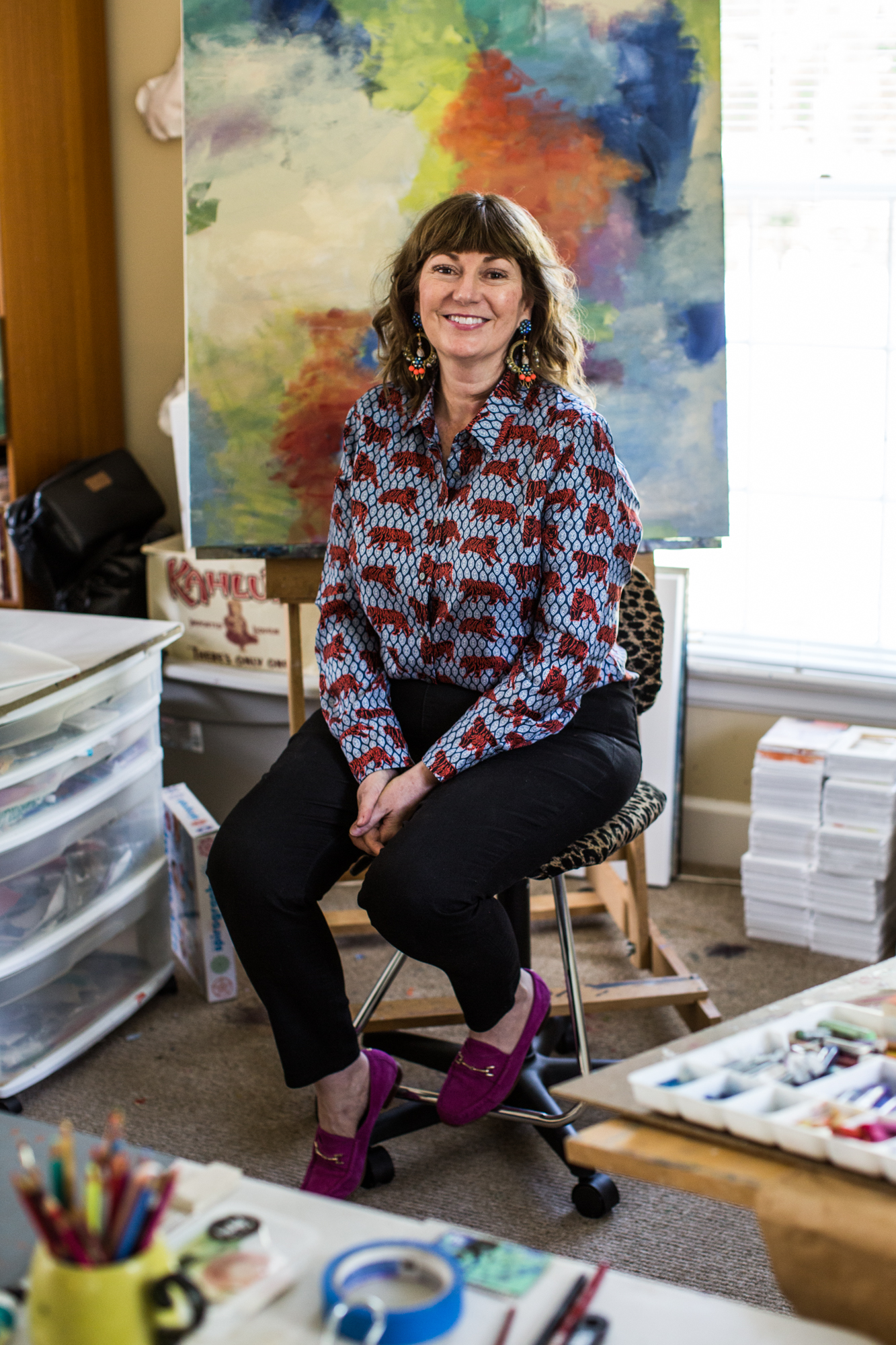 Artist: Robin Schlacter / Photo Credit: Andrea Behrends
This artist' body of work is currently for sale in our newly opened eCommerce shop. To visit, just click here