I've always felt the best way to get to know a new place is to learn about its history. Knowing a cities background can help you understand it's present happenings, recognize cultural values, and connect with the locals. When I first moved to the Nashville area one of my first stops was Belmont mansion where I was also introduced to the book series based on the mansion written by Tamera Alexander. I have long held a great affinity for historic homes and the people who once roamed their halls.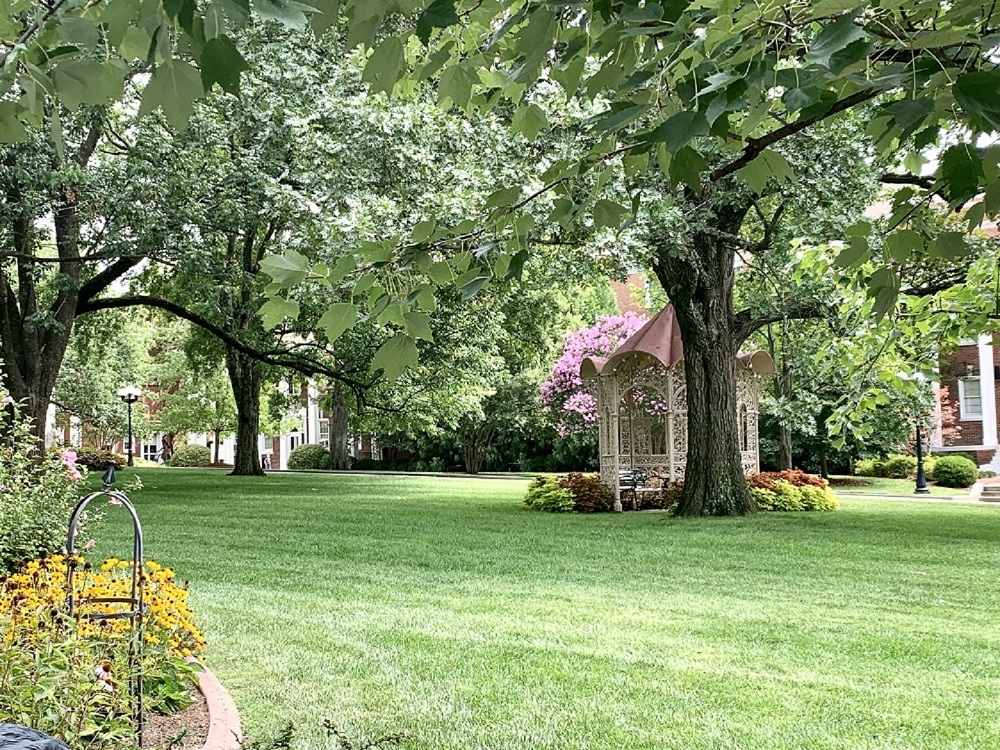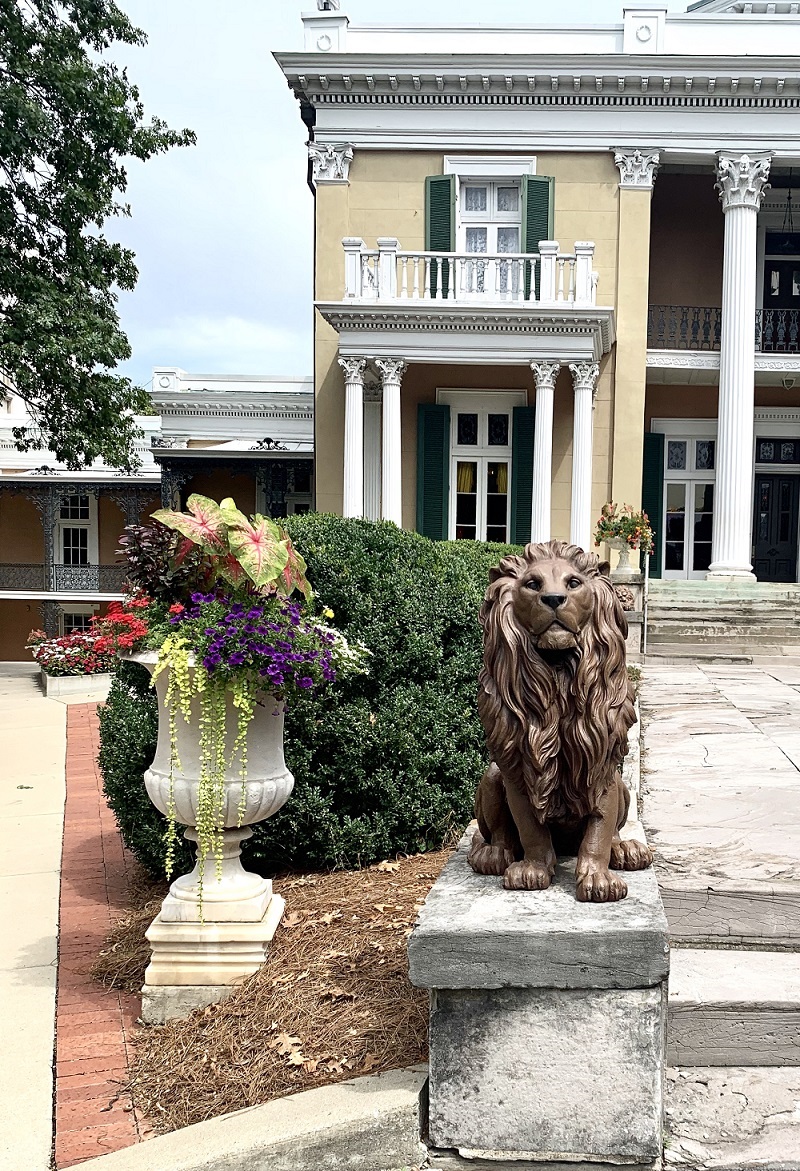 Belmont, which means beautiful mountain, is an Italian villa style home built by William Strickland and added onto by Adolphus Heiman in the mid 1800s for Joseph and Adelicia Acklen. The estate, which was once 177 acres, included many gardens, a greenhouse, bowling alley, billiards room, zoo, and more. The two structures still left standing include the water tower and mansion. The exterior of the home features a peach facade with forest green shutters, Corinthian columns, numerous balconies, and a cupola once used for both ventilation and stargazing.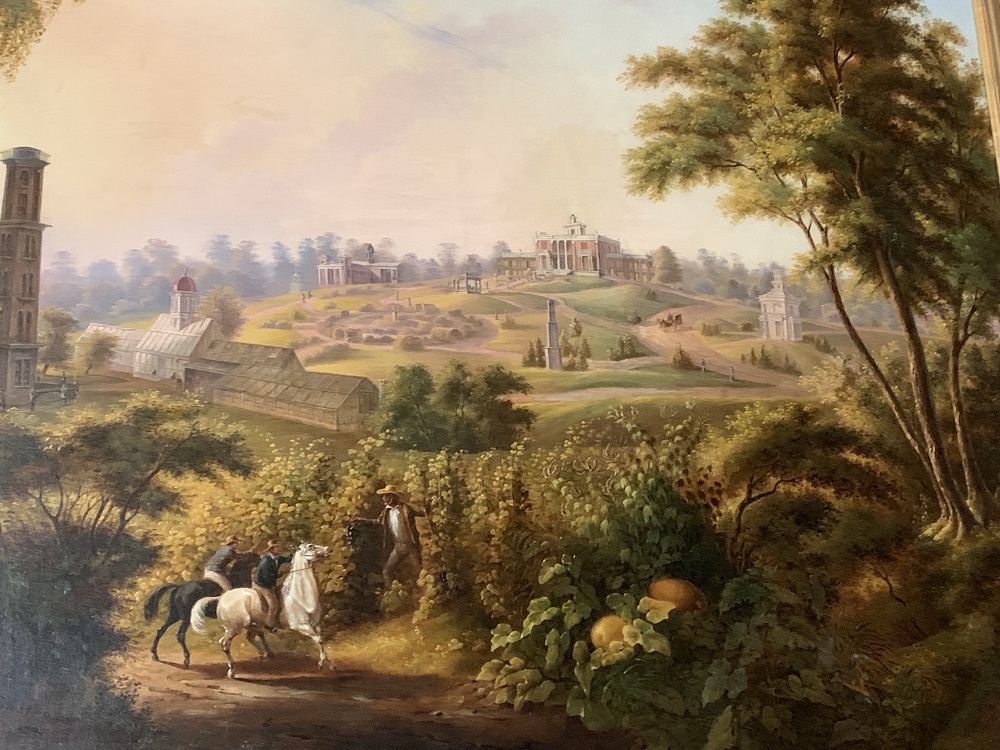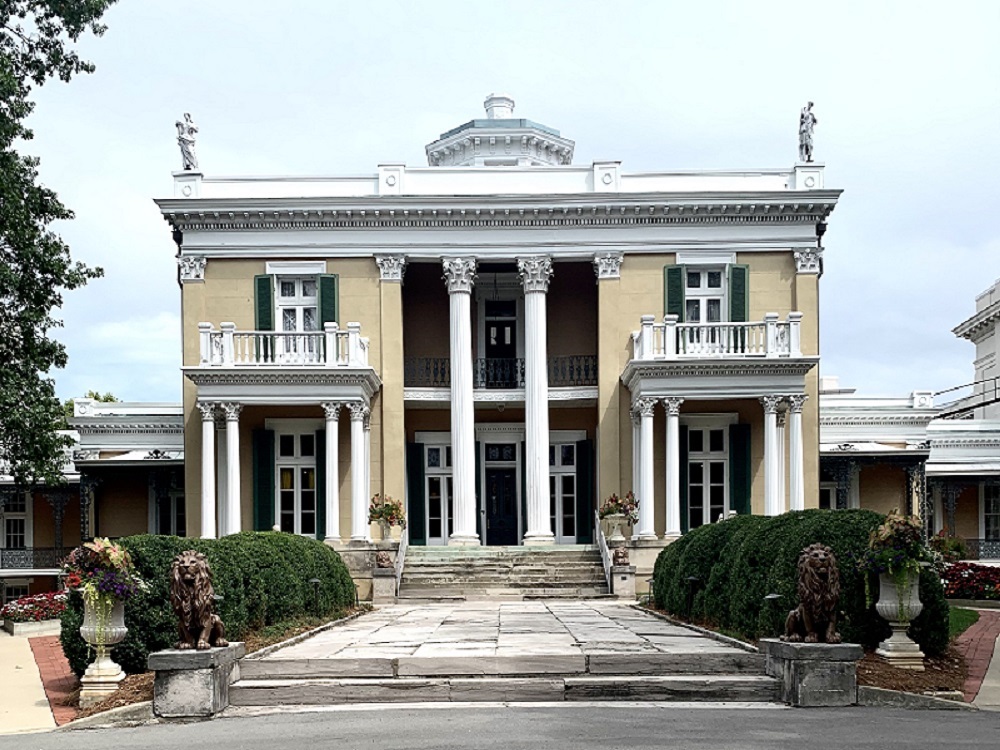 The remarkable attention to detail continues all throughout the interior starting with the welcoming foyer, my favorite room in the house. Upon entering the space, you are greeted by an intricately designed Carrara marble fireplace, wallpaper that has been recreated to match the original, two large doorways with red glass transoms, and several pieces of artwork. Centered within the room is a statue of Ruth Gleaning where it has stood since Adelicia boldly chose to position the partially nude figure in her entry. Sculpted by Randolph Rodgers, this original piece is one of the oldest residents of Belmont Mansion. Underneath the statue, the floor has been reinforced to support it's immense weight. Of the 36 rooms in the mansion, some of my favorites include the library, dining room, and bedrooms located on the second floor.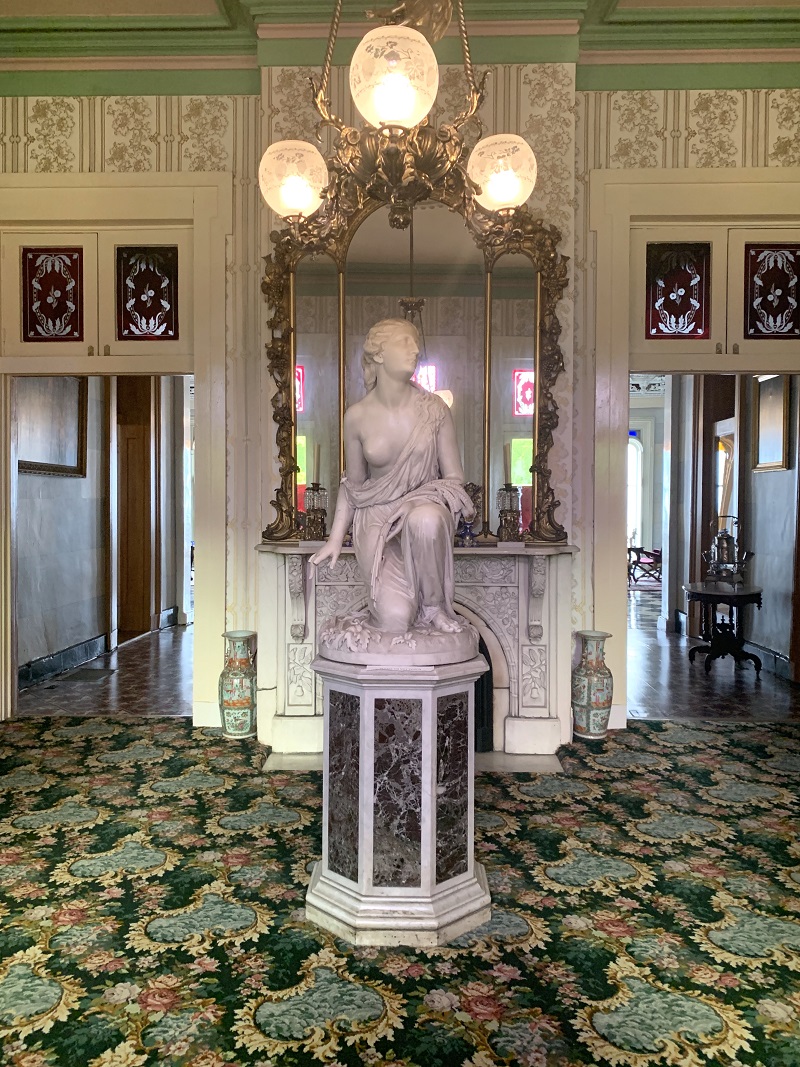 Ruth Gleaning
Artist: Randolph Rodgers
Year: 1866
Medium: Marble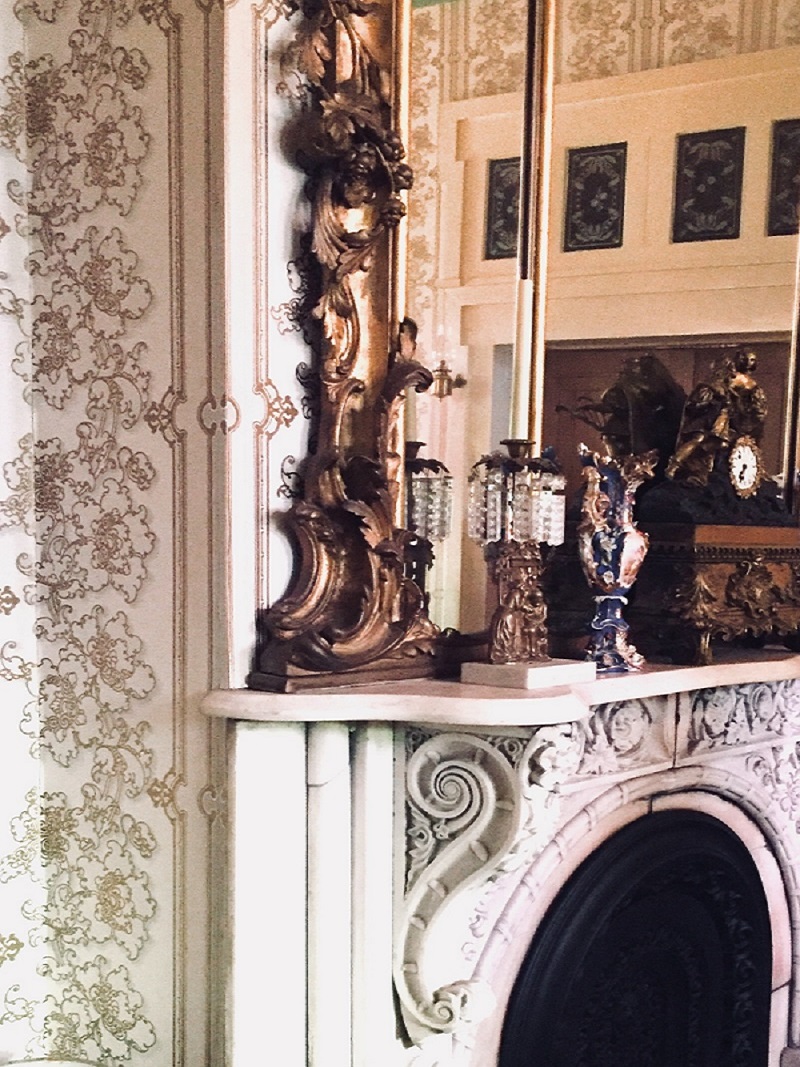 Carrara  marble fireplace detail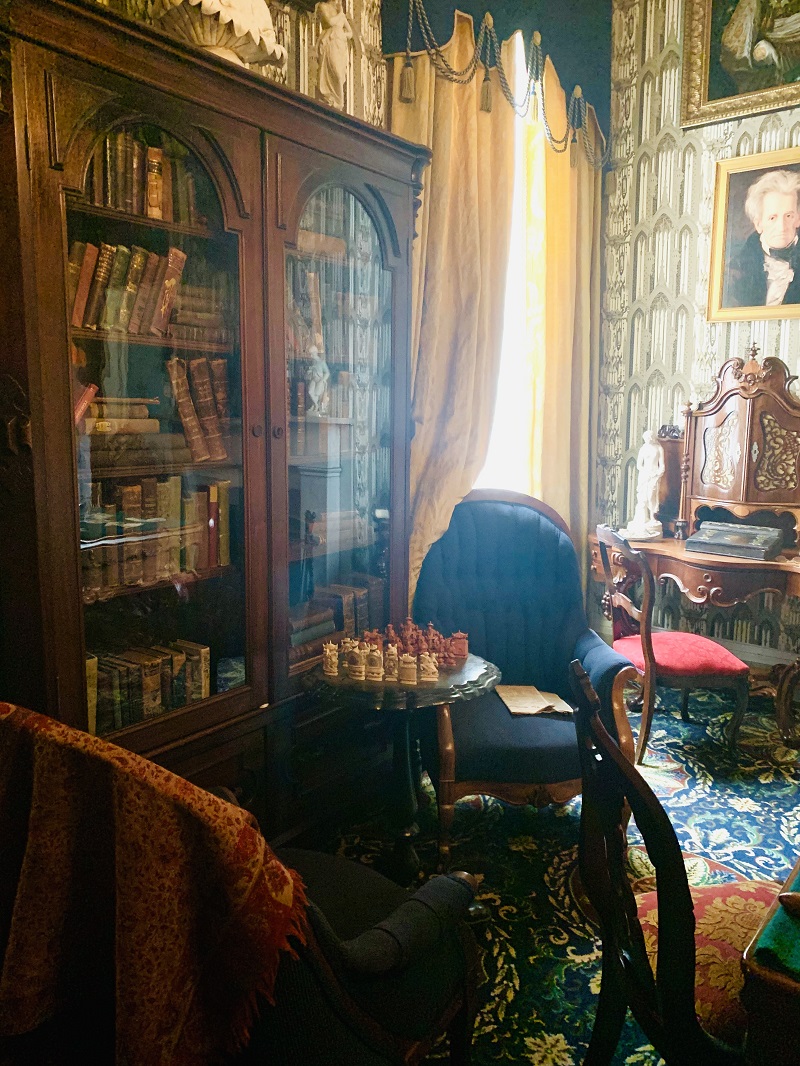 The library has undergone major restoration opening back up in 2014.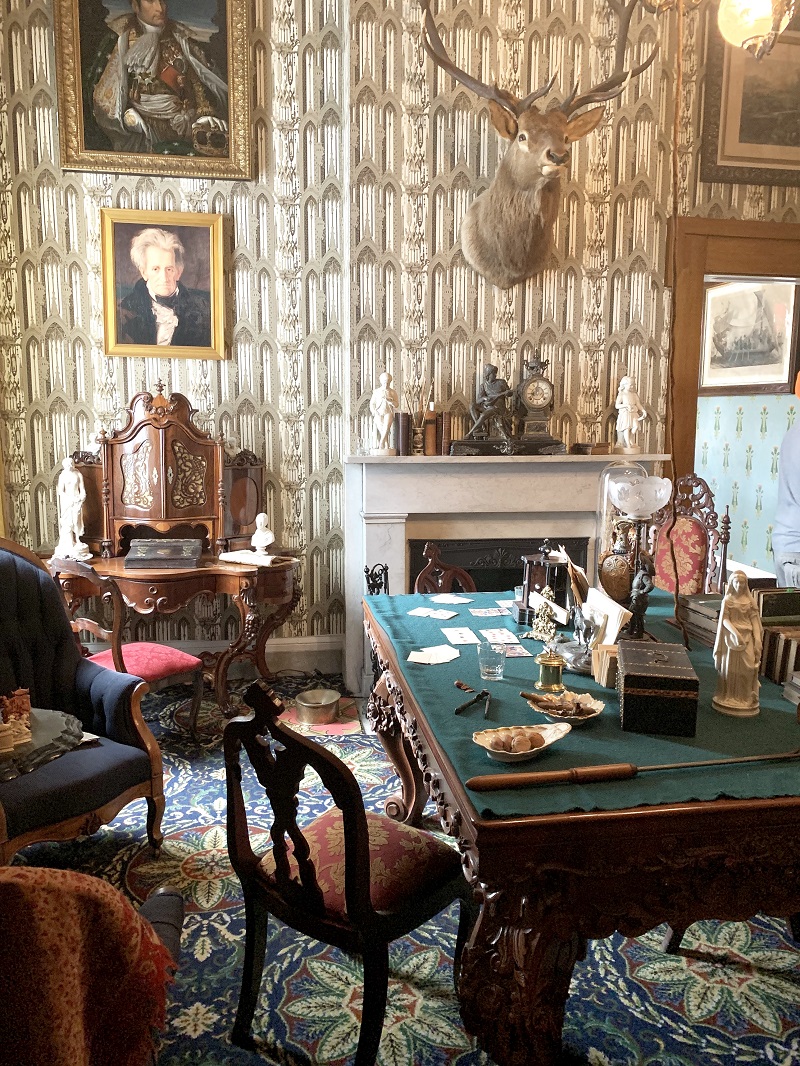 I love the Gothic style wallpaper popular to the mid nineteenth century.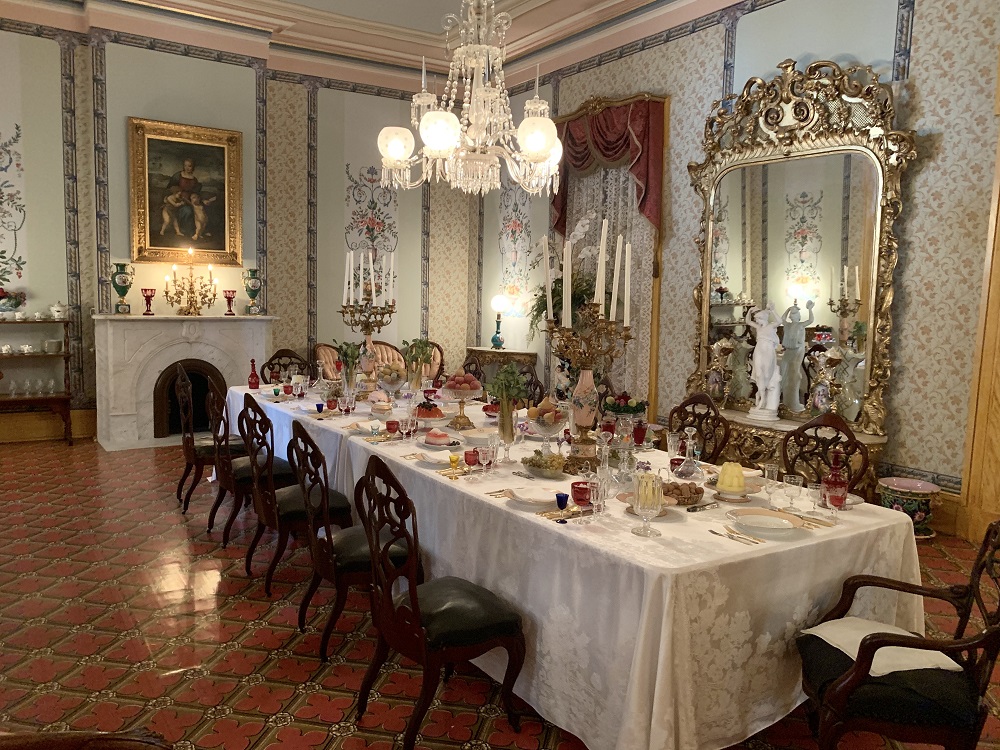 Adelicia hosted many formal dinner parties throughout the year which would include sixteen courses and several glasses of wine. This event could last up to four hours.
Although most are recreations, a few of the original dining chairs are still on display.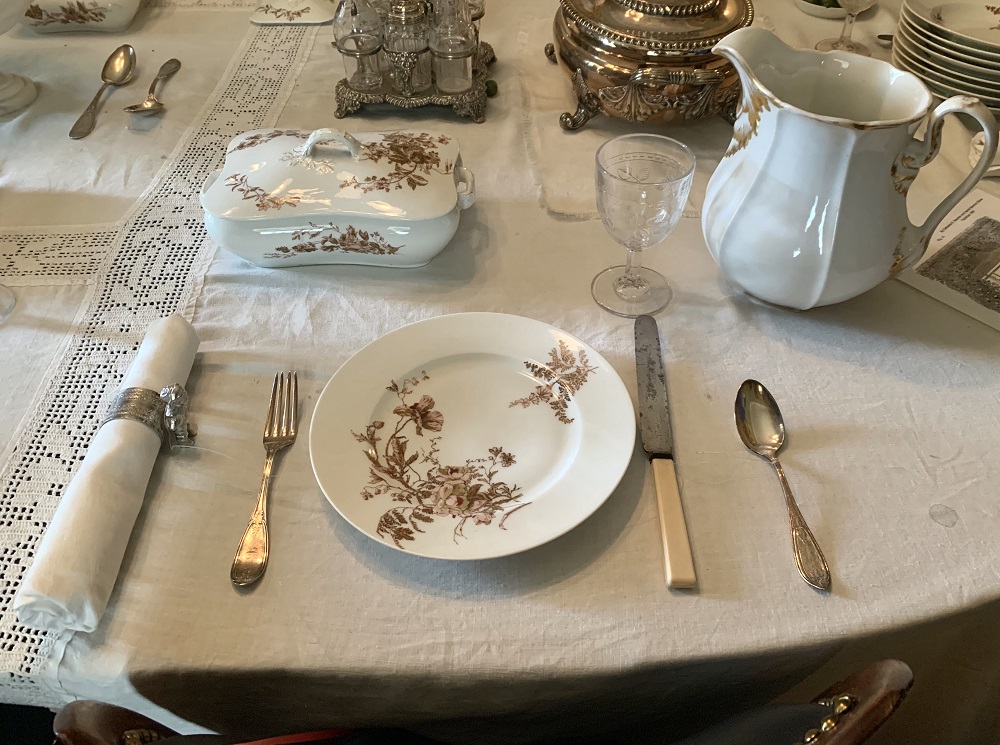 In the family dining room, the table is set with the original china and silver from when the family occupied the house.
Upstairs there are five bedrooms. One has been created into the school room for the purpose of the house tour, but originally would have been downstairs.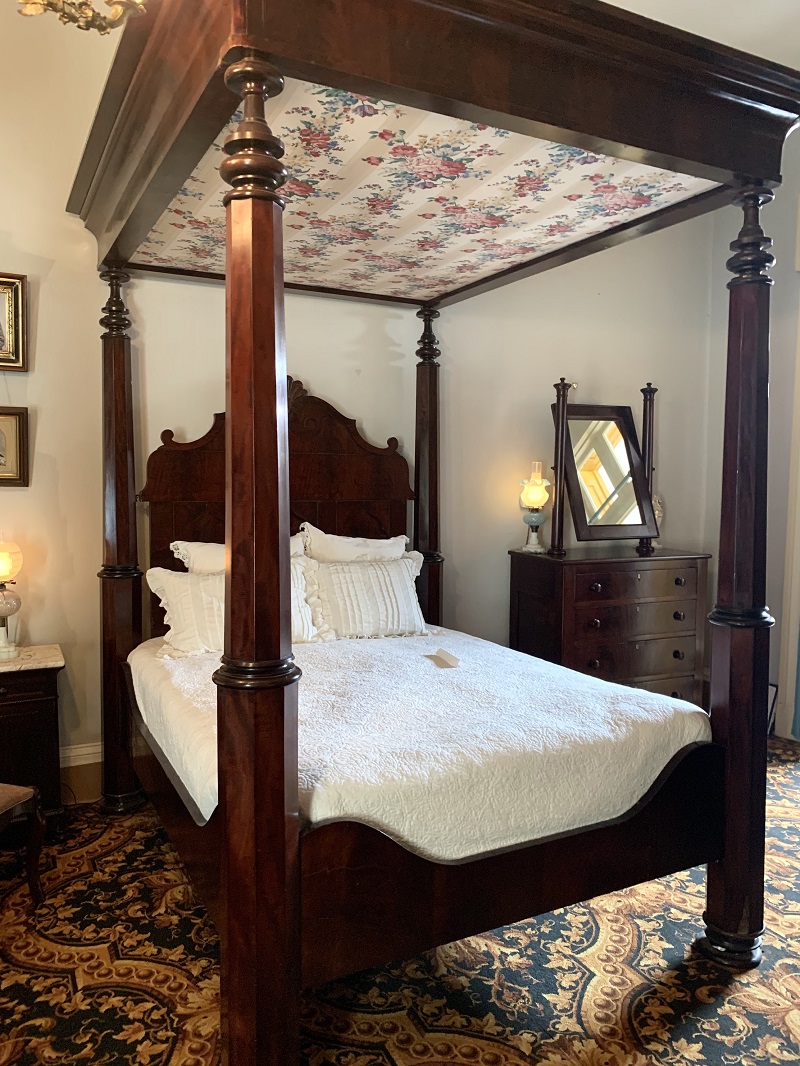 In the boy's rooms stands the original dresser gifted to the family from Sarah Polk, President James K. Polk's wife and longtime friend of Adelicia.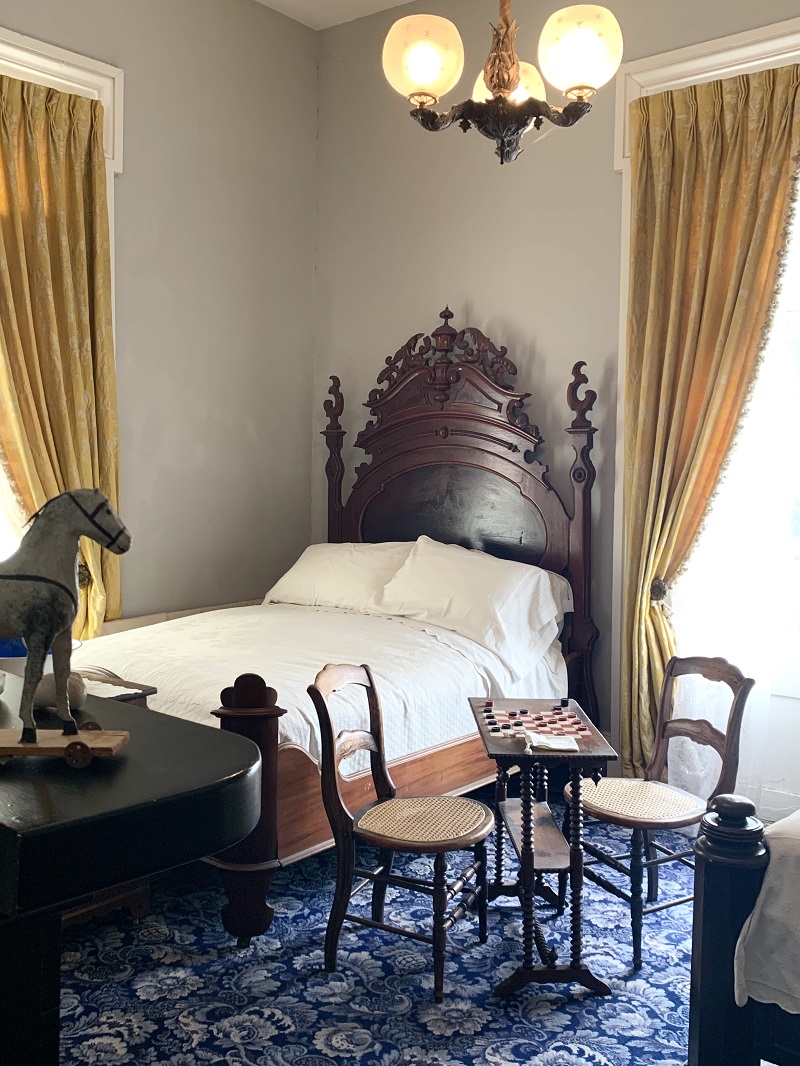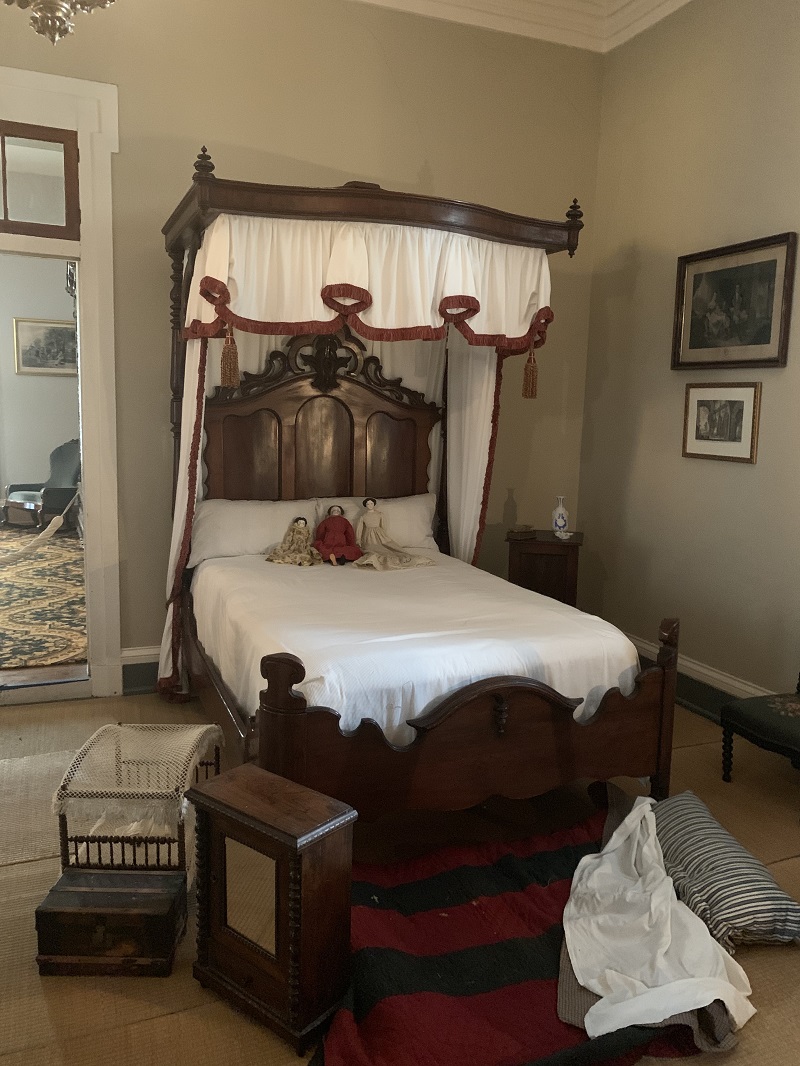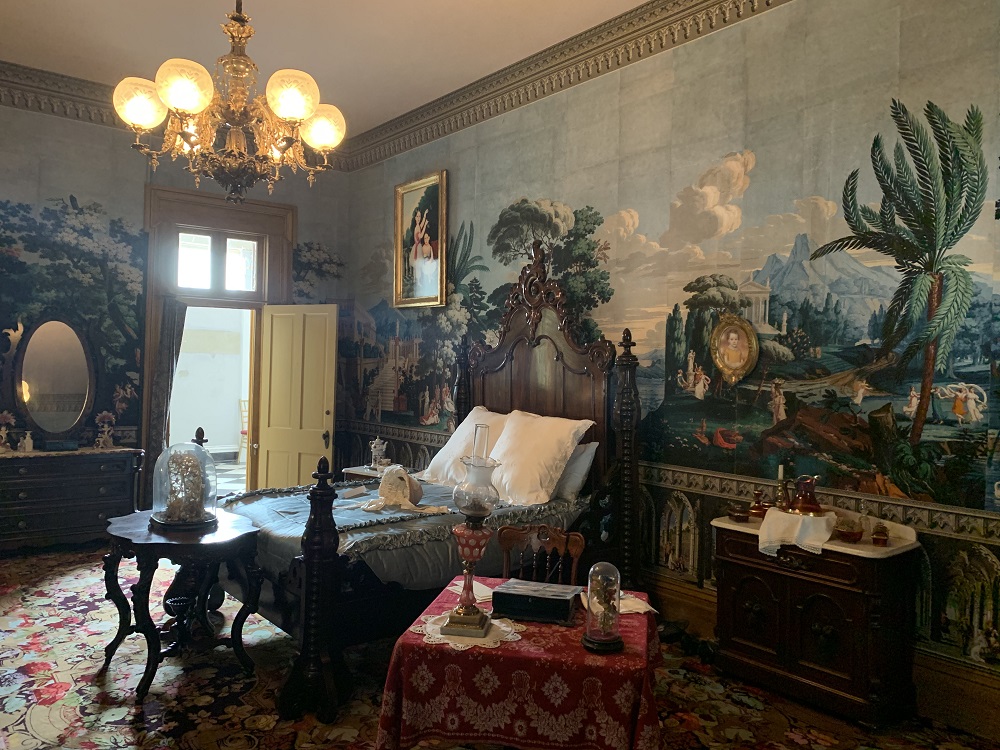 Adelicia's bedroom is unforgettable with wallpaper from Homer's The Odyssey which tells the story of Telemachus in search of his father on the Island of Calypso. At the time Adelicia wanted this wallpaper installed, this style was outdated by about 10 years. Despite this, Adelicia was adamant that this wallpaper be installed.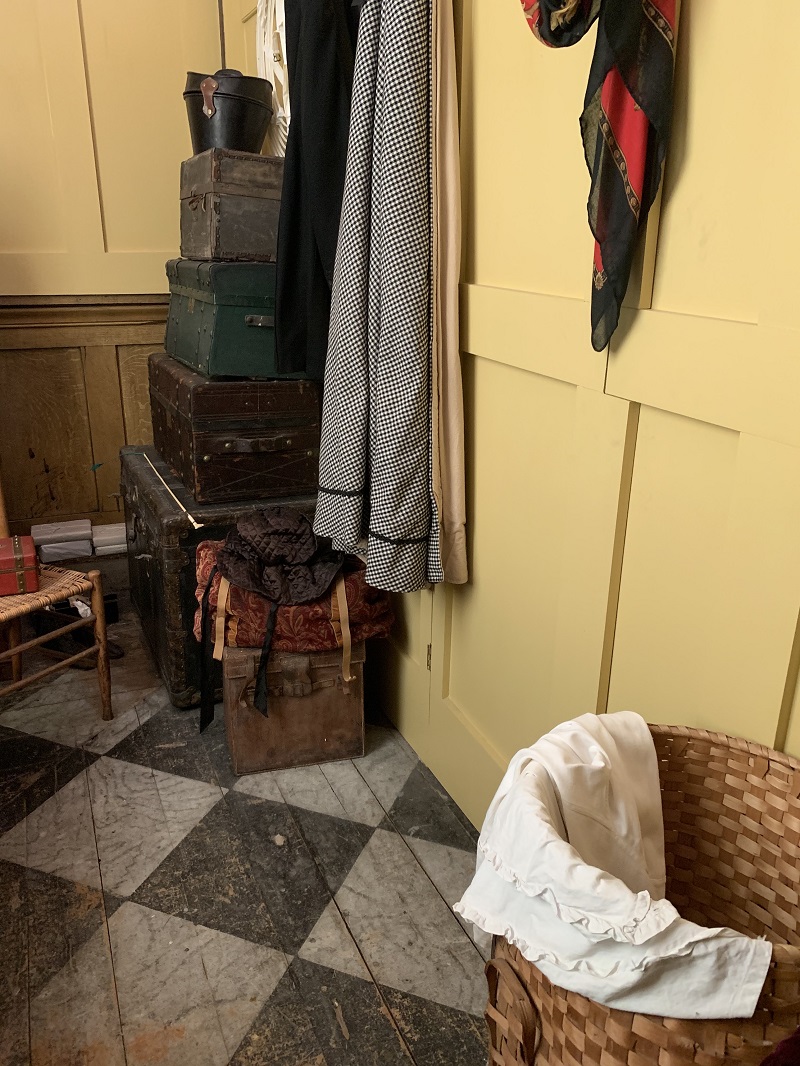 Adelicia's dressing room still features the original flooring.
Adelicia Hayes Franklin Acklen Cheatham, born in 1817, was a Nashville socialite and once known as the wealthiest woman in Tennessee. Adelicia married her first husband Issac Franklin in 1839. They lived in Louisiana where they owned hundreds of slaves and a cotton plantation. After seven years of marriage and four children whom don't survive into adulthood, Franklin died leaving approximately one million dollars to Adelicia. A few years later, she married Joseph Acklen, an attorney from Huntsville, Alabama, after requesting he sign a prenup. It is soon after their marriage that they begin the construction of their summer home, Belmont Estate. Together, they have four children, Joseph, William, Claude, and Pauline who all survive into adulthood. Unfortunately, Adelicia loses another husband in 1863. About four years later, Adelicia marries a final time to Dr. William Archer Cheatham where she also gains two step children, Martha and Richard. Besides being known for her many husbands, Adelicia donated to and headed several charities while serving on the Board of Directors for the Working Women Exchange. Adelicia leaves Nashville in 1884 for Florida and then to Washington D.C. where she lived until her death in 1887.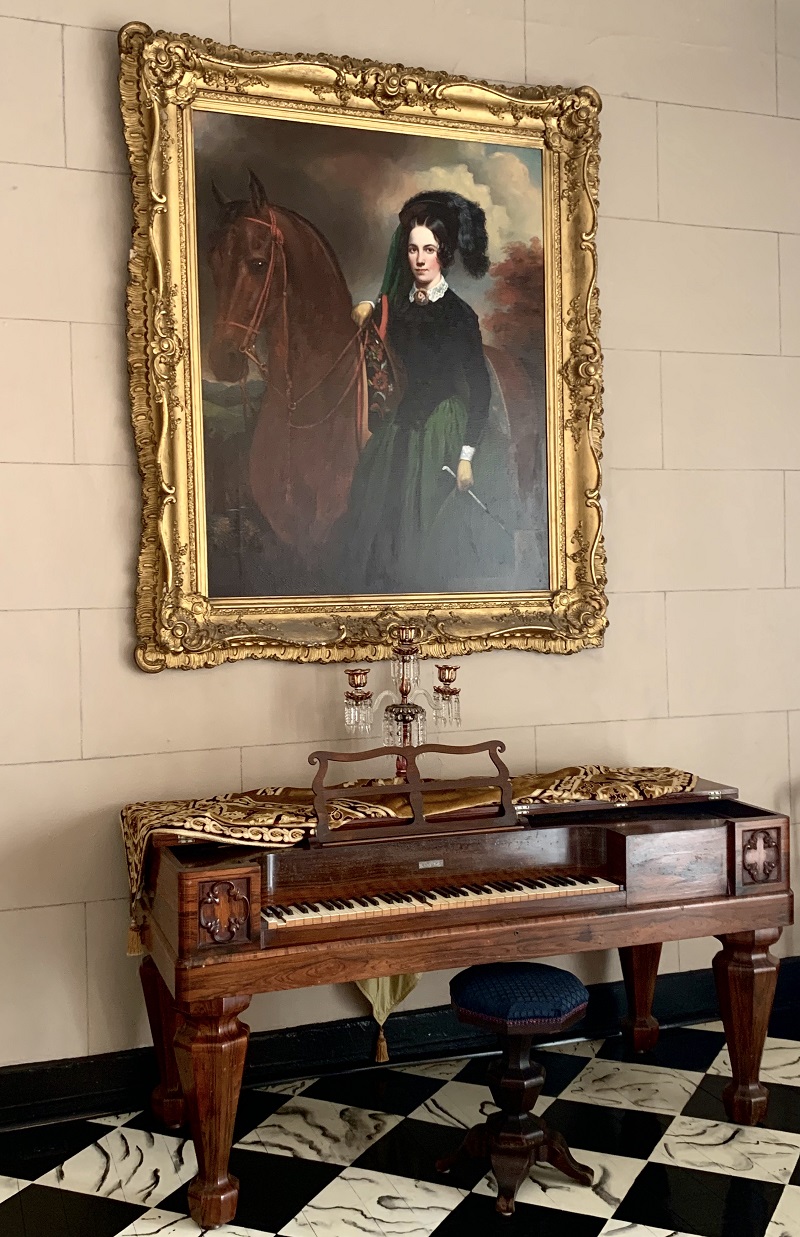 This portrait of Adelicia, painted by William Brown Cooper, can be found in the grand salon.
The estate was first sold to Lewis T. Baxter, a member of a land development company. Susan L. Heron and Ida E. Hood purchased Belmont Mansion along with 13 acres where they opened a women's college. Much of the mansion had been divided into dormitories and new buildings were added on. Through several changes in ownership, in 1952 the school became Belmont University, a coeducational, liberal arts school. Belmont Mansion, one of the largest house museums in Tennessee, is continuously being restored to resemble when the family still lived there.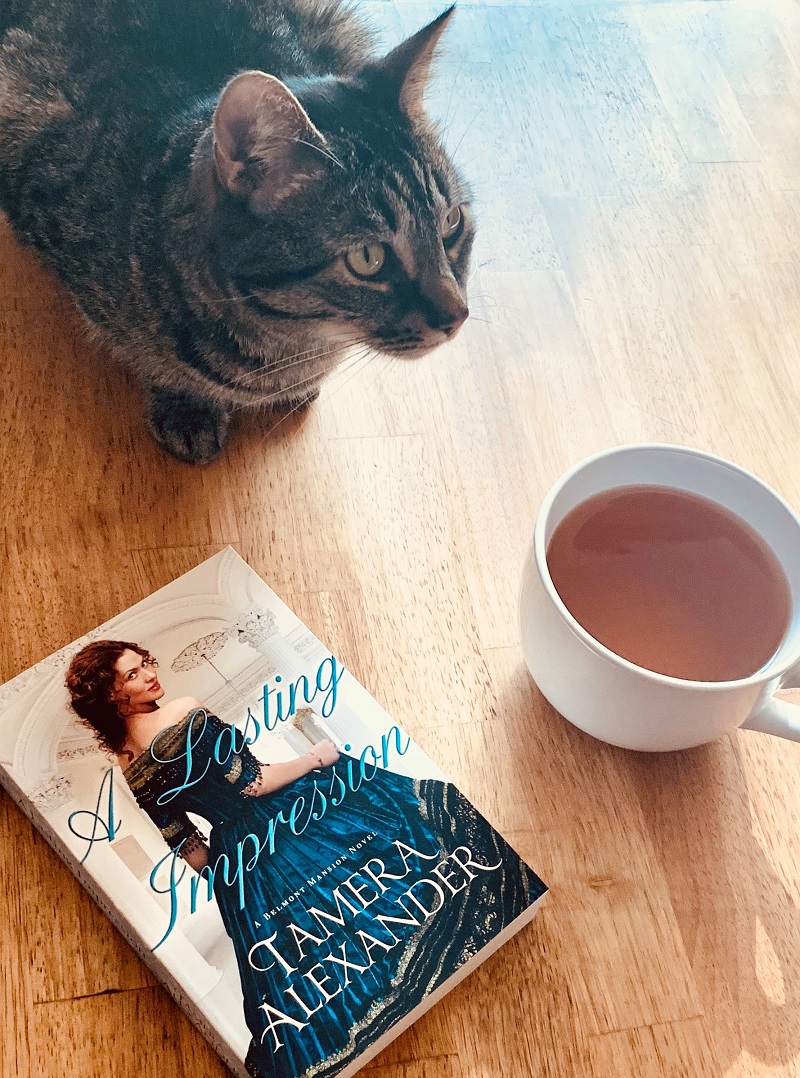 My perfect Sunday afternoon is spent curled up on the sofa with my cat, Dexter, a steaming cup of jasmine tea, and good book.
While waiting for my tour of Belmont mansion to begin, I perused the gift shop which is where I first became familiar with the author Tamera Alexander and her Belmont Mansion book series consisting of three novels. Although these stories are fictional, there are real pieces of history intertwined throughout. Alexander states that she strived to remain true to history, but did take creative license with historical personalities. Belmont Mansion and it's original owner, Adelicia and her family serve as background for each book. Each novel is a stand alone story, but it is recommended that you read them in order. After touring this beautiful mansion, I could not read this book series fast enough.
The first book in the series, A Lasting Impression, tells the story of Claire Laurent, an aspiring artist who must flee her home in New Orleans and arrives in Nashville. Claire finds herself working at Belmont Estate as Adelicia Acklen's personal liaison. She meets Sutton Monroe, a local attorney who also works for Adelicia. As Sutton and Claire begin to spend more time together, a friendship forms that soon sparks into love. As Sutton is dealing with his families destroyed home from the War Between the States,  Claire is holding onto a secret from her past that could devastate the new life she has created for herself including her new found love with Sutton.
The next two books in the series are A Beauty So Rare and A Note Yet Unsung, respectively. Similar to A Lasting  Impression, both books follow the love stories of unlikely couples with Belmont Mansion serving as the backdrop.
I have thoroughly enjoyed these rich, captivating stories, touring the breathtaking Belmont Mansion, and learning more about the new city I call home. My next stop is Belle Meade Plantation!