"Shadows of a thousand years rise again unseen, voices whisper in the trees, tonight is Halloween." (Dexter Kozen) We welcome you to come along and be inspired by our Spooky Halloween Soiree that will surely be a spooktacular time had by all. We have everything planned, from the invitation all the way to dishes and cocktails, ghostly enough to leave even the bravest with chills.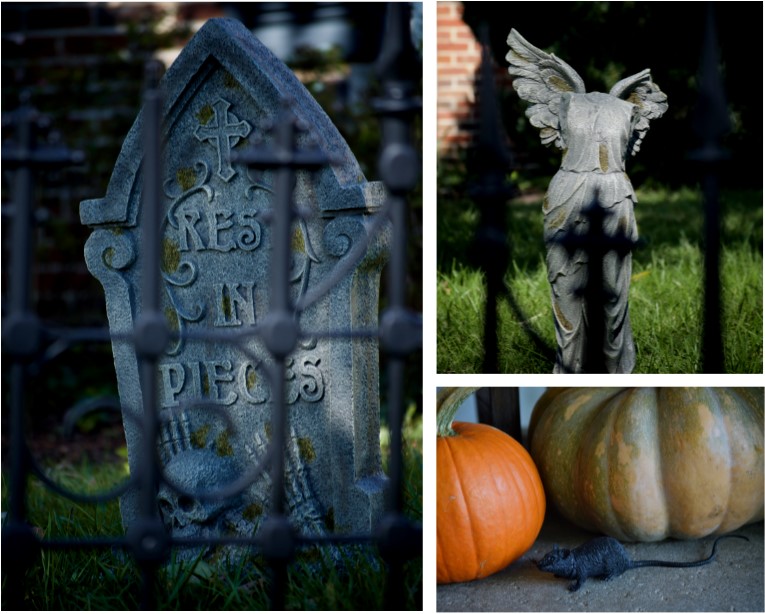 Photo Credit: Tiffany Clapp
Invitation
Calling all spirits! This custom invitation is a perfect way to get guests excited for the upcoming Halloween Soiree. The eerie vibe seeps in as they open the deep black envelope wrapped with a mysterious message inviting them to the witchy celebration. These little details go a long way and have lasting impact.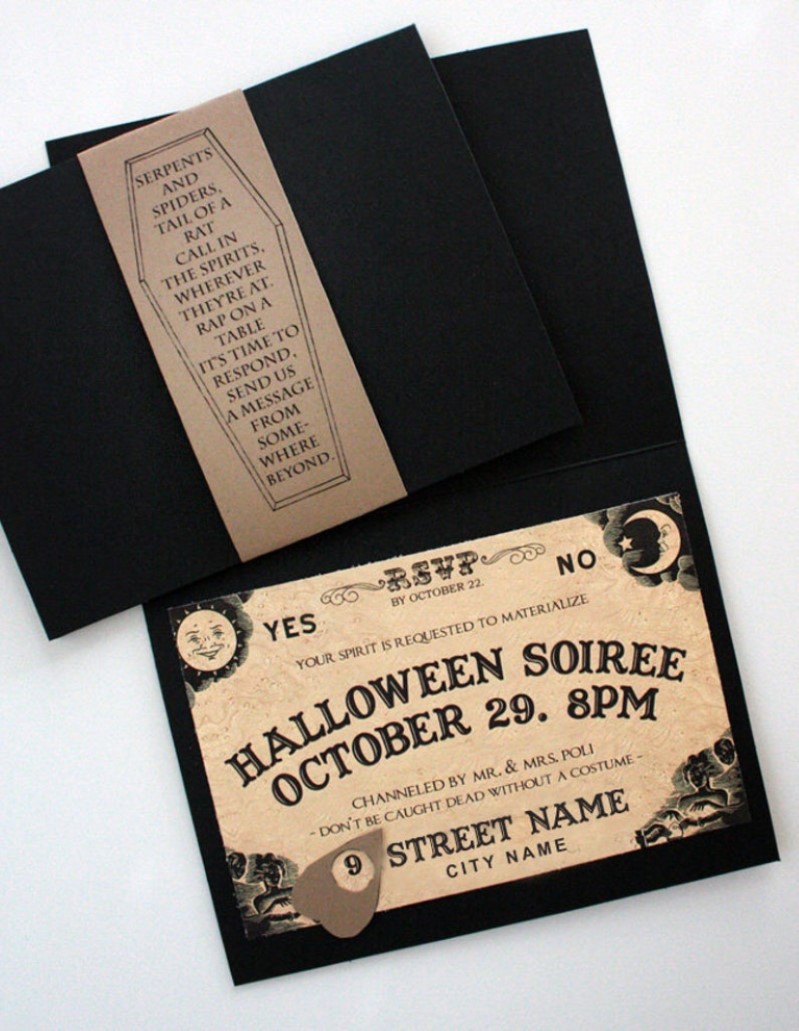 Photo Credit: Fetching Design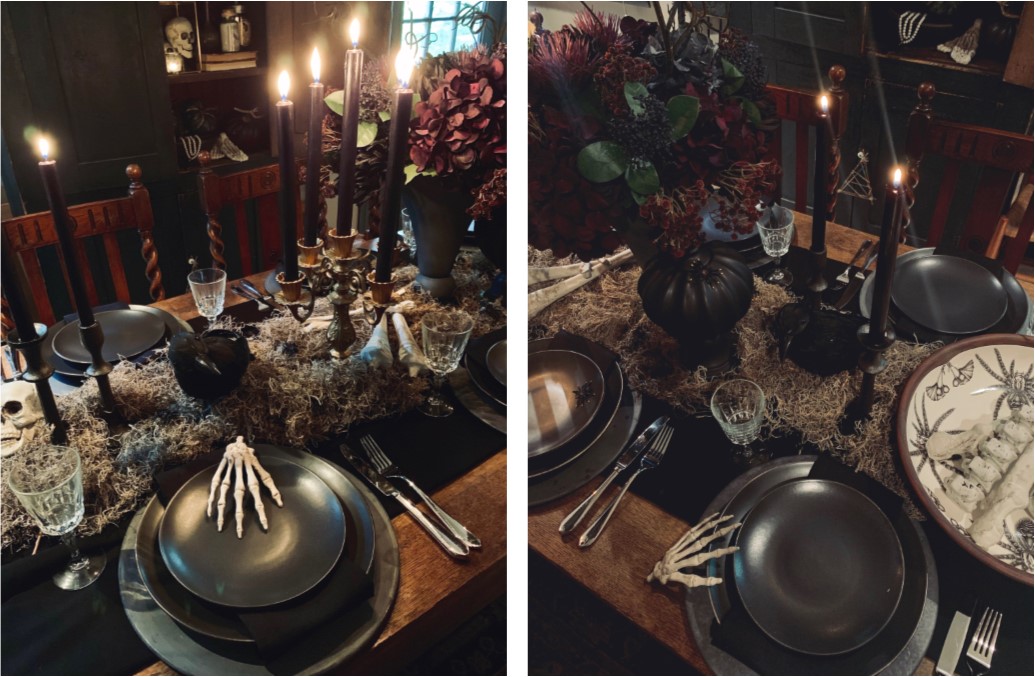 Photo Credit: Amber Grabowski
Once those items are placed, we mixed in natural elements of Spanish moss and added in creepy pieces of bones and curiosities. If you look closely you might find some spiders and crows lurking!
For our Spooky Soiree we decided to have a plated setting, but for a more casual setting you can opt for buffet style. We layered dark slate chargers with black plates to keep with the spooky dark vibe. We then paired black linen napkin that draped over the charger to add an extra layer between the charger and plate, this creates a little more depth. Adding in a tinge more elegance to the table are crystal goblets that will be filled with a creepy cocktail, straight from the witches' cauldron, of course!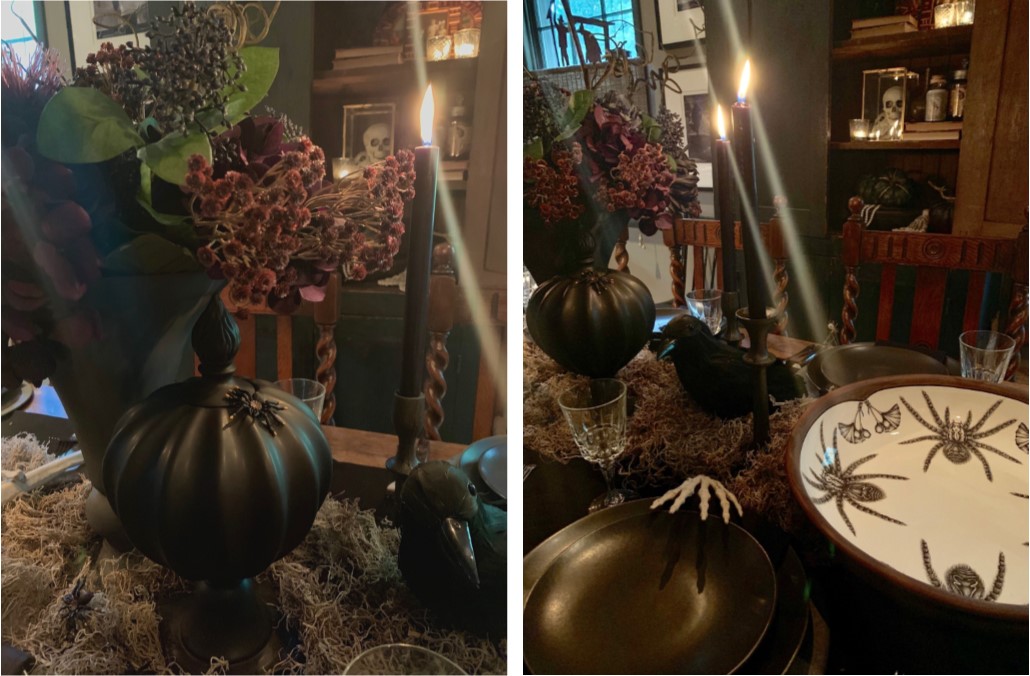 Photo Credit: Amber Grabowski
For the backdrop of this hauntingly eye-catching table we utilized an antique cupboard that exemplified the scene. It is filled with equal parts of creepy and chic. There are curiosities combined with clear boxes of bones, old books and dark gourds that add layered interest on each shelf. To finish off the look, mercury tealights were added in to create depth and add the last hint of eeriness.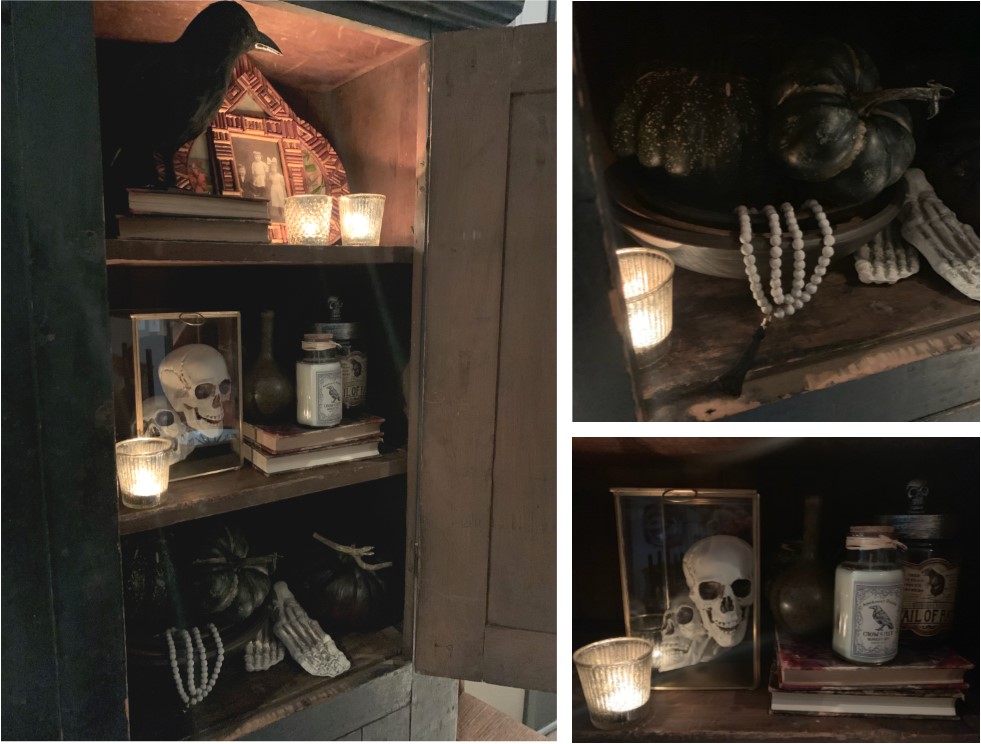 Photo Credit: Amber Grabowski
Menu
Be prepared… something wicked this way comes!! There are so many different items you can add to the menu to give this Halloween Soiree the ghoulish delight it deserves. From cocktails that look like they are conjuring something up, to exquisite dark dishes sure to impress.
Here are our most wicked favorites!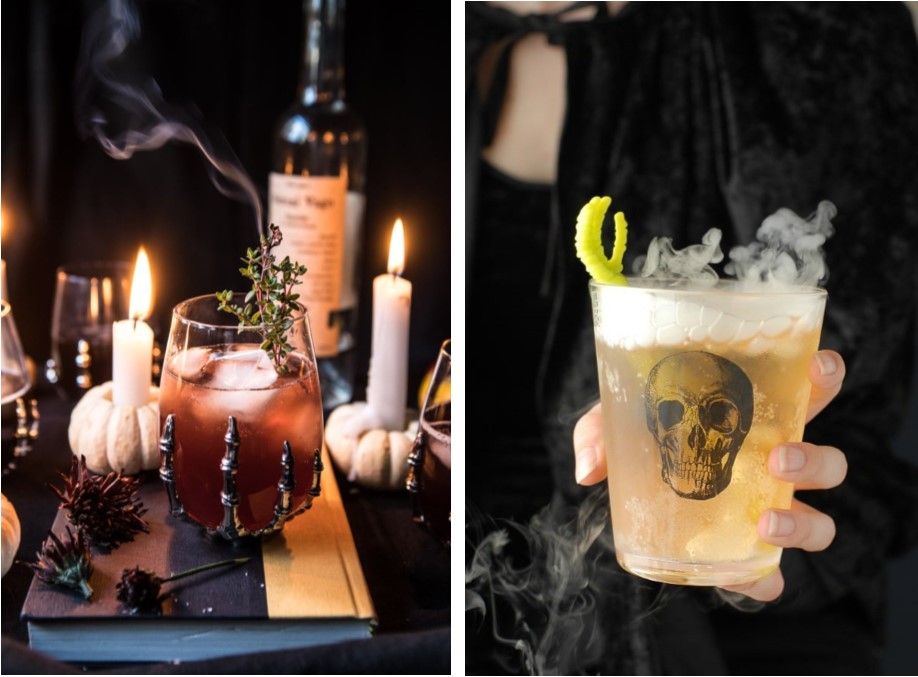 Photo Credit: Half Baked Harvest / Boulder Locavore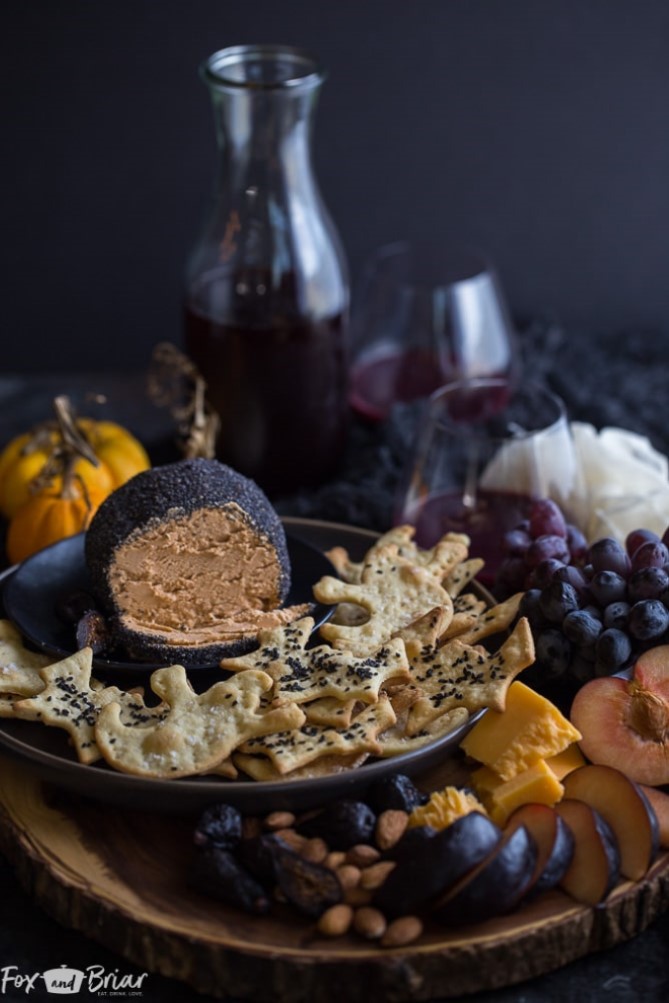 Photo Credit: Fox and Briar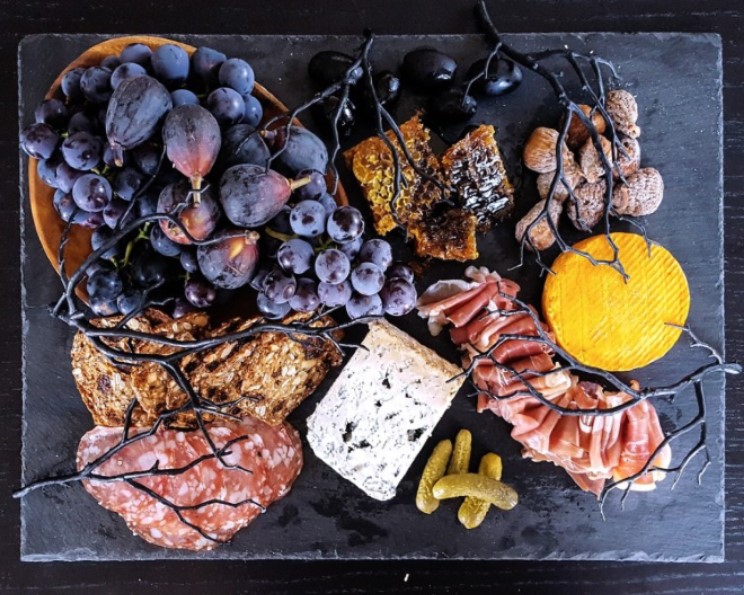 Photo Credit: Feast in Thyme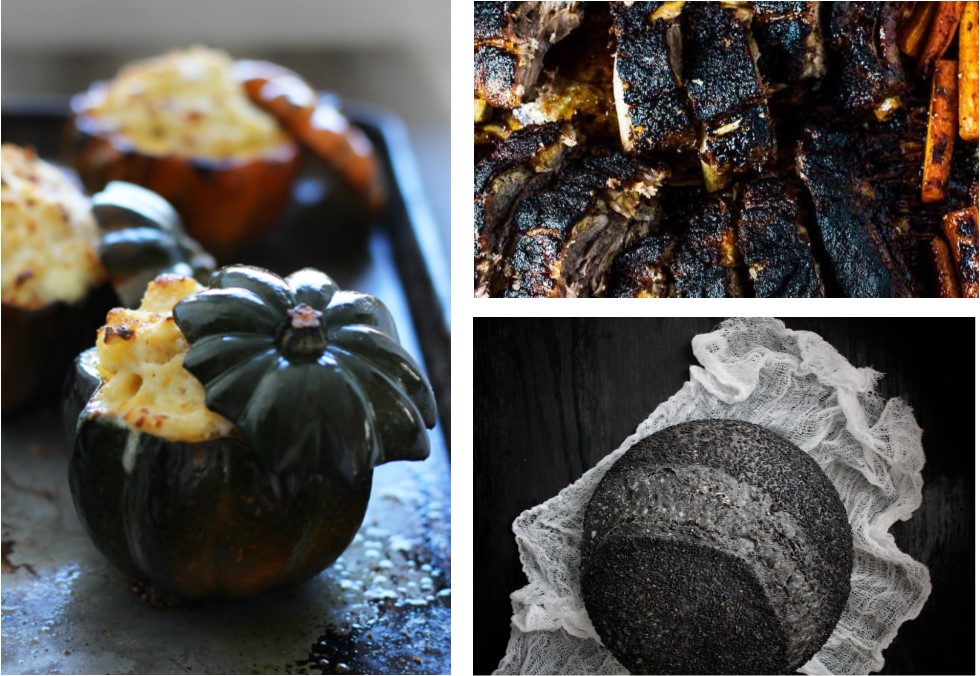 Photo Credit: Honestly Yum / The Endless Meal / Scratch Eats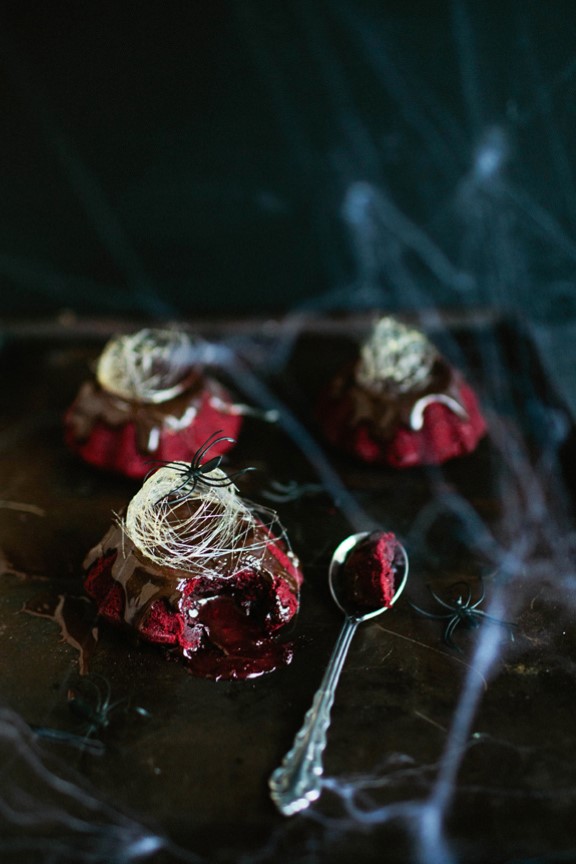 As the goblins and witches wind down their night games, guests will surely leave feeling spooked and engrossed with a time well spent. It is a fancy feast full of spooks and screams that will keep guests wondering what lurks next.