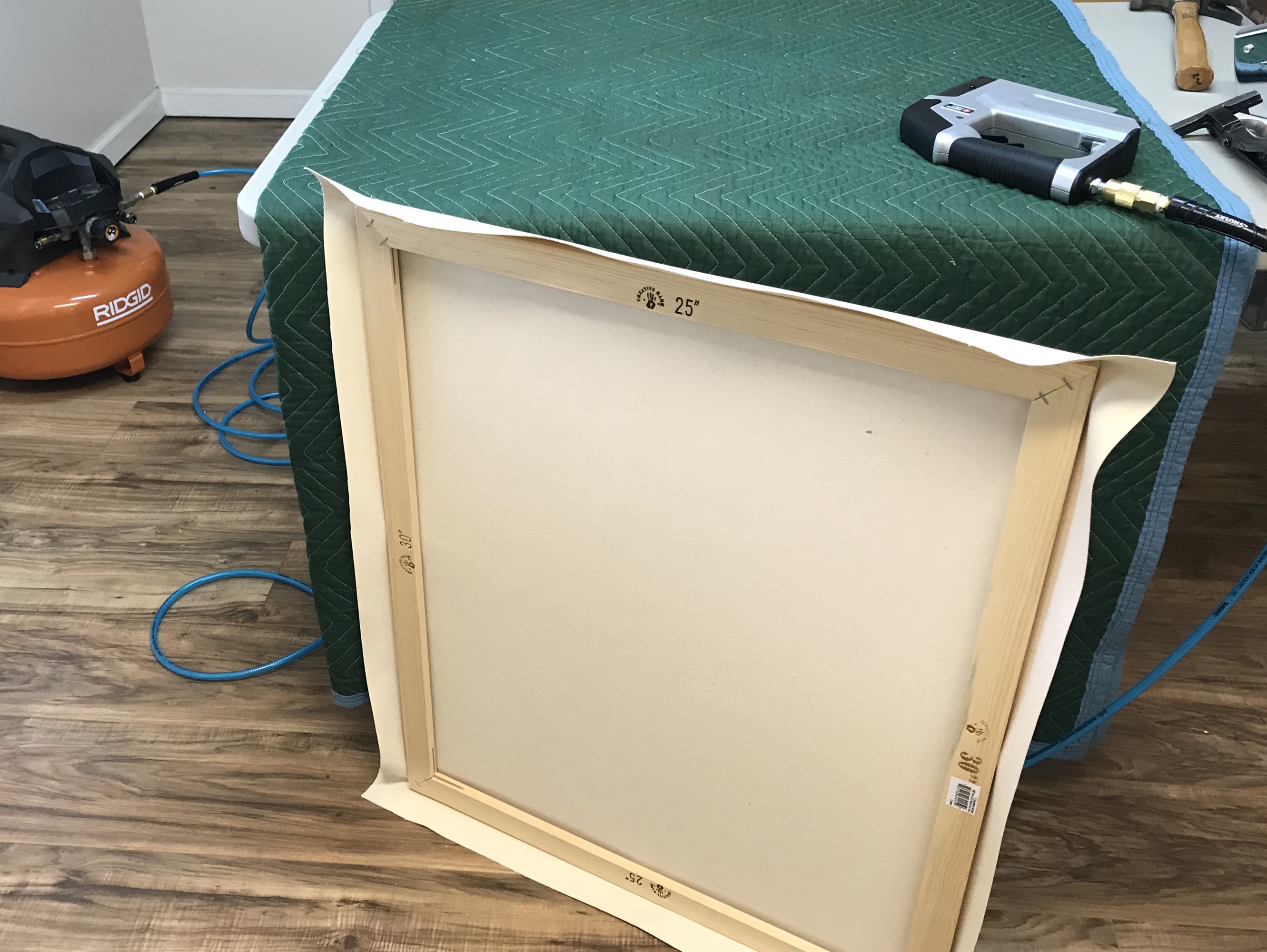 As I was stretching the above canvas I wondered…"how many canvas' have I stretched?"  Hundreds and hundreds to be sure..1000..?..very possible.  Then I thought about the place each of those canvas' held in an artists career, and even a canvas' place in history.  I have had the fortune to stretch and frame several canvas' that are not only a line in the history of the artist, but a noted line in history itself.  This particular 25"x 30" canvas would mark a line in the history of American painting in its own little way.
Everett Raymond Kinstler (born 1926) started his professional career as an artist at the age of 16 doing illustrations for comic books, magazines, and books.  Over his 76..! year career he has done thousands of illustrations, painted thousands of paintings, and captured in portrait over 1200 sitters who's names read like a "who's who" of performers, industry leaders, scholars, and government officials – including Presidents back to Richard Nixon!  Beyond a career matched by no one he is a teacher, lecturer, constant student, entertainer, historian, and in general a dear dear man.
The small stretched canvas intersected this long arcing life of art as part of a weekend filled with events celebrating the opening of America Creative: Portraits by Everett Raymond Kinstler at the Vanderbilt University Fine Arts Gallery.
The first event was held in Collins Auditorium on the Lipscomb campus, a Q&A with Mr. Kinstler conducted by Michael Shane Neal.  Attended by some 700 fans, I use the word fans because I didn't realize painters have "groupies", but Mr. Kinstler does!   After about two hours and change the scheduled one hour event ended leaving everyone wanting more.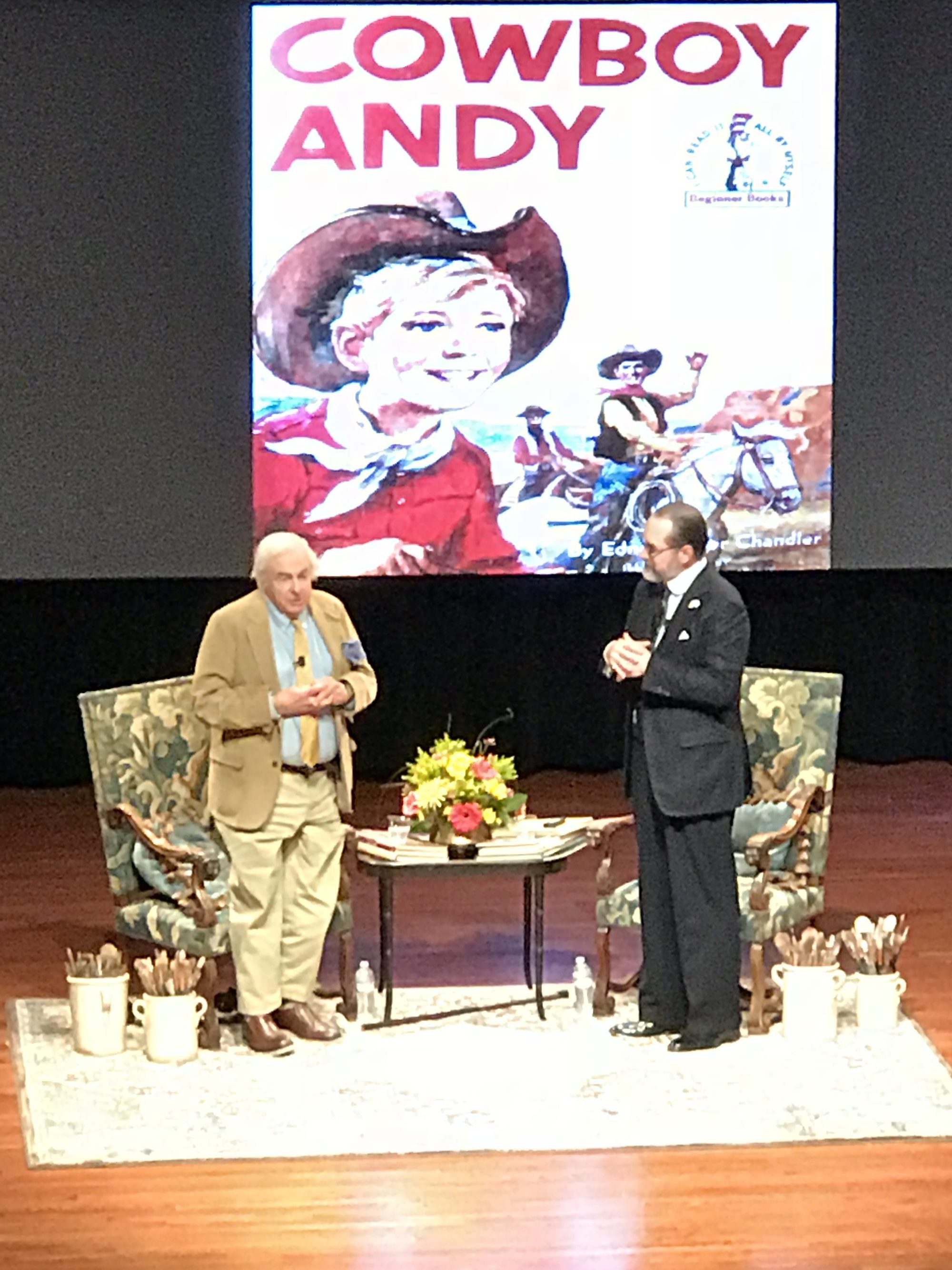 The next event, an opening reception in Cohen Hall on Vanderbilt campus was a standing room only affair to see a sampling of Mr. Kinstler's work from 1952-2015, and to hear him spin another yarn on his life as an artist.  It was wonderful to see in person so many of the paintings I've seen in books and web pages for years, but my favorite – a portrait of James Montgomery Flagg.  It has always been my favorite painting of his and there it was living and breathing right in front of me.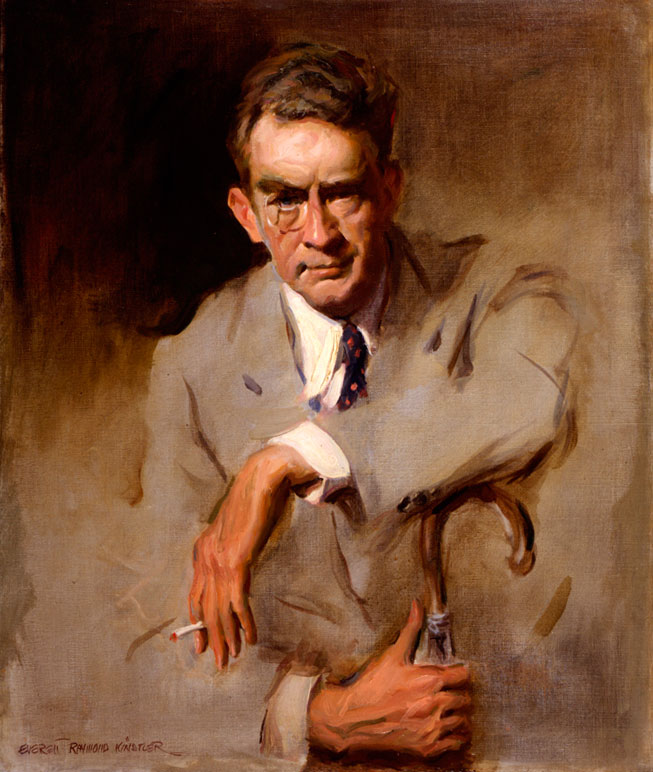 The last event of the weekend, a lecture and demonstration by Mr. Kinstler in Sarratt Cinema at Vanderbilt.  Would be a last chance for the "groupies" to set at the feet of the master and hear tales of paintings past while watching in awe as he sketched a study of the actor Eddie George.  Confused..?  Yes your right Eddie George the football great is the same fella as Eddie George the actor.  Enter small stretched canvas!  As I sat and watched this 91 years young wonder work his magic on the simple piece of canvas I had stretched I couldn't help but think of his history. Of art sure, but of time, and people, and place, and country, of loss and gain, and my biggest take away – "if you love what you do never stop doing it."
https://youtu.be/SK6jLw1zquo
I will stretch many more canvas. (hopefully) Some will no doubt hold paintings of note, but as I sit here now, few will hold more significance as the simple 25"x 30" that now holds the creation of a Master, and a line in the history of an American portrait institution.
America Creative: Portraits by Everett Raymond Kinstler runs March 23- July 14, 2018.  Of course, I highly recommend you go see the show.  If your love art, or history, or cinema, or music, or literature, or simply find people interesting go see these works.  This is the first and probably only time this collection will ever be this close.  Lastly, let me know your favorite!